Round two of our hunt for decent food in Riga's low-key eateries.
Cepelīns, Riga Central Market
We had a predictably Latvian and truly unremarkable meal at Cepelīns but it was really cheap and I guess that's the main (or perhaps the only) reason people flock here to stuff their faces at feeding time. One sunny Saturday in March, we shared the 90s hangover of a dining area with young and old, market staff and fellow shoppers, as well as a couple of your average Riga vagrants spreading their odious stench throughout the restaurant.

Surprisingly, none of our dishes had any dill in them! Alex's meal was essentially a dry piece of chicken drizzled with mayonnaise and presented with a melted cheese cap, and due to the dire lack of sauce he did the unthinkable and left half a plate of chips untouched.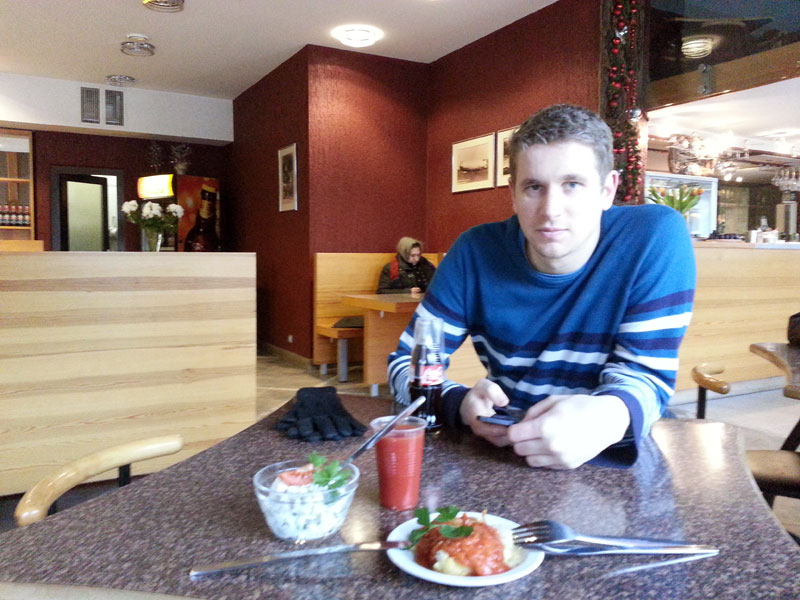 My fish in marinade consisted of very generously battered chunks of mystery fish dipped in what seemed to be watered down ketchup with some strings of carrot and onion, served cold out of the fridge. The disaster of a salad left the faint taste of vinegar in my mouth. I tried to eliminate the unpleasant aftertaste with my vegetable salad in which I was unable to identify any sour-cream-drenched vegetables other than leek and radish and even those were void of any taste and seasoning. A lonely, depressed sprig of parsley sat atop it all, awaiting impending doom. Even my tomato juice didn't quite taste right and was left sitting half empty.
We ordered:
Chicken fillet with cheese, served with chips and salad
Fish in marinade
Vegetable salad
Coca cola
Tomato juice
This came to a total of 6.50 EUR
Trīs vīri laivā, Avotu iela 35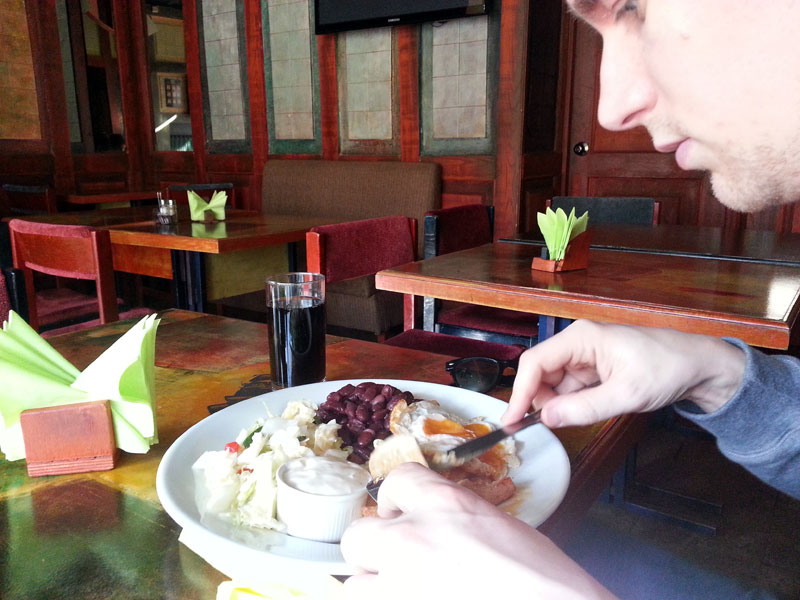 Trīs vīri laivā is a pub that's been around for years in the Avotu iela neighbourhood that's becoming a popular residential area for young professional types and families in search of affordable accommodation near the city centre.
The pub's decked out in timber and the junky furniture seems like it might have originated from a school. The projector and big selection of beers made us think it's probably a pretty good place to watch sports.
We were the first guests of the day but were soon joined by a number of very normal looking folk, some coming in for a hangover fix. Eavesdropping revealed our joint dislike of the bar staff's choice of music – a vague mix of cheesy American pop rock that even the crackly sound system couldn't cope with.
I ordered freshly squeezed carrot juice but there were no carrots in the kitchen so I got orange juice instead. We asked for all our food to be brought out at the same time but Alex had finished his meal before I got my onion rings and I was tempted to cancel my soup order but would have felt rather guilty in doing so.
Alex's English breakfast was hardly English but wasn't all bad. His plate came stacked with at least half a tin of heated red kidney beans (presumably in place of what would have been baked beans), cabbage salad (salad in an English breakfast?), 2 fried eggs, a wee slice of white toast and a local take on bacon – smoked ham with a disturbingly thick chunk of lard.
My home made onion rings were actually delicious chunks rather than rings of red onion in beer batter served with a garlic mayo style sauce but the portion size could easily have been halved. I left the premises smelling like I had bathed in onion juice.
The creamy vegetable soup with shrimps was disappointing, particularly considering how long I had to wait for it. The texture was fine but the chef seemed to have completely forgotten the need for seasoning. The only flavour I could pick up on was the mild taste of undercooked broccoli.
We blame the extensive menu for our disappointing experience here. They could really do with limiting the selection and focusing on improving the quality of the food and service.
We ordered:
Home made onion rings
Creamy vegetable soup with shrimps
English breakfast
Freshly squeezed orange juice
Coca cola
This came to a total of 14.50 EUR
Pipars, Olympia shopping centre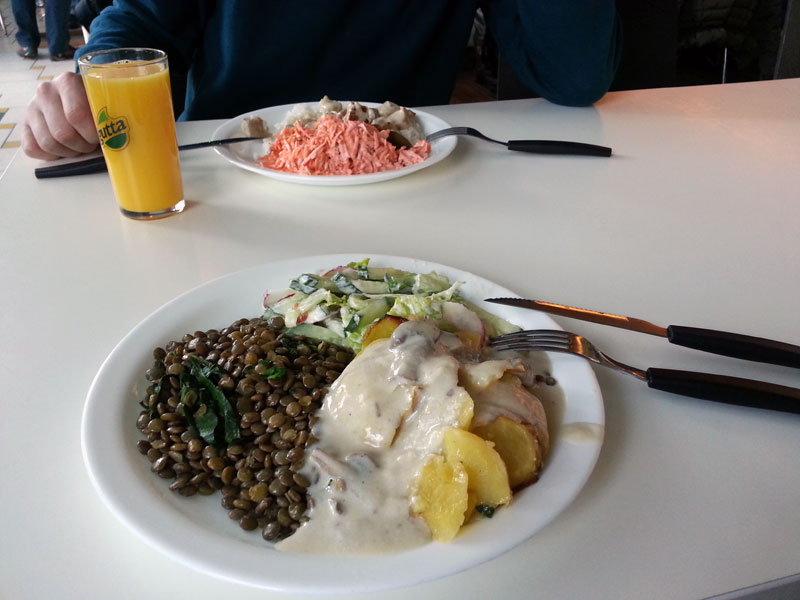 We found ourselves at Pipars on a Saturday afternoon after a cycle across the Daugava river. It seemed like the most popular joint at the Olympia food court so we joined the queue hoping to get good sized portions for a good price and get them we did.
The selection of classic Latvian fare is interspersed with some more contemporary dishes like the lentil salad I chose. Expect loads of meat and a smattering of vegetarian options. Most are heavily doused in sour cream as is the custom in Latvia.
Nothing surprised us, everything tasted just as it looked. Food at Pipars is conservative, mass-produced Latvian fare and if that's what you're after then this is as good a place as any for it.
We ordered:
Rice
Creamy pork sauce
Carrot salad
Orange juice
Green lentil salad
Fried potatoes
Creamy mushroom sauce
Cucumber and radish salad
This came to a total of 7.24 EUR
Our hunt continues. How have your experiences been with local eateries? Any tips for where to go or what to order? Let us know below.
See also Off the beaten menu #1