What's it like to be a baby mum in Riga? How does the day go by? Read the stories of two lovely local mums, Liana and Laura.
Liana
For the past year and a bit my days have mostly been spent together with my baby daughter Elīze. Compared to a lot of other countries (looking at you, USA), we are fortunate to have up to 18 months parental leave. Even better would be the possibility of splitting the period between both parents, like in Scandinavia, but here it's either one or the other. Of course, while I am super grateful I get to spend this formative time with basically my favourite person in the world, it's also no secret that taking care of a baby 24/7 can get slightly monotonous (for both of us). So a great support network is essential!
My morning usually starts around 6 am when Elīze cries out. Thankfully, she only wants her dummy and a hug, and usually sleeps in to about 8 or 9 am. My husband's alarm clock goes off at 7, but I stay in bed dozing or reading until 8, when I get up and enjoy a large cup of coffee (Edgars has left for work already). We live on the fifth floor with views over the giant Hospital no.1 – it's like having a park or forest under our windows. If not for the constant noise of sirens and motorbikes, you could almost forget we're right in the centre of Riga.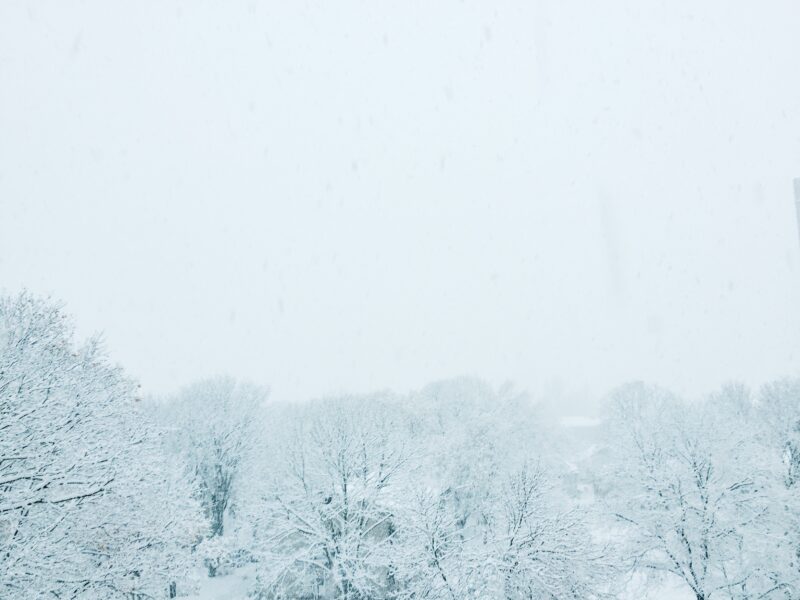 When Elīze wakes up, she drinks some milk and we have breakfast – oatmeal with apple or berries. I do some laundry, check e-mails or listen to a podcast, and play with Elīze – read board books, sort her wooden blocks, or dance to the radio. Of course, she prefers tearing up toilet paper or kitchen foil, as well as going on missions to locate all the cables, glass bottles, scissors and other fun stuff her evil parents try to hide from her. Then we get ready to go outside – once a week we go to an Orff music school baby music morning where Elīze gets to enjoy ringing bells, banging drums, blowing into tubes and swapping germs with other kids. Other days, we stroll over to one of the parks nearby – either Ziedoņdārzs, a huge, beautiful park with several playgrounds and lots of people walking dogs, which Elīze loves, or Esplanāde in the centre of town. To get around the city, I put Elīze in the stroller, Ergobaby carrier or bike seat, and we take public transport if we need to go further (people are actually really helpful about getting the pram in and out).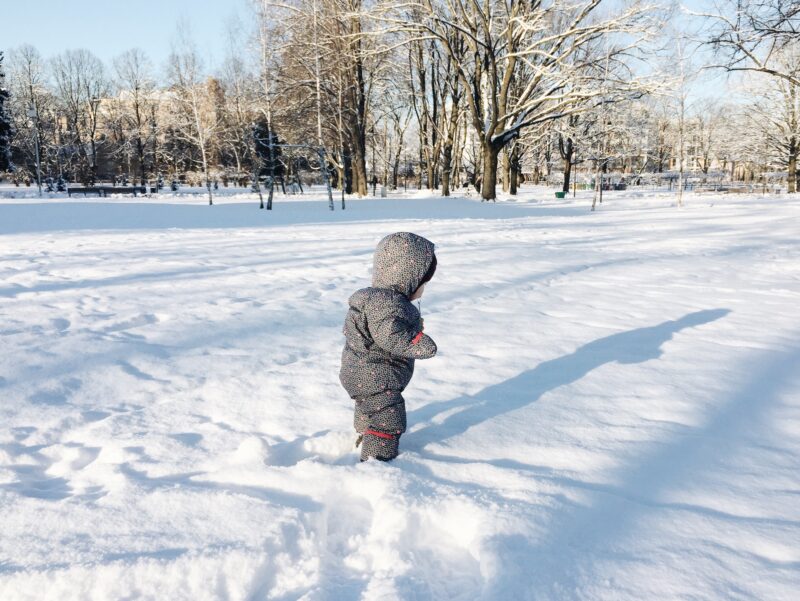 A recent discovery for bad weather days is the children's reading room at the National Library, a lovely colourful space with panoramic views, a ton of books for babies and up, and carpets and soft furniture for crawling and climbing around.
Next we go home and have lunch. Elīze loooves eating (her favourites are berries, hummus, bananas, and anything with curry – possibly a result of my spicy food cravings when I was pregnant), but she lets me know when she has finished her meal by slowly catapulting all the leftovers onto the floor.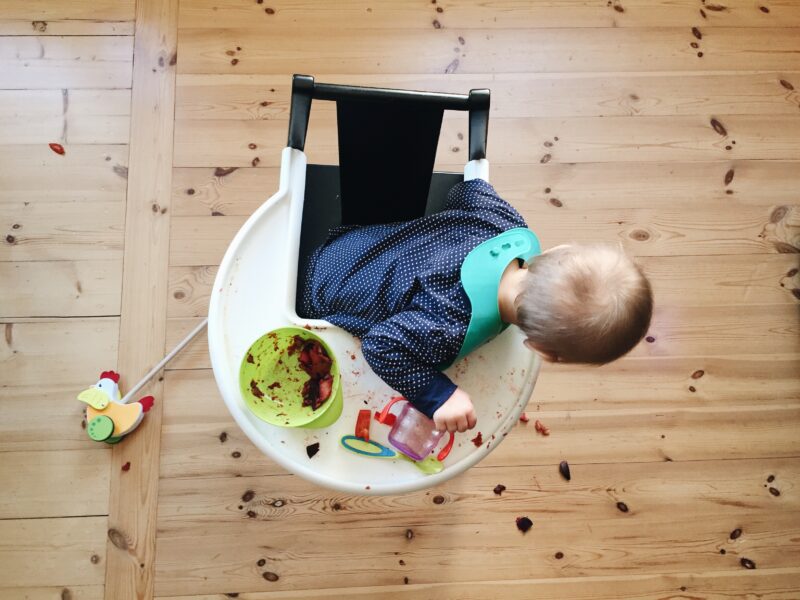 By this time we both need a rest, and hey, it's naptime! While Elīze sleeps, I clean up the disaster zone she has created in the morning and do some work, read, or just enjoy the silence for a while with a coffee.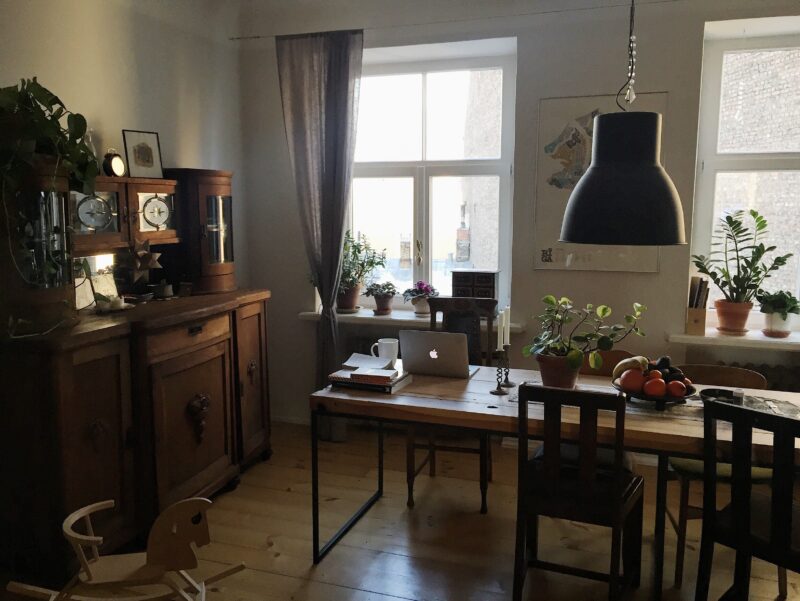 Two days a week my mother comes to babysit Elīze for the afternoon while I get to run some errands or go to a work meeting (i.e. have actual stimulating conversations with grown-ups). I really appreciate it and Elīze is always absolutely delighted to see her. Otherwise, we sometimes have a playdate with my friend Viola and her son Teo who live nearby, or go out again to a café or shop for groceries. We live in the Miera iela neighbourhood so there is no lack of cozy places nearby that cater to both coffee snobs and kids.
Edgars usually gets home before 6 pm – luckily the bank he works at is just down the street from our house. Two nights a week I head off to hang out with 18-21 year olds at driving theory classes, which are compulsory here (yes, I may have a master's degree, but getting a driver's licence has somehow eluded me.. I'm ashamed to admit this is my third attempt!). Other nights I'm on baby duty if Edgars has band practice or is DJing somewhere.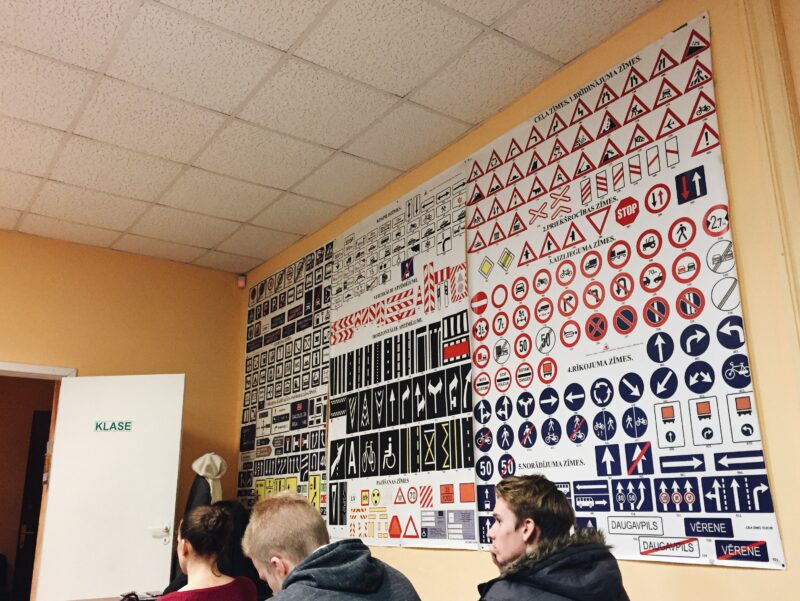 If we both have a free evening we might go for a walk, cook dinner, and definitely have a baby dance party or two – local 80s legends Dzeltenie Pastnieki are always a hit. Edgars gives Elīze a bath (her favourite part of the day), and we put her to bed around 9 pm with her beloved blankey and a classic Latvian lullaby, Aijā Žūžū, that my mum used to sing to me as well. After that, there may be some Netflix and a glass of wine involved. To be honest, when I found myself in a bar a few days ago (finally visited Aleponija, Riga's newest underground hangout), I realized I didn't even remember the last time I had been at a bar.. Yes, typical sleep-deprived new parent. Maybe it's actually a question of priorities though (oh, and getting old), as I have managed to see some films at the cinema (at Riga IFF festival and Kino Bize), go to artist talks, yoga, visit friends and family, or have people over to our place. And Elīze is used to me dragging her along to exhibition openings – she loves the action and attention.
Since we have our trusty crew of babysitters – Elīze's grandparents and my sister Lelde – me and Edgars even manage to go out in the evenings together sometimes.. my mum is already booked for the Kuba concert in a couple of weeks. When we can, we all take the chance to do some recharging outdoors – either going to Cēsis or Koknese where we have family, or taking a walk at the Vakarbuļļi or Kalngale beaches just out of town.
Spending this year with Elīze has really made me appreciate the saying "the days go slow, but the years go fast". While each day can be joyful, surprising, sometimes challenging or boring, we are both growing together non-stop.
Laura
My morning doesn't start with the ring of an alarm clock at a set time. Since the arrival of my son Frenklins, mornings and nights often become one. Mornings tend to start early after one or a few wake ups overnight to pass him his dummy or toy, wrap him up warmer or give him a cuddle if his tooth hurts. We usually get up around 8 or 9 am although it can be 9:30 or 10 am if we're lucky!
Mornings are so full of joy. We grown ups should learn to welcome every new day with such happiness. I start by feeding Frenklins. Since my husband works from home, he helps me in the mornings with bathing and entertaining Frenklins while I make breakfast. First of all, we drink a mug of warm lemon water with honey and then have a selection of sandwiches, eggs, cottage cheese and salad. We have some coffee and Frenklins has porridge. Around 10:30 – 11:30 am he's tired again and goes for a snooze. Meanwhile, I do some housework or have a rest. If my husband is in, I tend to use this time to run some errands.
Around 1 pm my son and I go for a walk and we're often joined by a friend who lives nearby. We take a mug of coffee with us, occasionally pick up a snack and go for a wonder around Lielie Kapi (Great Cemetery – a very old cemetery which now serves as a park). It's so big and a great place to escape the hustle and bustle of the city. We meet many other mums and their babies along the way, others come here to walk their dogs or run. Pensioners and kids sit on the benches.
Over the last eight months I've crossed almost the whole of Riga on my walks. Sometimes, I explore the Skanste neighbourhood, walk along hipstery Miera iela or go to the city centre. I'm not too keen on the city centre during the day, it's so loud and busy.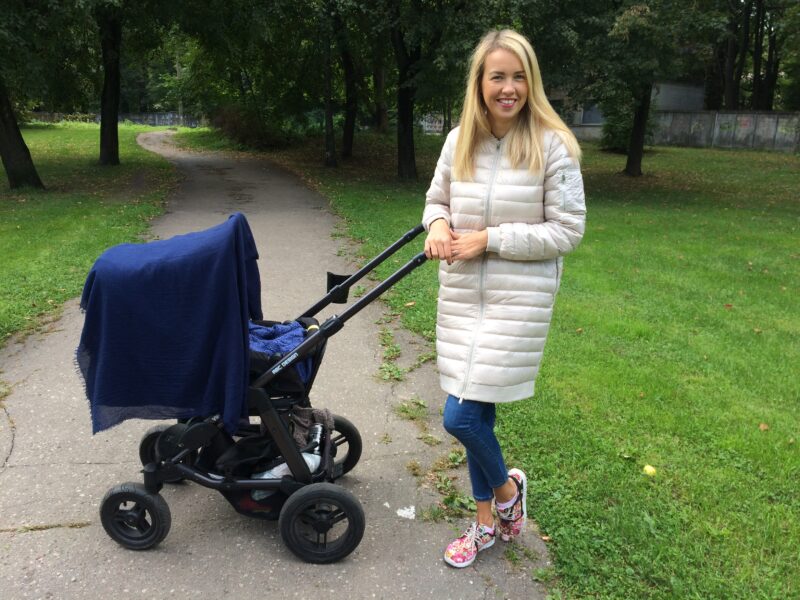 Once in a while I treat myself to something from Pietura. They bake some of the best pastries and cakes in Riga. In summer and autumn I got a lot of veggies from the countryside but now, in winter I often go to places like Vidzeme market to buy veggies, mainly for making baby food.
When we get home, I cook some puree for Frenklins and make lunch. Then we play. Sometimes he likes me to show him things, sometimes he just likes me to sit next to him but most of all he likes to crawl through the apartment, under the table and over cushions, and examine his toys. As colorful and cool baby toys are, he still prefers regular household items like empty water bottles, tupperware and slippers.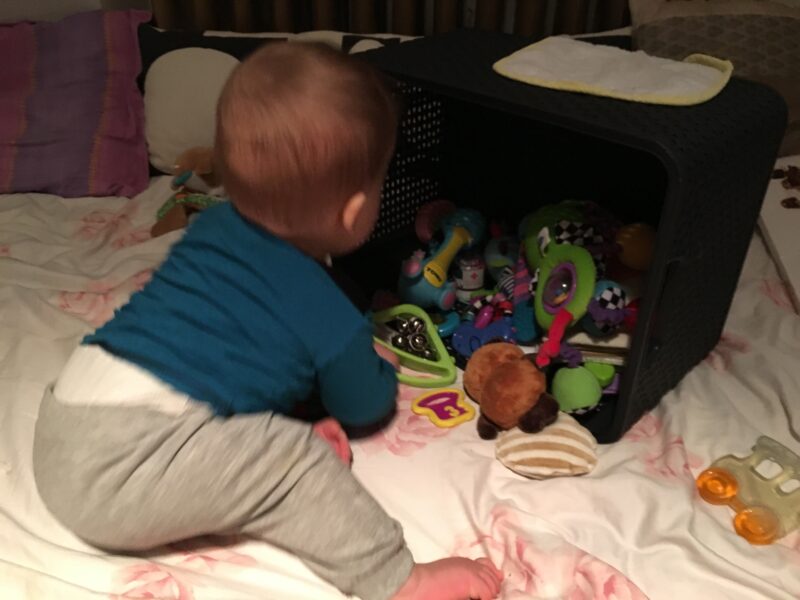 He has another nap in the afternoon. Again, sometimes my husband stays at home and I go to meet my friends after they've finished work. We might go to Fazenda or Vairāk Saules for food. Sometimes we go to Forum Cinemas. When my husband and I want to go out somewhere, granny comes over to look after Frenklins.
There are days when there is just too much going on and there's no time for anything. Those days my husband and I use nap time to finally just have a meal.
After his nap Frenklins wants to play again and, most often, we play together since he can be a bit grumpy by this time after a long day. Who's not tired by then? He then eats some porridge and has his bath. Most often, Frenklins' dad takes care of bathing him. He loves bathtime! Since he's learnt to sit, he's also understood that water can be splashed around. Fun times!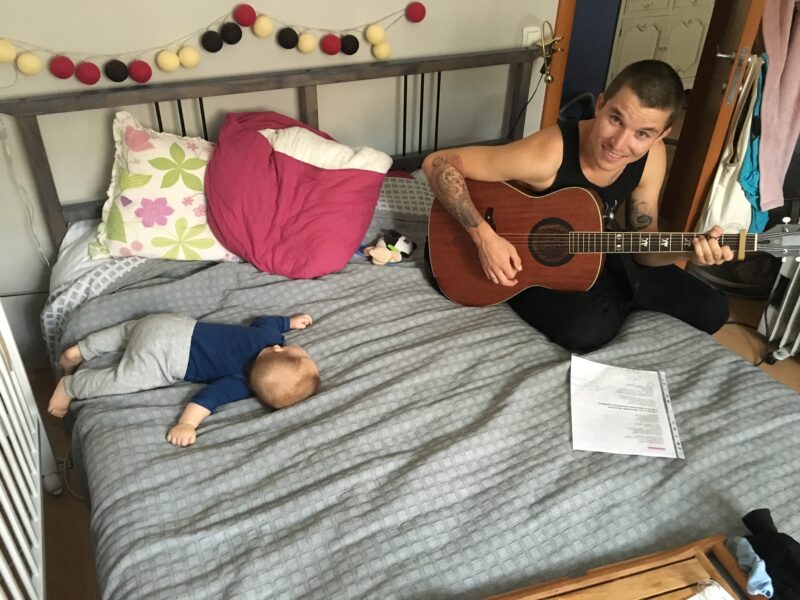 Around 9:30 pm Frenklins goes to bed. It's usually quite peaceful, we lie next to each other, I sing a lullaby and he drifts off. I carry him to his cot and my "working day" is over. My husband and I watch a film, have a bite to eat and read a little. Sometimes, I'm so exhausted myself that I go to bed at 10 pm.
This is pretty much an average day, although each one can be veeeery different. Something new happens every day! My son learns something new, I learn something new about him and we get up to all sorts of interesting things together. There's a lot of joy involved! I can't compare it to going to work every day. Life was a lot more dull back then. There are a lot more laughter, fun and adventures now!