There's more to the Riga food scene than the city centre restaurants and hipster haunts, gaining an increasing amount of international coverage. Look a little further off the beaten track and you'll find genuinely cheap and cheerful bistro-type places where the average Latvian might go for a casual bite to eat or even just a liquid lunch, not necessarily a special occasion.
To put some of these on the map, we decided to launch what will hopefully become a somewhat regular feature on Life in Riga – Off the Beaten Menu – which will see me and companions discovering the lesser known neighbourhood nosheries of our fair city.
eLkafe, 55 Čaka iela
"Oh yes, now this is just the kind of thing I was hoping for" I said to Alex upon arrival at eLkafe, a Čaka iela establishment occupying what's likely a former shop space with very large windows making it the ideal place for people watching, a fun pastime on one of Riga's "liveliest" streets, made better still with a Radio Skonto soundtrack.
The interior is what we Latvians would refer to as an Eiroremonts – suspended ceilings, an eye-catchingly tacky bar, furniture from the likes of Mēbeļu Nams and flashing fairy lights.
Unsurprisingly, we chose window seats which allowed us to observe both the world go by and our fellow patrons. The seats are so low we felt pleasantly incognito but did find it a bit of a struggle to eat once the food arrived.
The lone waitress made us feel very welcome regardless of our arrival having interrupted her friendly date with another diner. There was a handful of other customers at a table on the far side of the room who, throughout our 45 minute visit ordered a single portion of ice cream but seemed to know the chap we assumed is the owner. His creepy demeanour and ogling made us quiver ever so slightly and left me worried I'd drop my fork.
To my surprise, I was relieved of my translator duties since the menu is available in Latvian and English. We figure this might be thanks to the hostel across the road.
The menu is basic but will satisfy both carnivores and veggies with Latvian staples like stuffed pancakes, and potato and meat dishes, as well as some international favourites like pasta.
We ordered:
Ham and cheese stuffed pancakes
Chicken with pineapple, served with fried potatoes and garnish
Pasta with mushrooms and cheese
Pineapple juice
This came to a total of: 8.20 LVL (11.67 EUR)
Alex really enjoyed his chicken which came peppered with curry powder and we were both pleasantly surprised by the pancakes which were homemade. The pasta could have been a little more al dente for my liking but the sauce was tasty and there was plenty of it. They're certainly very generous with their cheese topping, I could barely see through the thick layer scattered also with dill. All in all, the home style cooking was perfectly satisfactory for a mid-week meal.
We left the waitress a tip which she wholeheartedly deserved.
Himalajas – Āzijas virtuve, 102 Brīvības iela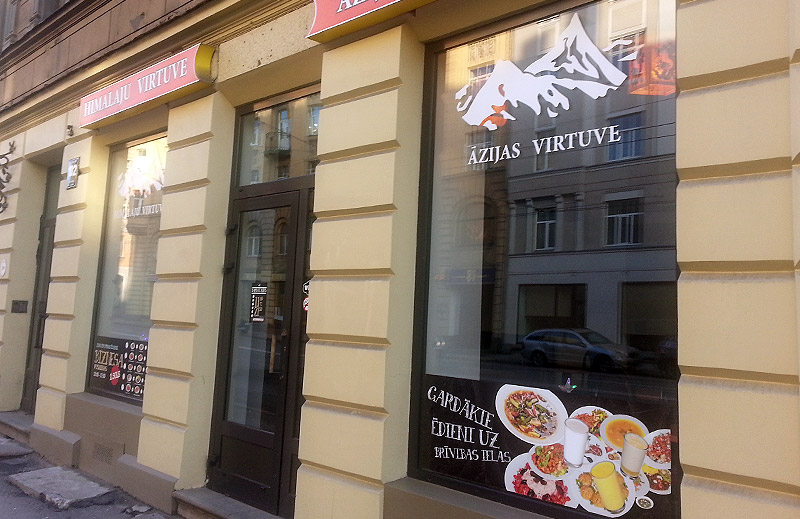 Unlike many European cities, Riga cannot boast an array of Asian food restaurants and takeaways. So, we were really happy to discover Himalajas – Āzijas virtuve on the stretch of Brīvības iela between Matīsa and Tallinas iela, which is fast becoming Riga's most multicultural quarter.
From the outside you'd be forgiven for wanting to pass by what looks like quite a cheap and nasty bistro with orange walls, some ethnic tapestries and lamps but it's worth not judging this book by its cover.
Wander in and let yourself be charmed by the sweet hostess who in this instance was the Nepalese owner/chef's wife. We hesitated for a moment as to what language we should use and stuck to English to avoid confusion (me speaking Latvian and Alex speaking English). The only misunderstanding we had was when we got two bowls of soup instead of the single one we'd ordered but since it was delicious, we didn't mind in the slightest.
The menu is quite extensive and caters well for vegetarians. With most mains you can choose whether to have rice or noodles.
We ordered:
Mango lassi x 2
Water
Tom yum soup x 2
Chicken spring rolls
Honey and sesame glazed aubergine served with rice
Himalayan special served with noodles
This came to a total of: 14.61 LVL (20.79 EUR)
I really enjoyed the tom yum soup swimming with a very generous amount of prawns. Alex oohed and aahed over his chicken spring rolls. My aubergine was flavoursome but very sweet and personally I wouldn't order it again because of that. Alex wolfed down his Himalayan special chicken dish which he described as "decent" (quite the compliment in his book).
What left us with a slightly sour taste was the trashy music channel blasting a mix of 90s pop music and current Russian hits. I also flinch every time I'm served non-Latvian mineral water in Latvia. This particular plastic bottle had come all the way from Italy. Unnecessary.
If you have a recommendation for us or would like to join us for a meal, do let us know. We'd love to further populate the map of Riga's "best kept culinary secrets".