Edit: It would seem testament to Riga's constantly shifting landscape, that our article on relatively "new" cafes is now sorely out of date. All in the space of just a couple of years.
Mākonis now resides at Stabu iela 42, out of the quaint side streets and into the city at large, but with a commendable venison burger now on the menu!
Mū recently closed its crispy-fresh doors to concentrate on private catering, so if in future you crave their incredible baking, you may be lucky enough to still encounter it in some form.
Žanna no longer exists, sadly. It has been replaced by a small deli-style branch of Mercato (with their main restaurant still holding fast on the corner of Stabu and Baznīcas).
Our article still remains below, but as you well know, the cafes and establishments are ever-changing.
*****
As Riga continues to flourish, taking solid steps away from prior occupation, the culture in and around the city goes from strength to strength. Young people are giving Latvia an identity, and a get-up-and-go attitude towards doing your own thing has spawned a number of new enterprises.
Alongside clever products and beautiful industrial design there are a few new and enticing cafés starting to truly pepper the city with chic interior design, delectable baked goods and friendly baristas who know their way around a coffee machine or two.
If you find yourself looking for a well-made cup of coffee, a nice crisp white wine or some of Riga's finest beetroot & chilli juice, then look no further than our most recent café discoveries:
Mākonis – Palasta 7, Vecriga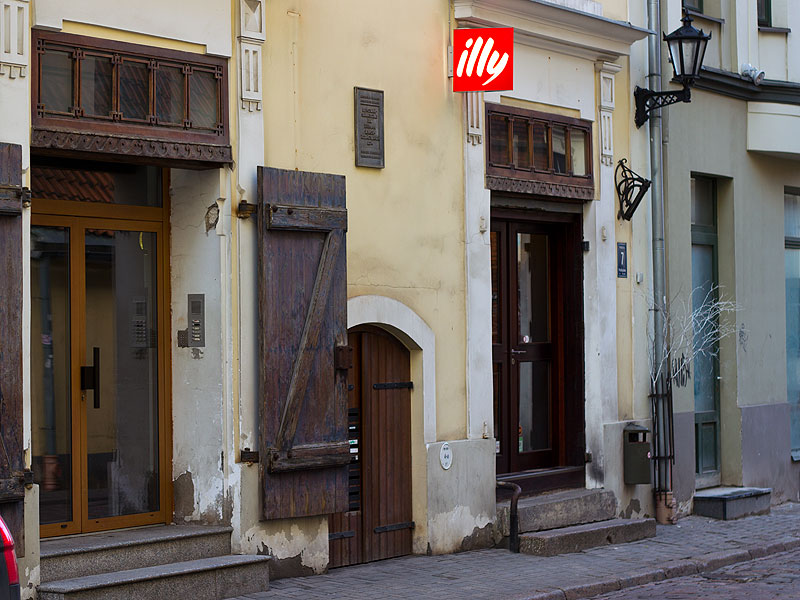 Initially, a seemingly tiny café, this veritable hole in the wall gives way to a spacious upstairs area where you can see right into the super-modern kitchen. Seats fashioned from baths, and a selection of design products line the walls, and you can be sure that the coffee is of a high calibre.
A very popular lunch menu to choose from, and according to one patron, the coolest beards in the city! Booking recommended for dinner.
Žanna (CLOSED BUT NOT FORGOTTEN – February 2015)
Newly opened on an unassuming corner (Tomsona & Nītaures) in a neighbourhood not particularly known for its café culture, this modern mid-sized space hosts a good selection of alcoholic beverages. With cakes and croissants baked on the spot, you can be sure to find something sweet to accompany your wine of choice. You'll also find a few breakfast classics on the menu.
Despite large almost floor-to-ceiling windows, you can watch the world go by in warmth next to the giant radiator on the back wall, although those with knee problems way wish to note that the tables and seats are rather low. Choose a windowsill seat for a bit more legroom.
Mū – Tērbatas iela 66, Centra Rajons
A crisp new addition to the upper end of Tērbatas iela, Mū has a certain freshness about it. Their light and airy interior design channels shades of salon style with a modern edge, and with stools looking out the window, one can perch and watch the street in comfort. Look out for the very cool sink in the bathroom fashioned out of a metal bowl.
The white-tiled counter hosts a modest selection of well-crafted cakes, and easily the best apple slice I've had in the city, while the chalkboard walls tell a short story of mouthwatering juice combinations (beetroot and chilli, anyone?), tea and coffee. Warm waffles have also recently appeared on the menu.
These are by no means the only trendy cafés in Riga. Many more await to be discovered, which we will endeavour to mention as we find them. If you have discovered any yourself, or want to recommend somewhere to us, just leave a comment and we'll stick it on the to-do list.