Riga Central Market is our favourite place to shop in Riga, and we've put together a shopping list for your first or next visit. If you don't yet feel confident enough to explore it on your own, start with a guided tour of the market! The guide will give you additional tips and insights on how to recognise the best produce and vendors.
Uzbek bread and pastries
Why? Because this little corner of Uzbekistan seems to be home to some of the finest bakers you'll ever see. Plus, you can ogle and point at them through the glass window while they burn their fingers so you can have a tasty grain-based treat, such as a beef samsa or simple non bread.
Where? In the corridor between the fish pavilion and the vegetable pavilion as well as at the canal-side entrance to the market.
Smoked chicken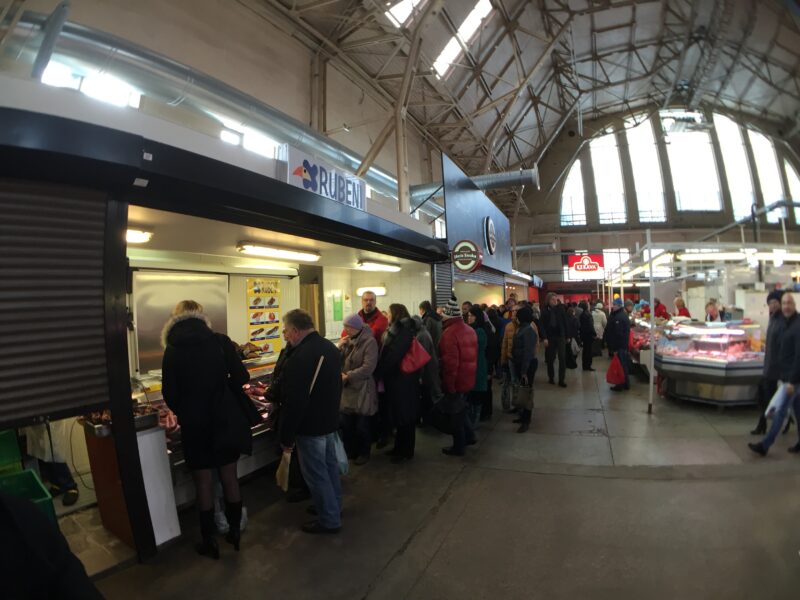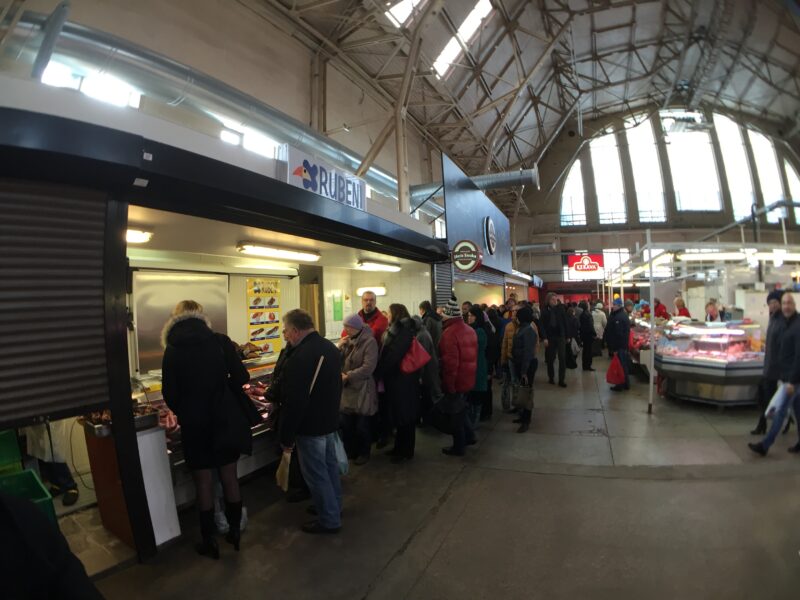 Why? Because your mouth will water at the taste of meaty log-fires, and Rubeņi does us all a great service, masking the smell of blood and bomži (Latvian hobos, typically drunk and/or disorderly).
Where? The Rubeņi stand at the Riga Central Market meat pavilion.
Svēte organic bread
Why? It's real, wholesome, GMO free, artisanal, all natural, organic Latvian bread at its finest.
Where? At the Svēte stall in the vegetable pavilion. On the side of the pavilion furthest from Riga Canal.
Marinated vegetables
Why? Lelde's mum's Riga Central Market go-to stall for all things fermented (it's healthy!). She says: "I' m delighted that I discovered this stall selling a myriad of pickled-marinated Asian-style vegetables with a spicy kick. Exotic mushrooms, eggplant, baby carrots, cauliflower and lots of others, all great to add to inspired salads. And the lady behind the counter is lovely as well."
Where? In the dairy hall.
Sauerkraut juice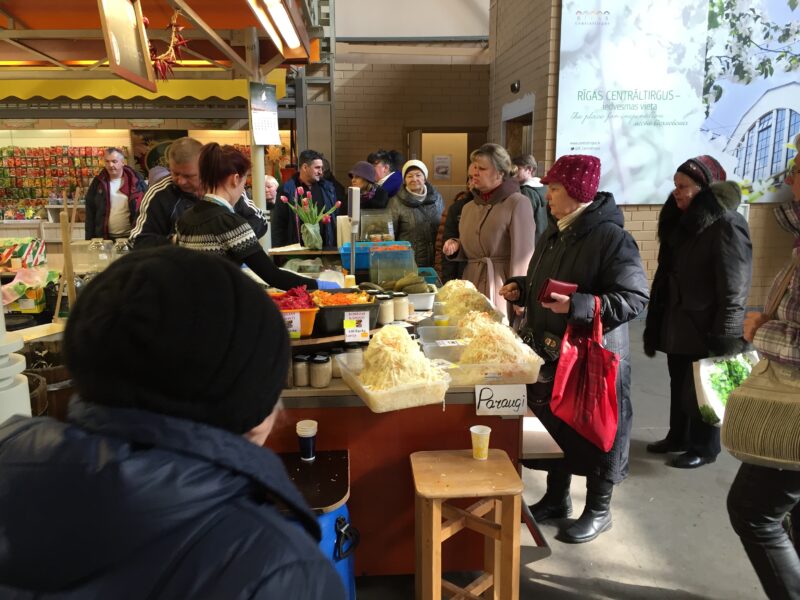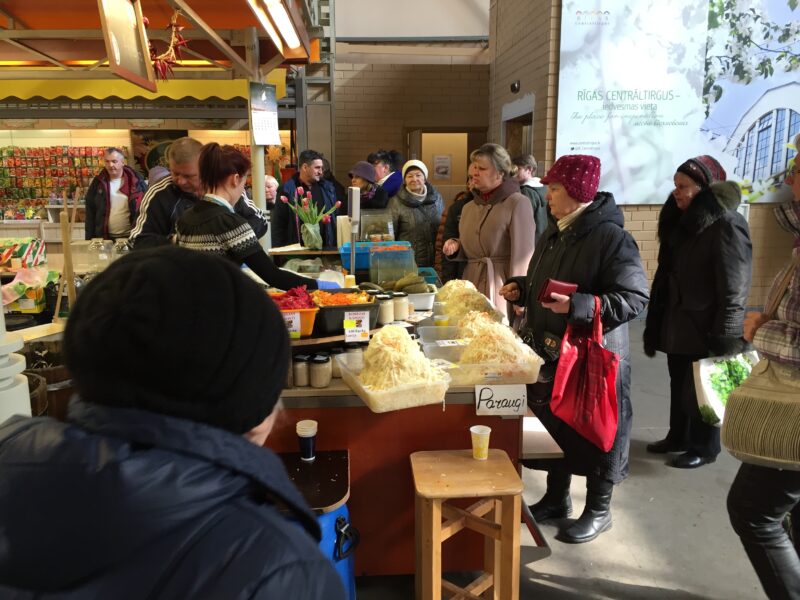 Why? This ghastly beverage is said to be potent enough to dislodge the dormant wildlife lining the twisted confines of your grotty intestine. It's also reputed to be one of the best hangover cures out there. Vendors advise against drinking a full glass if you aren't a regular sauerkraut consumer. You'll soon find out why…
Where? Numerous stalls in the vegetable pavilion. Look for stacks of plastic cups!
Pelmeņi (dumplings) by the kg
Why? Boiled or fried, these mystery-meat filled ravioli-a-likes are hilariously easy to cook and taste great (provided you don't look too closely at the ingredients). Not only that but the home-made selections they offer on the pelmeņi menu (pel-menu?) puts even the biggest supermarket freezer section to shame.
Where? The vegetable pavilion, in a kiosk in one of the corners on the furthest side from the canal.
Dried fruit and nuts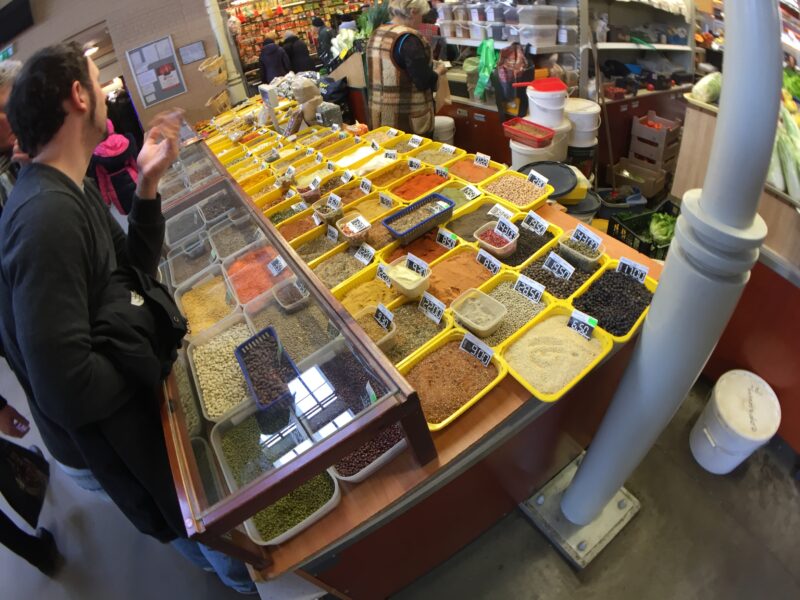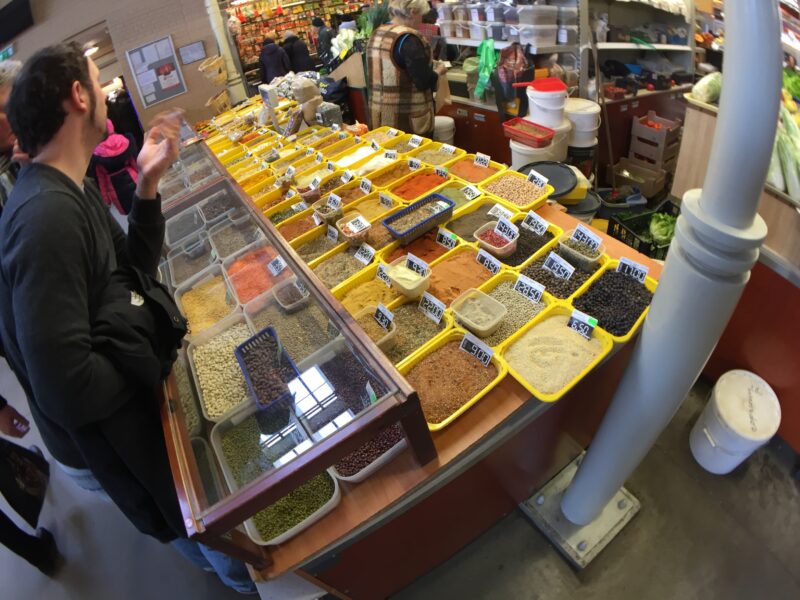 Why? A bonus when buying fruit and nuts at Riga Central Market is the personal touch – your vendor will dip her hands into your bag of goods at least once during the transaction to get the weight just right. You wanted 500 g, correct? Let's make that 498 g of raisins, and I'll throw in 2 g of the skin off my flaky vendor fingers. But the raisins come fresh as can be from Uzbekistan and other nearby countries, are super juicy and just a whole lot better than their pre-bagged counterpart that you can pick up at the supermarket.
Where? Numerous stalls in the vegetable and "mixed food" pavilions.
Donuts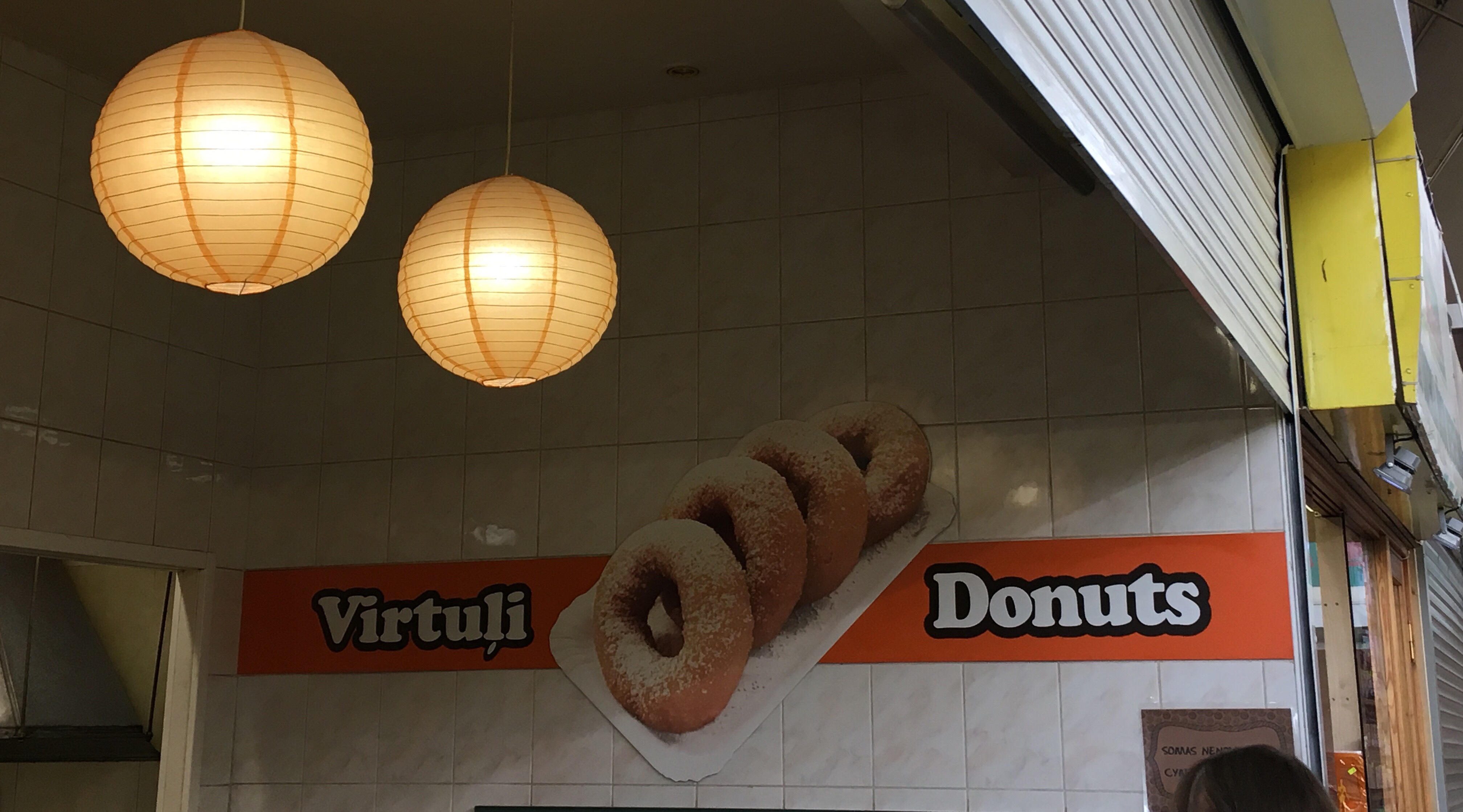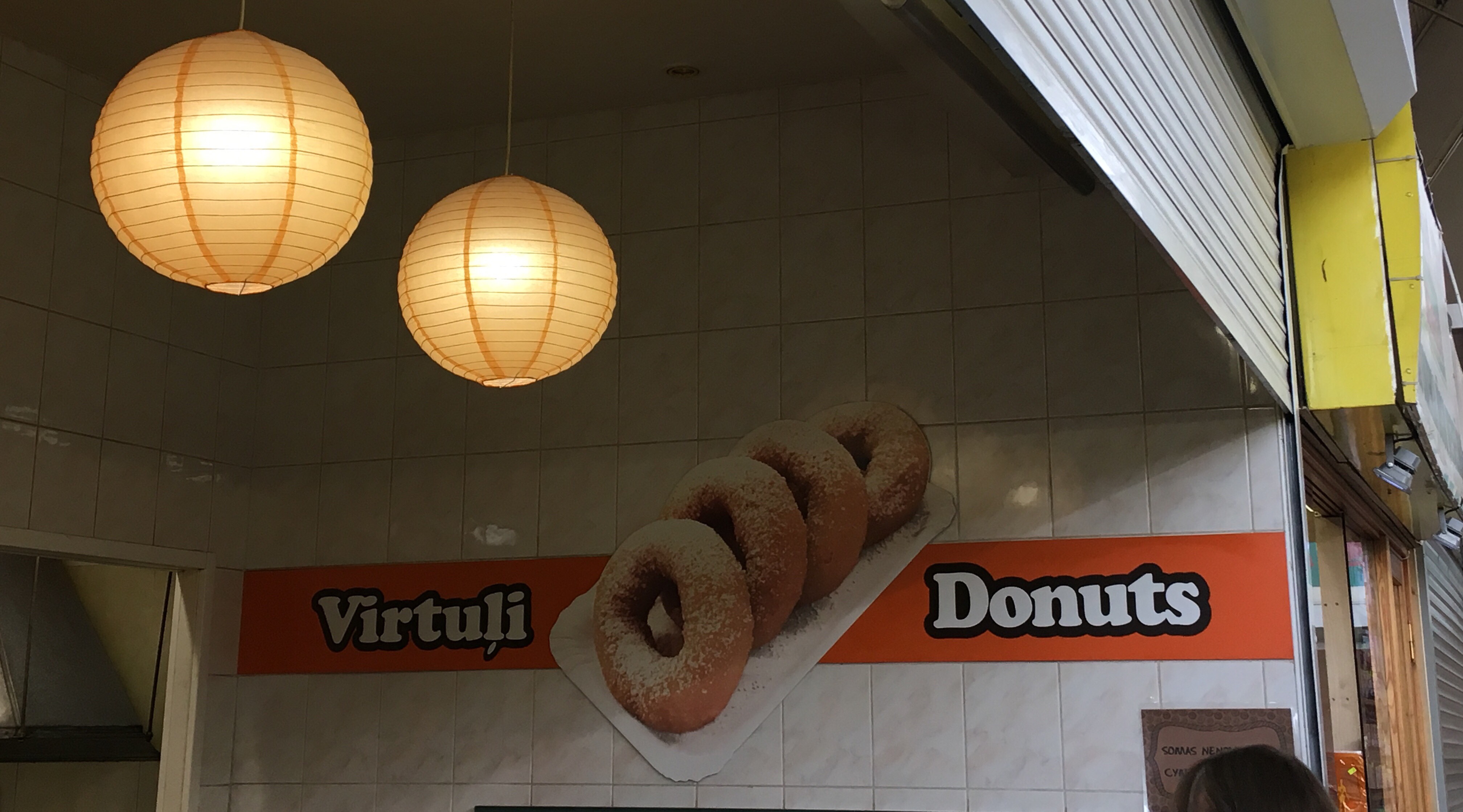 Why? Because despite being the grumpiest vendor in the dairy pavilion, that little woman fries up the freshest, tastiest virtuļi you'll taste this side of Riga.
Where? Directly to your left upon entering the dairy pavilion through its side entrance.
NB! In 2019, the donut stand is closed due to major renovations at Riga Central Market.
Honey products
Why? Because heck, you've bought honey at every other market in Latvia, why not buy it at Riga Central Market too?
Where? Numerous stalls in the "mixed food" pavilion and between the fish and vegetable pavilion.
Turkey hearts, calf esophagi and other innards of the animal kind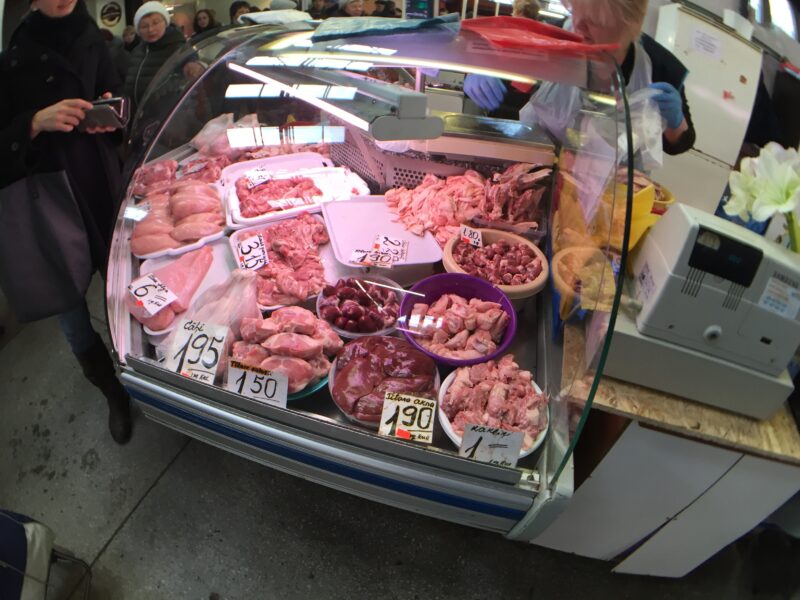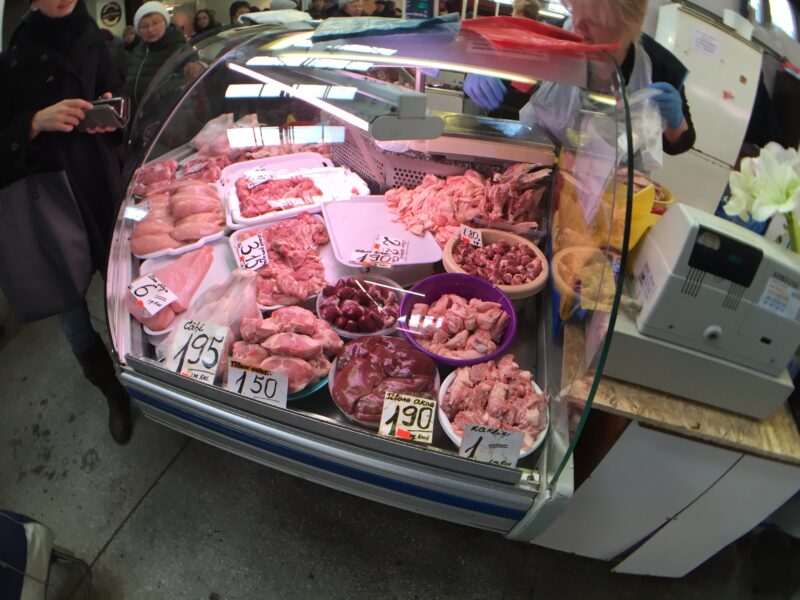 Why? To treat that special someone – your feline or canine companion.
Where? The meat pavilion to the left of the canal-side entrance to Riga Central Market.
Shopping at Riga Central Market is a one-of-a-kind experience, and we wouldn't change it for the world. We hope you'll share our sentiment!
—
Enjoyed this post? We think you'll like What To Eat In Riga too.