"Georgians have more time than the dead," a fellow Latvian told us in Kutaisi where she runs a hostel. We didn't know this saying before arriving, but soon picked up on the notion, learned to tolerate and gradually even enjoy it. Our 15-day independent travel experience inspired this Georgia travel guide.
"It'll leave when it's full" the airport transfer agent said as she gestured in the vague direction of the marshrutka (minibus). Little did we know that the van would remain immobile for over an hour, which gave us plenty of time to get comfortable with the airport's stray dogs and other passengers, most of them Latvian and one of them an experienced guide who gave us our next hint at what's to come: "In Georgia, one must really go with the flow. You'll love it!" Soon we did.
As we sped along the motorway towards Georgia's second largest city Kutaisi, I gazed out at the cars. Some were just slightly dented, others were proper wrecks and yet others couldn't be more sleek. They're all capable of moving passengers or cargo from A to B and here, that seems to be the winning argument. Toyota has obviously invested heavily in the Georgian market; I'd never seen so many Prius-model cars.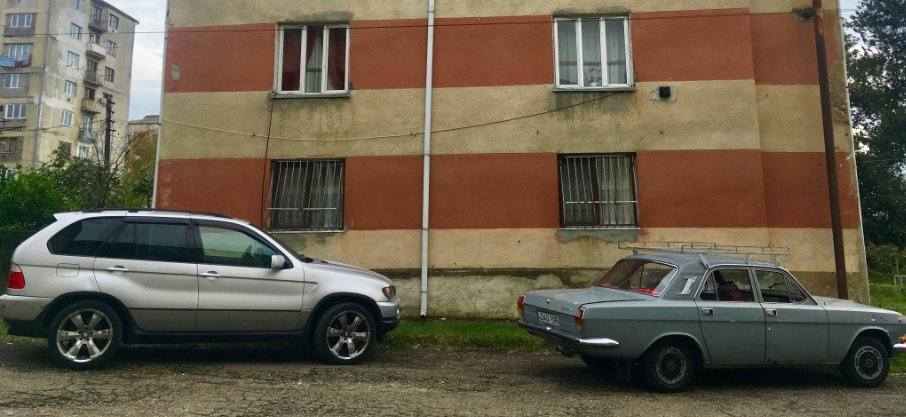 Our guest house in Kutaisi was a family home with a live-in two-year-old terrorist ensuring there was never a moment of silence. It was a veritable house of calamities. The lock of my room door fell into my hand, the bathroom door jammed before the evening shower rush hour and the tiles on the landing kept moving. The owner suggested we cancel our online booking and pay cash in hand. I hear she's not the only one. Yet I enjoyed our stay. We had all-hours access to homemade wine, a beautiful view over the hills towards Gelati Monastery and wonderful conversations in broken French, which was our only common language.
It didn't take us long to discover the local market where no-one obsesses over hygiene, churchkhelas (fruit and nut candy) hang freely, sulguni cheese stands unrefrigerated and homemade wine is transferred from vats to used but washed bottles to take away. I don't want to imagine a future where every item is wrapped in clingfilm or individually bagged like it is at the average supermarket worldwide.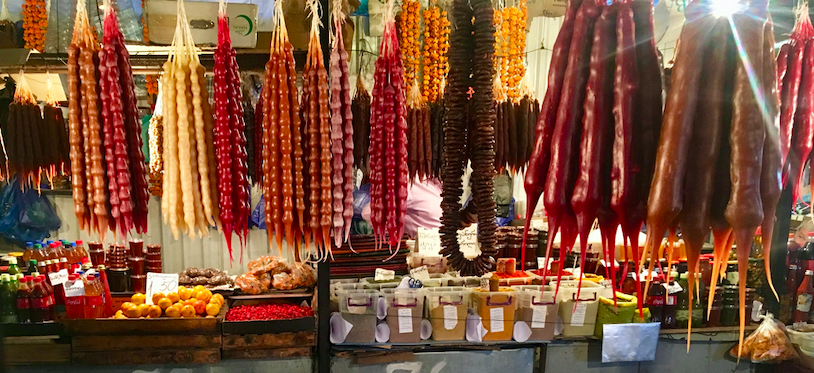 Stall keepers are pleasantly unphased if you don't buy anything. There's very little of the guilt-tripping tactics I've experienced at other foreign markets. It's more relaxed. Also, at the market and beyond, nobody seems to care if you're wearing Reebok or Rebock, Supreme or Spuerme. Beyond the brand it's just clothes. At the market, they sell the latter brands.
There's no shortage of major corporations and ethically questionable businesses preying on the developing economy – casinos, fast food joints and big pharma companies. I took comfort in hearing how McDonald's got its spot on Kutaisi's main square next to Colchis Fountain. Want to build a McDonald's? The council says you'll have to build a church too. And so, the two sit snuggly side by side. I only wish the church was in front.
Day Trip to Tskaltubo, the Once-Premier Spa Resort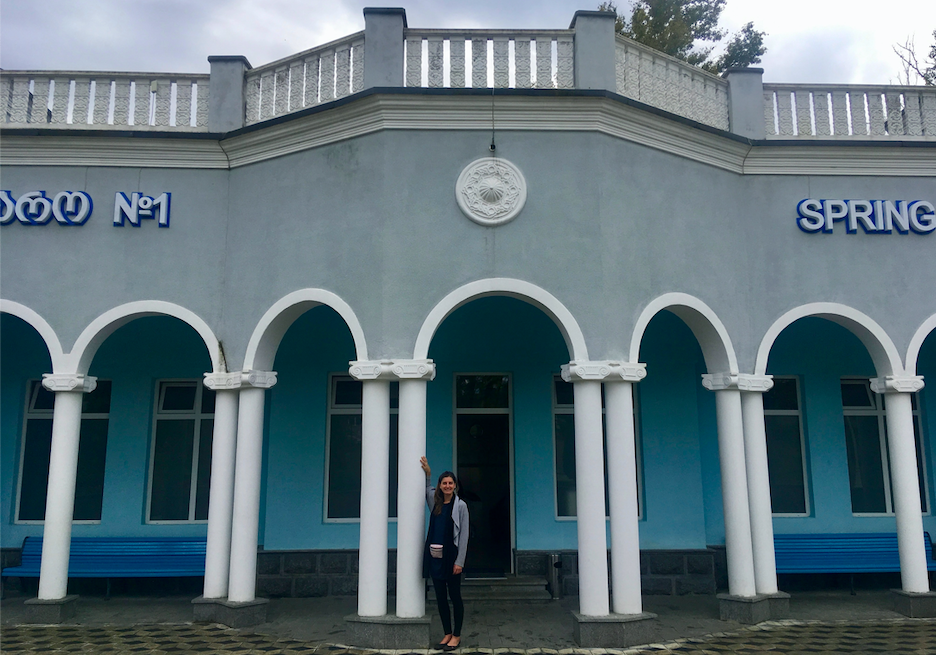 The day we went to Tskaltubo was the day I was held down and hosed down in mildly radioactive water, wrapped in mineral mud and learned to appreciate a more pragmatic approach to relaxation.
Tskaltubo, just 20 minutes' drive from Kutaisi, was one of the Soviet Union's premier resorts where hard-working employees from all over the Union benefited from prescribed retreats at the purpose-built sanatoria. The area is rich in healing thermal springs with a radon content said to cure tens of ailments including joint pain and eczema. It's more focused on healing than pure relaxation.
Many buildings still speak of Tskaltubo's glamourous past with its heyday from the 1920s to the 1980s, yet also hold a different story. Though crumbling and dilapidated, the former sanatoria still provide what was meant to be temporary shelter to a community of displaced persons from the Abkhazian War in the 1990s. This makes for a morally difficult decision.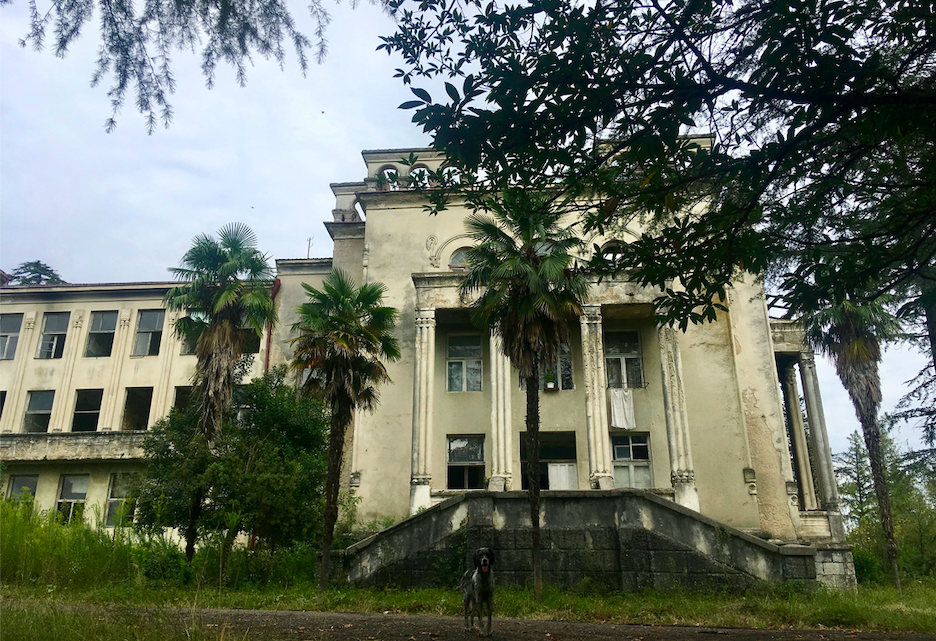 While local authorities are doing their best to rejuvenate the town's tourism industry with new hotels and spa packages for tourists, you can't ignore the parallel reality. Coming from Latvia, I'm no stranger to hearing people praise the Soviet Union and the comforts it brought, but I never identified with the sentiment. In Tskaltubo, you can't help but question capitalism and hope for better alternatives.
Our day trip to Tskaltubo was certainly the most intense emotional rollercoaster ride of many in Georgia. While I truly enjoyed the treatments at Spring No 1, I spent way more time in my head than in the clouds. Travel sure broadens your perspective and that's one of the reasons I do it.
Day Trip to Chiatura, a Mining Town between Kutaisi and Tbilisi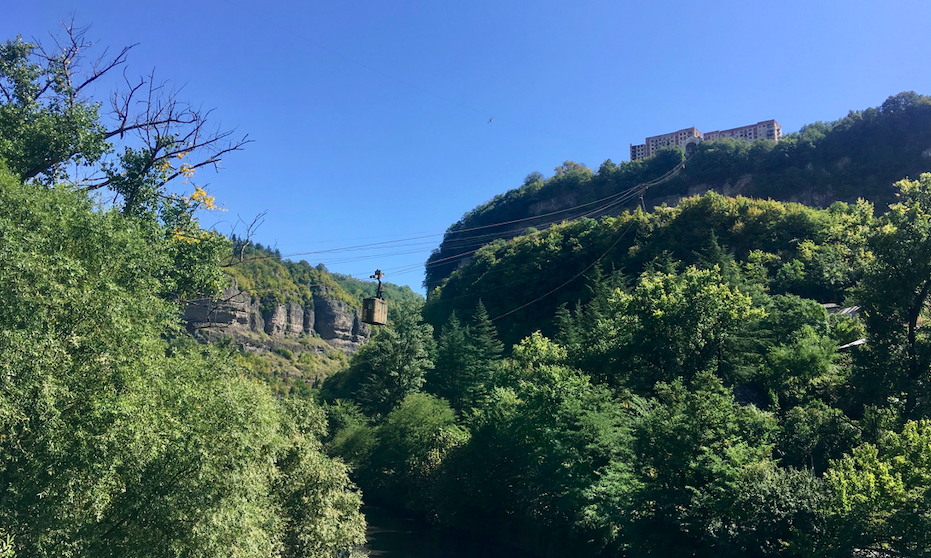 Another marshrutka journey took us over the hills to the old mining town of Chiatura. We strode through town crossing paths with a young German couple who'd clearly read the same travel blog.
With Stalin in power, local authorities built cable cars to deliver workers from home to the mines more efficiently. The cables still hang and, unbelievably, some of the cable cars still run. We'd hoped to ride over the River Kvirila in one of the rickety cabins but our visit fell during maintenance month. We actually saw new terminals being built and cables being installed.
On our hunt for the cable cars, an elderly lady asked us where we're from. She'd been to Latvia in 1957 when Latvia and Georgia were both Soviet Socialist Republics and had fond memories of holidaying in Sigulda. She told us life in Chiatura is improving but still hard for women because there's nothing to do.
Her sincerity and kindness weren't unusual. The locals charmed us everywhere we went, it's in their blood. There's also an unwritten bond between Latvians and Georgians due to our common history. Both nations love to spoil guests, ply them with food and booze.
The return journey gave us another lesson. Snoozing is the best way to survive a marshrutka journey. Being stuck at the back of the bus with a severe lack of fresh air helped dozing off.
It's good to know Chiatura is also easily accessible by organised tour from Tbilisi.
Day Trip from Kutaisi to Okatse Canyon, Martvili Canyon and Prometheus Cave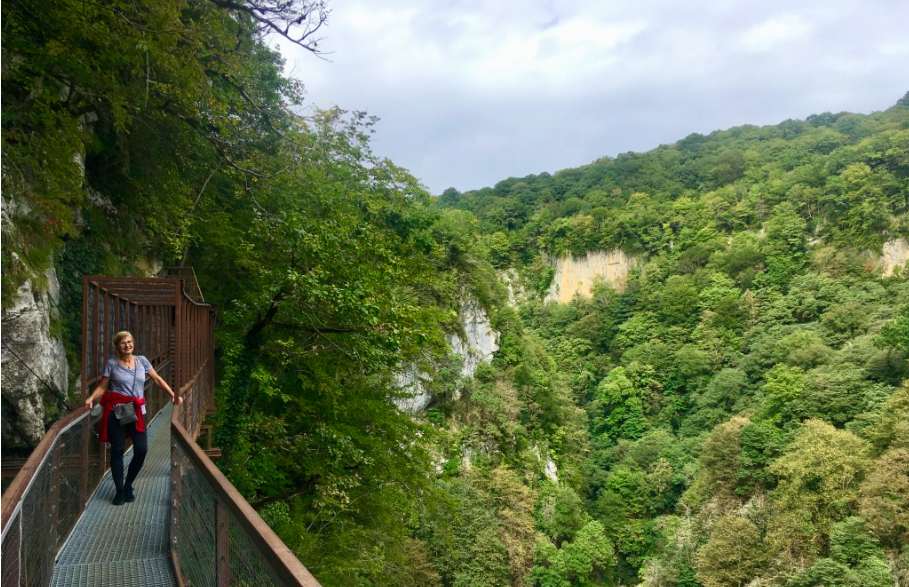 Kutaisi proved itself an excellent base from which to explore the surrounding area. We knew the three sites we'd be visiting but only found out the order on the morning of our tour by private car – Martvili Canyon, lunch, Okatse Canyon and Prometheus Cave. We could spend as little or as much time at each place as we felt like and were blissfully unaware of closing times, which lead to some serious yet professional speeding, dodging cows and pigs to make it on time for the last tour of the day at Prometheus Cave at 6 pm. We're told pigs roam freely until New Year's Eve when they become shashlik (pork skewers).
I was blown away by Martvili and Okatse Canyons from a destination management point of view. To me, this is the realistic future of travel if we want to keep accessing nature yet sustaining it for generations to come. By local standards, you pay a hefty fee for the completely manicured visitor experience with marked and guarded trails, which lead you safely from point A to B with few chances to veer off course. At Okatse, we gawped at the engineering miracle that is the hanging metal walkway but took it anyway and can recommend the nerve-racking yet rewarding experience.
You can't blame the locals for monetising on the popularity of the canyons. We paid 15 lari (5 euros) for a freshly squeezed pomegranate juice just outside the gates to Martvili Canyon.
Prometheus Cave is a crowd pleaser. While touted as a guided tour of the caves, our "tour" was actually a brisk walk through the cave system somewhere at the back of a long line of holidaymakers following a chap who switched on the lights and was responsible for our safety. He gave a three-minute speech on how to behave in the caves and admitted that Prometheus is a name used solely for marketing. It's working, but the caves totally merit a visit.
Adding up all the entrance fees, lunch money and car costs, our day trip from Kutaisi to the canyons was the most expensive of day trips at around 120 euros for two people. We spoke to many travellers who'd made their way to to the canyons on a day trip from Tbilisi like this one, so Kutaisi doesn't have to be your base.
Day Trip to Batumi, a Resort City on the Black Sea Coast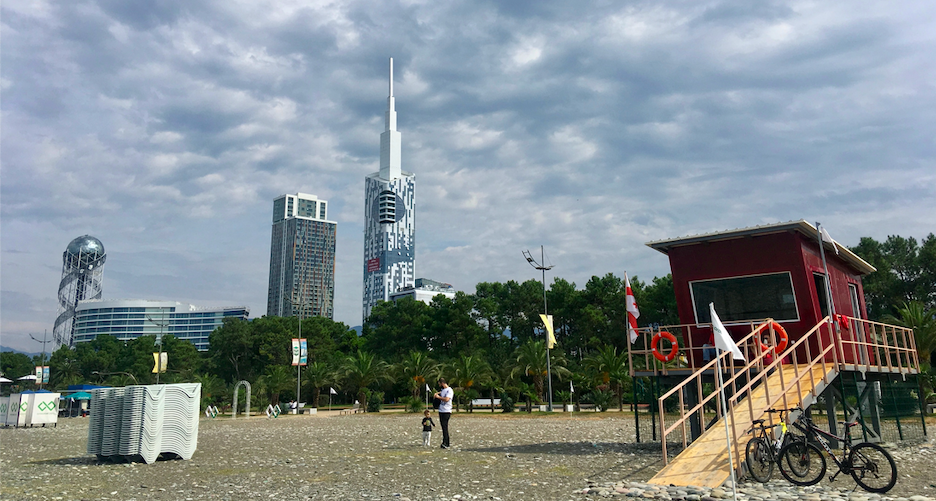 Our day trip to Batumi was unplanned in more than one sense of the word. We realised we'd covered Kutaisi and booked a last-minute day trip by car. At 9 am we were outside our guest house as instructed only to wait until 10 am for our driver to appear. Our host consoled us: "Even doctors rock up at 10 am for a 9 am appointment."
As the one in the back seat, I had no belt and learned to grip the handrail. Our driver kept apologising for driving so slowly as they'd just installed new speed cameras.
We stopped for gas and I was quick to notice the Lavazza sign beside the petrol station. Coffee machines aren't widespread in Georgia and I'd been drinking instant and Turkish coffee until this point, which is delicious but intense. I'd chosen an all-black outfit for the day and the barista didn't shy away from asking why. Traditionally in Georgia, women wear black in mourning.
Once in Batumi, we were free to roam and soon found a cluster of Turkish restaurants near the local mosque. Central Batumi is just 17 km from the border. The cultural influence is noticeable. I'll admit it was nice to take a break from eating khachapuri (bread stuffed with cheese) for lunch.
We learned that Batumi hopes to attract Middle Eastern visitors banned from the joys of casinos, alcohol and other decadent pursuits at home. The city centre is a cacophony of high-rise hotels, investor apartment blocks and remaining older buildings with shops and restaurants. One of the skyscrapers has an inbuilt Ferris wheel. There's a beachfront promenade and a cable car swooping overhead. As it was low season, miles and miles of the pebble beach were largely uninhabited.
Our highlight was Batumi Botanical Garden, though we had unforgivably little time to enjoy the luscious green grounds with Black Sea views. The gardens would merit a day-long visit, but we now felt pressure from our driver to get back home. We sped back, listening to his mixtape of Russian classics and Boney M. As every driver we shared a journey with, he too crossed himself at every church and place of worship we passed along the way.
Escape to Svaneti, a Mountain Region in the Great Caucusus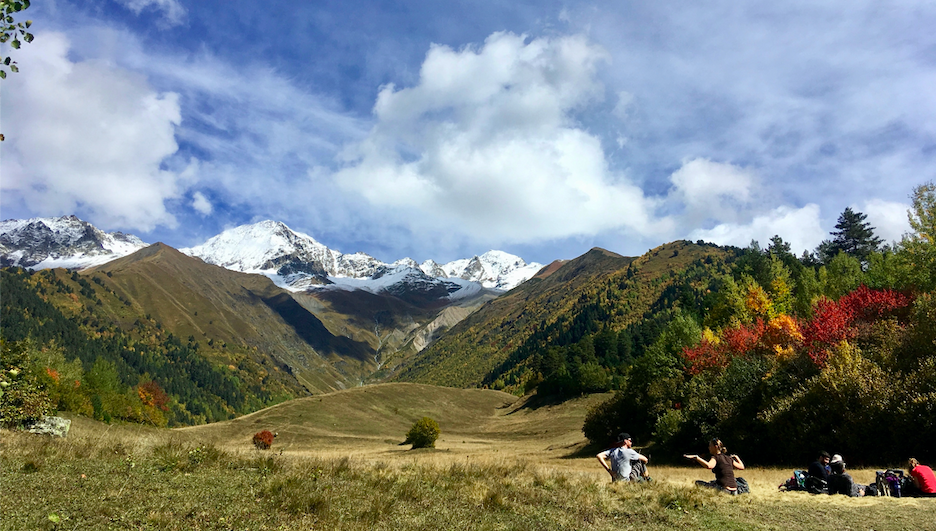 Having spent six days in more or less urban areas, we were more than ready to escape to Svaneti, a mountainous northern region. We took the morning marshrutka on its five-plus-hour treacherous journey to Mestia, the paradise of homestays. Ours was right beside the local museum. Again, we could barely communicate with our hosts in words, but that just made the experience more special as we giggled, gesticulated and ended up finding out quite a lot about each other. They suggested I stay and marry a Georgian, for example. They also made the finest breakfasts with homemade matsoni (yogurt), preserves and a different salad every day.
As we were travelling independently, we relied on local transport to get us from Mestia town to surrounding sites in the Svaneti region. Here, taxi drivers have learned what it means to make money, so it's best to take marshrutkas whenever possible.
We were extraordinarily lucky with the weather, arriving at the very beginning of the golden autumn when nature put on its best show for us. Day hikes took us to Chalaadi Glacier and across the ridge from Mestia towards Zhabeshi, which is the first leg of the popular multi-day hike to Ushguli. We crossed paths with fantastic people.
Someone else's guide told us how he once took 16 Latvians on a hiking trip and they spent 100 euros on food and 500 euros on alcohol – a pretty good achievement given the low price of wine and chacha (Georgian brandy). On the chairlift up to Hatsvali we met a solo traveller from Hong Kong and ended up sharing cab costs later. Conclusion: it's very easy to meet people in Georgia. It attracts adventurous and open-minded souls. Many choose tour packages like this one for ease of mind.
Our physical limits meant we stuck to a more leisurely pace in Mestia and visited Ushguli, a UNESCO World Heritage Site, by car. Ushguli was mostly shut after the summer season, but we found an open café with outdoor terrace and an enthusiastic waiter who was quick to persuade us to try his family's wine. We shared the wine and conversations with fellow travellers from the UK and Poland. Even in low season, a handful of minibuses arrives each morning with hikers completing the Mestia-Ushguli trek soon after.
Having returned to Mestia for a final hearty meal of kubdari (mountain pie) and chvishtari (cheesy millet pancakes), we tucked ourselves in early, to get up in time for the morning marshrutka east towards Tbilisi. I'll forever admire my 60-something-year-old mum for agreeing to such a long drive on Georgian roads!
Notes on Tbilisi, the Capital of Georgia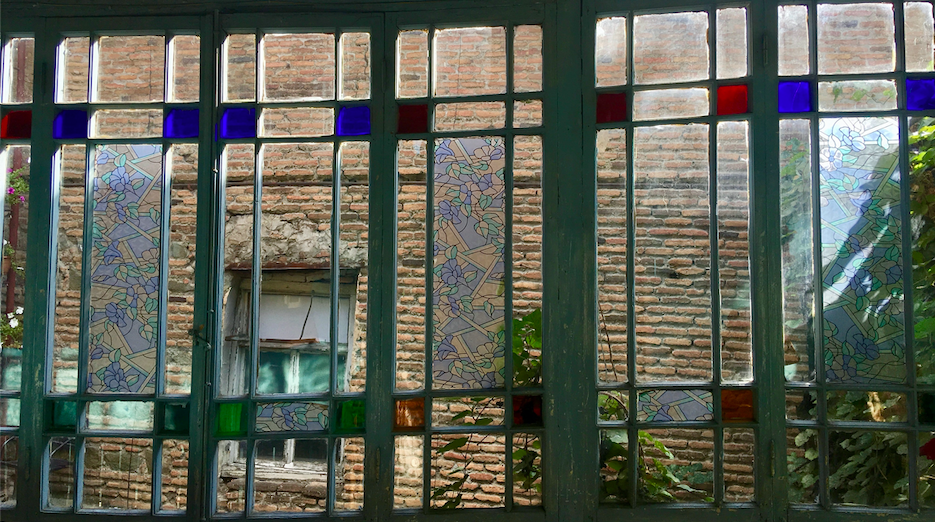 I walked between 25 000 and 34 000 steps every day of our stay in Tbilisi, most of them in the neighbourhoods of Sololaki, Vorontsovi, Vera and Avlabari. I would have walked much more if I hadn't fallen ill from the physical and emotional exhaustion.
The local sulphur baths were the perfect cure. I also ate my way back to health through the amazing food at some of the most beautiful restaurants I've ever been too: Linville, Sofia Melnikova's Fantastic Douqan, Shavi Lomi, Corner by the River and Chef's Grandma.
Memories I'll treasure from Tbilisi:
Eating the freshest and sweetest corn on the cob from a street-food vendor.
MOMA Tbilisi, which dares address controversial topics like tradition. At the time of our visit, we saw an exhibition by Georgian, Armenian and Azerbaijani artists on women's and LGBTQI+ rights.
Being the only diner at a dingy basement café near the market and bemusing the dinner lady.
Shopping for jeans like I used to at Riga Central Market. The stall keeper looks you up and down and presents a selection of perfect fits for you to choose from. Such a well-trained eye!
Buying freshly baked loaves and pies from a baker who runs his shop with an inbuilt wood-fired oven just 20 metres from Tbilisi's main drag, Rustaveli Avenue.
Becoming a dog person. The transformation began in India, but Georgia converted me. It was beautiful to see that most of Tbilisi's street dogs are well taken care of.
Taking the metro. It's so deep that people actually sit down on the escalator.
People's resourcefulness. I saw a ticket office set up in a minivan. That's where I'll get my ticket when I travel from Tbilisi to Yerevan in future. It's only 5 ½ hours away!
Having to wait for the cashier to show up at the National Gallery. It's completely normal to come across unmanned tills and ticket desks. When he showed up, we asked what time the museum shop would open. He had no idea.
Having coffee in the courtyard of the 5* Stamba and Rooms hotels and feeling welcome.
Experiencing one of Georgia's public-service halls live. So many countries could learn from this amazing model. It's a one-stop-shop for everything from registering a birth to property ownership and getting a driver's license.
Taking the metro to Didube Market and witnessing the sun set over suburban Tbilisi.
Next time, I really hope to go on a wine tour of the Kakheti region and a day trip to the Kazbegi mountains. You just can't manage everything in a single trip.
I Love Georgia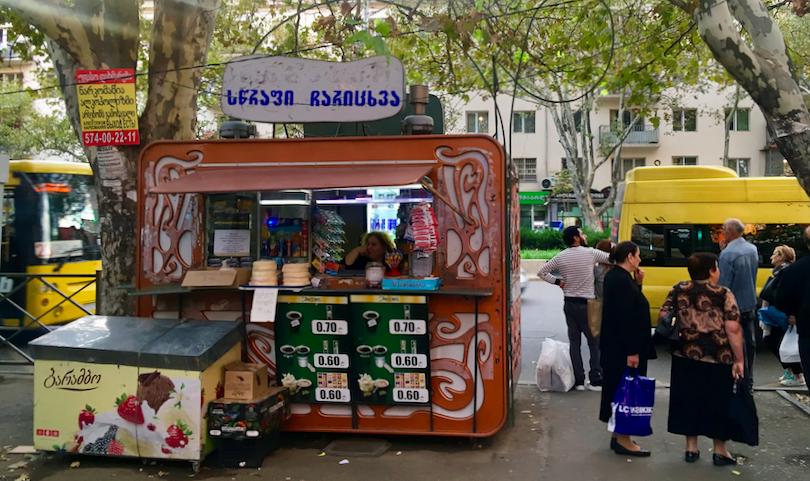 I always rate a country by the amount of emotions it has made me feel. Top points there, Georgia. Thanks for completely shattering my ego's high standards and reminding me to take life as it comes. There were times I felt so far out of my comfort zone, yet also times I felt so comfortably at home. I always felt safe and welcome.
Now that I'm home I can't stop making salad with tomatoes, cucumbers, walnuts and Svanetian salt (a spice mix) and washing it down with Georgian wine. I've discovered my new favourite restaurant in Riga (Alaverdi) and driven out to the Bolderāja suburb for the best khachapuri in town at Gvatar. Every friend and their dog has heard my love song to Georgia and I can't wait to go back.
If you can't physically travel to Georgia anytime soon, watch And Then We Danced.
Practical Georgia Travel Tips
Being vegetarian in Georgia was a breeze, and vegans would be well fed too (ask for the lent menu!).
While I studied Russian at school, I never nailed it. I'm familiar with the alphabet and can understand basics but say very little. I got by in Georgia! The younger generation speaks English. Even bits of my French and German came in handy. Besides, having no common language is a huge part of the fun.
We flew to Kutaisi with Wizz Air from Riga and returned from Tbilisi with airBaltic. There's also an international airport in Batumi, but no direct flights from Riga.
We didn't book any transfers in advance and found it was easy to make arrangements on the spot.
This post contains some affiliate links. Should you book one of the suggested Georgia travel tours, you'll contribute to the running costs of this blog, for which I'm very grateful.