Thirteen months ago I became a freelancer. Encouraged by friends and family, I felt confident I had what it takes and knew what it would be like. I was wrong about many things! I've been loving the freedom to respond to bursts of creativity when they actually occur, walk my newborn nephew in the middle of the day and exercise my ability to say no. But I've also been dealing with tax trauma, cutting my expenses and pangs of loneliness as I learn to be teamless.
My confused feelings lead me to speak to fellow translators, photographers, a filmmaker and other members of Riga's freelance community to figure out the joys and frustrations we share, and whether there are ways in which we can make things better for ourselves and "colleagues". If you're considering a freelance career in Riga, this may help you make the right decision for you.
General Insights On Freelancing In Riga
Please note, Life in Riga will never take the place of a qualified accountant or lawyer! This post is a compilation of personal insights from Riga-based freelancers. For detailed information on different ways of registering as a taxpayer or company in Latvia, see the websites of:
Valsts ieņēmumu dienests or VID (State Revenue Service of Latvia) – your go-to in matters related to tax e.g. registering as pašnodarbināts (self-employed).
Uzņēmumu reģistrs (Enterprise Register) – your go-to should you choose to register a company.
Do you need an accountant? That depends. Out of the freelancers I spoke to, only a few felt confident enough to brave it on their own. In the words of Mārtiņš who works in art and design: "Without my accountant, I'd have been a criminal a long time ago."
The ones who said they don't work with an accountant are:
a patentmaksas maksātājs (patent fee payer)
someone with Latvian language skills who has been taught to deal with their own taxes by a professional.
So, for example, my friend Kristīne, a photographer and patent fee payer has never needed to set foot in the premises of the Enterprise Register, doesn't have an accountant but pays regular visits to the State Revenue Service.
Overall, freelancers seem happy with the broad idea of paying taxes and understand they're a necessary contribution to our national budget. Comments ranged from "We're not going to know pensions the way we know them now, but it would be nice to see improvements to our healthcare and education systems" to "Coming from Sweden I don't mind paying taxes. It's a stereotype but it's true!"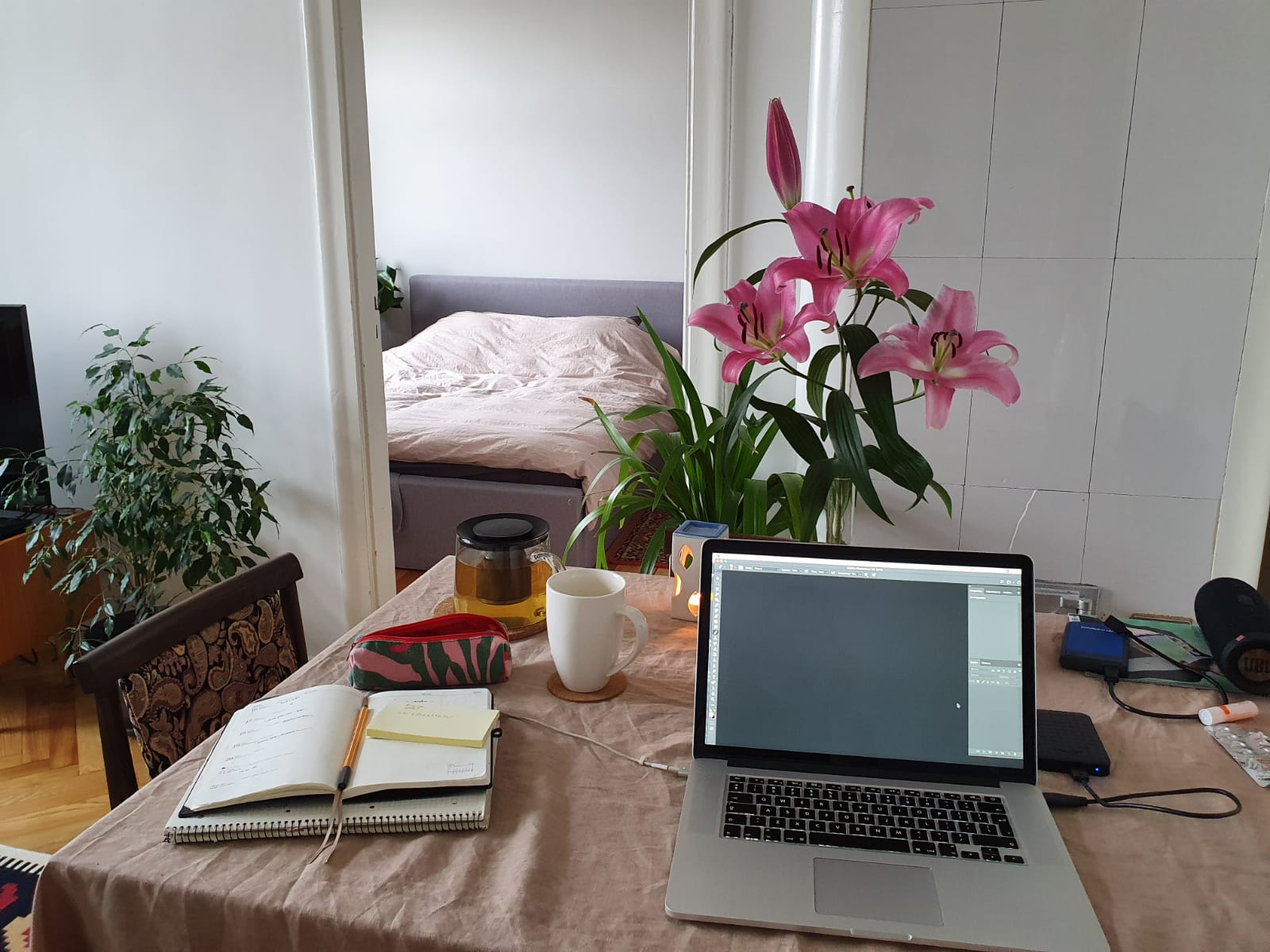 What We Love About Being Freelancers In Riga
Contrary to popular belief, Latvians don't just complain. Riga freelancers love:
The vast range of opportunities to work on interesting projects. Many organisations need an extra pair of hands now and again. There's always something popping up.
The sense that there's always someone who knows someone who knows someone who'll have an answer for you.
Support networks like Meetups and the Tulkotāji un tulki LV (Translators and interpreters LV) group on Facebook, which gather dedicated professionals who believe that sharing is caring.
The compact size of the city and reliable public transport. Small distances to travel between home, coworking spaces, cafes, client offices etc. Saves a lot of time and makes it easier to transport laptops, cameras and other gear.
A shared sense of "we're all just winging it and that's ok".
Seriously reliable high-speed wifi with loads of places offering free and unlimited access.
What Concerns Freelancers In Riga
Of course, it's not all roses and unicorns. Some aspects of the freelance lifestyle do keep us up at night.
A lower tax rate seems appealing. Until the point you realise that's less money going towards your pension, having limited or no access to unemployment benefits should you burn out, need time off for other reasons or suffer from a force majeure economic downturn.
Frustration with clients. Many don't always understand what constitutes the price of a service. You may have to explain that you're the one who has to cover your own sick leave, workspace and kit and annual leave.
Ever changing tax regulations, particularly for those with a so-called mikrouzņēmums (micro-enterprise). You don't really know how this is going to affect your plans year-on-year.
Having to rely on timely payments from clients. Sometimes, invoices get stuck somewhere. If you don't have a contract (which isn't a definite), what legal rights do you have to speed up the payment?
Few creative professions have pricing standards. Translators, for example, can quite easily clarify average rates, while others have to ask around. Unfortunately, our culture isn't always open to talking about personal money matters.
Access to maternity allowances. The amount of support you'll receive is very dependent on the applicable tax rate. And it's especially complicated for anyone working with a royalty agreement as it's affected by how much earnings you've made in the last quarter.
What Could Make Freelancers' Lives Easier In Riga
There's always room for improvement! It's clear the biggest headache is tax. There are so many rates and options, people get confused. What's the best choice if you're a responsible human being who wants a pension and equal access to social benefits? The dream would be to have all the terminology and concepts explained in layman's terms in one place in Latvian, English and Russian. Ideally, there'd also be free seminars for freelancers where this would be explained in person.
In the words of a friend who's a translator: "I've bombarded all my friends with endless questions. It would feel better if there were a designated time and place, so you're not turning every picnic into a discussion about taxes."
And Mārtiņš who works in design and art mentioned that "the ones who do best are the ones who dare set a high rate. The ones who understand the basics of entrepreneurship. But most freelancers aren't entrepreneurs and never will be."
Great Places For Freelancers To Work From In Riga
Nowhere got more mentions than the National Library of Latvia! Spiikiizi, Miit, Cafe M and Caffeine stores came up, as did coworking spaces, of which there are too many to list these days. Teaming up with likeminded folk and renting an office space together can work well too.
Ready To Be A Freelancer In Riga?
My own thirteen month freelance journey has been one of constant learning. I forgot to factor in tax into some of my prices, concluded I need to hone my negotiation skills and practise better self-discipline when working from home. But I know I'm not alone and don't have to face it all alone. Knowing what I know now, would I have stayed in full-time employment? No, I think I'd have still dared take the leap. However, I do realise I'm privileged to be able to experiment in my life as I have a stable home and no dependents. I'm now considering part-time employment or seeking a longterm client to give me a sense of stability and combat loneliness. Decisions are personal. I hope that this post can help you make the right decision for you.
—
Interested in what I actually do for a living? My trusty companions are my laptop, Microsoft Word and translation tools. See more here!