Ignacio and Miguel are Riga-based entrepreneurs from Spain. They spend most of their time working from Tech Hub where we met up to chat about digital nomad life in Riga.
Why and how did you end up in Riga?
We were working in the startup community at Tech Hub Madrid when it closed suddenly. Since we weren't given much advance notice, they offered us a free one-month membership at any other Tech Hub worldwide. There were places in England and South Korea but the only interesting place in Europe was Riga. We didn't know anything about Latvia so we thought it was the perfect opportunity to learn something new.
We found an apartment and came for a month to get to know the city and check if we felt comfortable here. Fortunately, we love the place and decided to stay for at least a year. From the start everything was super easy for us. We got a lot of help from Dāvis who used to run Tech Hub, our apartment belongs to a Latvian who's married to a Spaniard so she speaks Spanish and has been super nice. Everything just came together perfectly. One day we were living in Madrid and the next day we were living here, no hassle.

Did you find it easy to start a company here?
Ignacio: We had a company in Spain but the administration is terrible and there's too much red tape. I needed an accountant. So we asked what to do here and found out about this amazing micro-company system with a lower tax rate. The problem is that you still need to be based here and have a local accountant.
At the same time, someone told us about e-residency in Estonia. Since the only physical step we needed to do in Estonia was opening a bank account, we took the four-hour bus ride to Tallinn. It's crazy – we've gone from not knowing anything about the Baltics to being adopted by the Baltics. But I still have to explain to people where it is that I live. People ask me why I don't go to St Petersburg for the weekend because they aren't aware of the distances in this part of the world.
How did you find a place to live?
We found the apartment through Airbnb and it was risky because the apartment didn't have any real photos, just mock ups because it was being renovated. But we had a really good feeling about it. After a month we came to an agreement with the owner about staying longer.
What's your experience with public transport in Riga?
We like to go everywhere on foot and the city is pretty manageable so we've never even taken public transport! We should try…
We've only taken the train to Jūrmala but that's not the same. It's so easy to walk everywhere and that's the best way to get to know a city.
What do you think of Riga's cafe scene? How does it compare to Madrid?
There are so many cafes – Riga is a coffee city. It's easier to find a real coffee shop here that's not a big brand like Starbucks. We love the Apsara Tea House, La Kanna and Caffeine, which is a chain but it's affordable and the coffee's real.
What do you think of the prices in Riga?
Riga's a very affordable city. Compared to Madrid, there are many restaurants and cafes that are probably around 50% cheaper. There are also expensive places here, of course. The difference is that you can spontaneously decide to go out for dinner and be sure that you won't be ripped off. Madrid right now is a very touristy city so loads of places have high prices and low quality. For us, it's about value for money. In Riga, no matter the place, the quality and the service are always very good.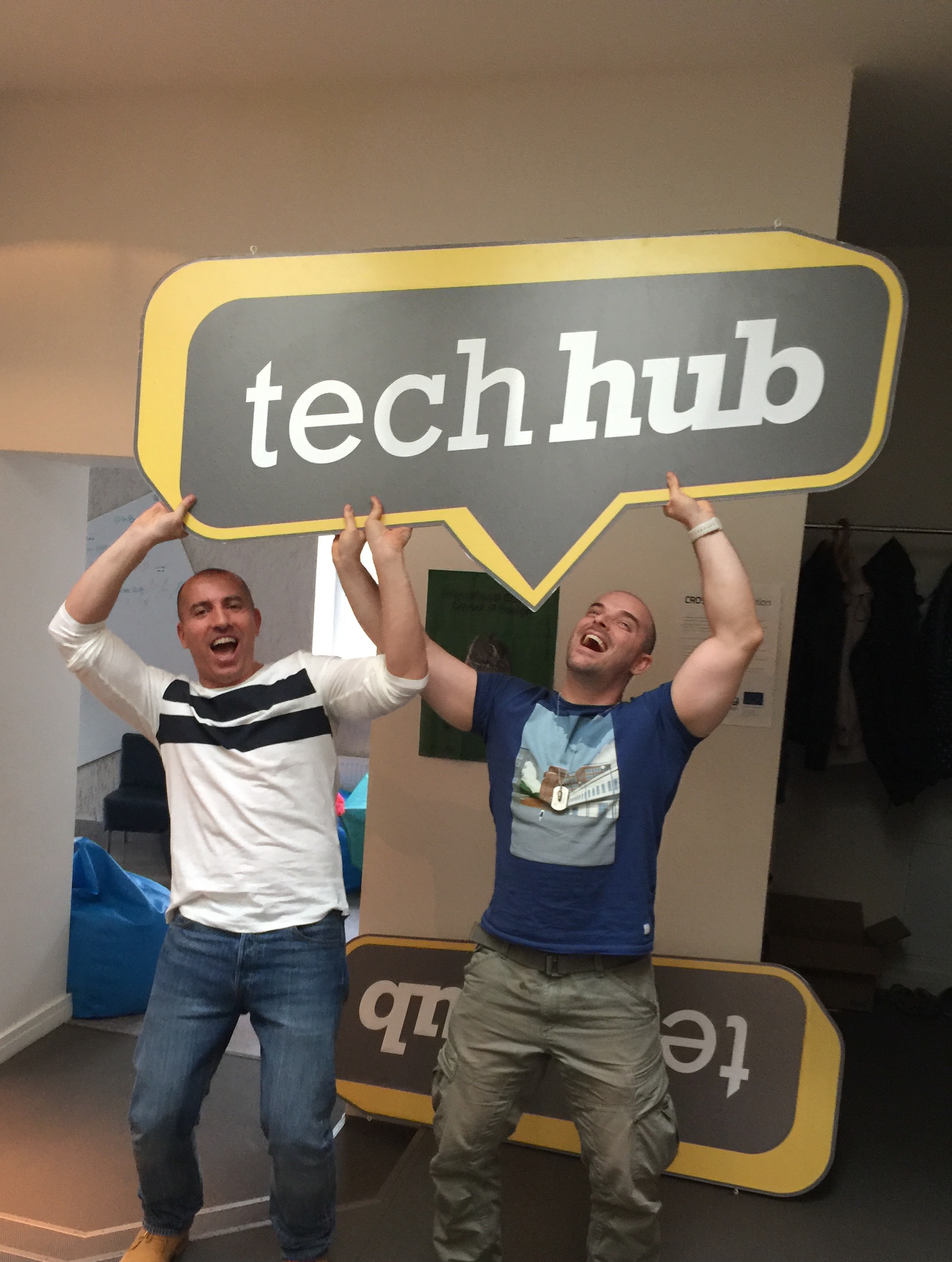 How has it been to develop a social circle in Riga?
Tech Hub has made it easier to meet people. If it wasn't for Tech Hub, we might not have stayed. People here are colder and harder to approach than Spaniards. Perhaps we're more superficial or open but it's just easier to speak to people in Spain. Here it's difficult, people like their personal space.
In Spain, it's easy to have small talk with neighbours but here people are very shy, even if you just say hi. There's also this strange, overly "respectful" culture. For example, if I were to stand in the doorway blocking it for ten minutes, there'd be a queue of people behind me but no one would tell me to move. In Spain they'd say something right away, we're really direct. For foreigners it can seem aggressive or rude.
Have you seen more of Latvia than Riga?
We went to a forest around Christmas time and cut down a tree together with some people from Tech Hub. It was a great experience. There's still a big nature scene here and I hope you still get to enjoy that for a long time because in Spain we've destroyed our forests and wildlife. Having all these forests is a great part of Latvia.
What do you think about the food in Latvia?
Miguel: The thing I love the most is the soups. You put everything into soup! I learned that here. In Spain, soups are all similar.
Ignacio: The food is more basic, less elaborate but there's a huge variety of vegetables and salads so I think I'm eating healthier here. In Spain, salads are so simple and the dressing is always the same.
Where do you do your grocery shopping?
Miguel: We do our usual shopping at the supermarkets but try to get to Riga Central Market at weekends. During our first month here we missed fish because the selection is poor at the supermarket. I was telling all my friends in Spain that Latvians don't eat fish. Then we discovered the market! There's even a Spanish food store there so now I want to go every weekend for the fruit, the fish and the Spanish shop. Actually, a lot of the fruit and veg at the market are from Spain.
The first time I tried to buy fish was weird. I wanted the woman to clean the fish for me but she looked at me like I was crazy and didn't do it. The second time I tried to buy two small pieces of salmon but they didn't agree to cut the fillet which would have been enough for ten people.
When I was buying things from the Spanish shop, people in the queue behind me kept asking the sales lady what I was buying and asking for some for themselves.
How would you describe Latvia and Latvians?
We really love Latvia, Riga especially. It has this mix of the East and the West, the old and the new. It's looking forward but the past is still present. Everything is very coherent and beautiful – the Art Nouveau buildings and boulevards. You can sense that Latvians have their own character but at the same time are completely European and modern.
People here are very in touch with their culture and traditions. Anyone you talk to knows a lot about the country and the history, and is quite patriotic. In Spain, that depends on a person's background.
On one of the first days we were here, there were flags outside every building. In Spain, flags are controversial because of our history.
Miguel: I don't know if it's a custom but I've noticed a lot of guys giving girls flowers when they meet. That's so nice! In Spain, you only do that on really special occasions like major anniversaries. So it was strange for us to see people ask for vases at a restaurant. Initially, we thought the flowers on tables were part of the décor.
When you read about Latvia, there's always something about singing and how much Latvians love to do that.
What do you think of the museums in Riga?
We've been to the Latvian National Museum of Art and two hours wasn't enough so we want to go back. We also went to the Žanis Lipke Memorial which doesn't seem to be one of the main attractions but we'd recommend it to everyone. Being there is such a powerful experience. First of all, you have to find it in this area of small wooden houses with the most amazing views of the city across the river (Ķīpsala – ed). There are very nice places in Riga like St Peter's Church, the statue of the Musicians of Bremen and all that touristy stuff but there are so many hidden gems.
You can go to Uzvaras Parks and see other kind of landmarks that you need to be aware of and respect their cultural and historical meaning. Everyone here is very aware of the past but when you come here for the first time you don't know these things.
Final thoughts on Riga?
There's been a lot of talk about gentrification in Madrid. The city is overcrowded by tourists and locals are unhappy. The city centre has become like a Disneyland. I wouldn't want to wish that on Riga.
—
If you enjoyed this interview, continue with Joe's story of moving to Latvia!
Ignacio Nieto Carvajal is a Senior Freelance Developer at Digital Leaves and blogs at Micropreneur.life. Miguel Piñas brings websites to life at Woloweb.