My two year old loves neenaws. Of all the big life talks that await him and me, I'm fine with the genital-ly ones but fear I'll scar him deep when I explain the link between neenaws and bad news.
For now though, junior balls can't get enough of those neenaws. So it's a bit of luck that our new Riga flat is minutes walk from the Latvian Firefighting Museum.
Restored, refurbished and reopened in 2016, the museum gifts art nouveau prestige to a development black hole on the outskirts of the city's Quiet Centre. The museum's web page shows a trio of firetrucks standing to attention in the forecourt, but we're in winter and it's minus-something-stupid. The troops are hibernating.
In fact, there weren't any telltale signs that the place was open at all, so in an uncharacteristically brave move I charged the narrow front door, buggy (thus child) first, and crashlanded in a dim, dusky foyer.
The museum charges, like, €0.70 for adults. I didn't catch the kiddie cost but it's similarly nominal. Happily there's a donations box brimming with notes.
But to my shame I didn't have cash; not a solitary Euro and it's not a place that takes card. Luckily the desk lady – who was very lovely and spoke to me in English – waved us through anyway.
Don't tell anyone, she said. Clearly I'm a man of my word.
Looking sharp in my museum-issue overshoes, I followed an excitable little man to the first display. It presents vehicles and kit that show how firefighting used to be. It's horse and cart stuff. Wagon stuff. Manual pump stuff.
There's also a photo exhibit that's worthy of more contemplation, so we'll come back to this.
The adjacent gallery charts the evolution of firefighting equipment: suits, helmets, hoses et al. It's the kind of fodder you'd expect in a firefighting museum and, with narratives in Latvian, Russian and English, outsiders like me can easy follow on.
In an anteroom off the ground floor's hero display is a mini exhibition that captivated my wee one. A goodly man christened Eriks Vilups – a Latvian who settled in England after the war – donated his collection of model fire vehicles to the museum. There's trucks, tanks, planes, robots, cars and wagons in all colours; from all corners of the world.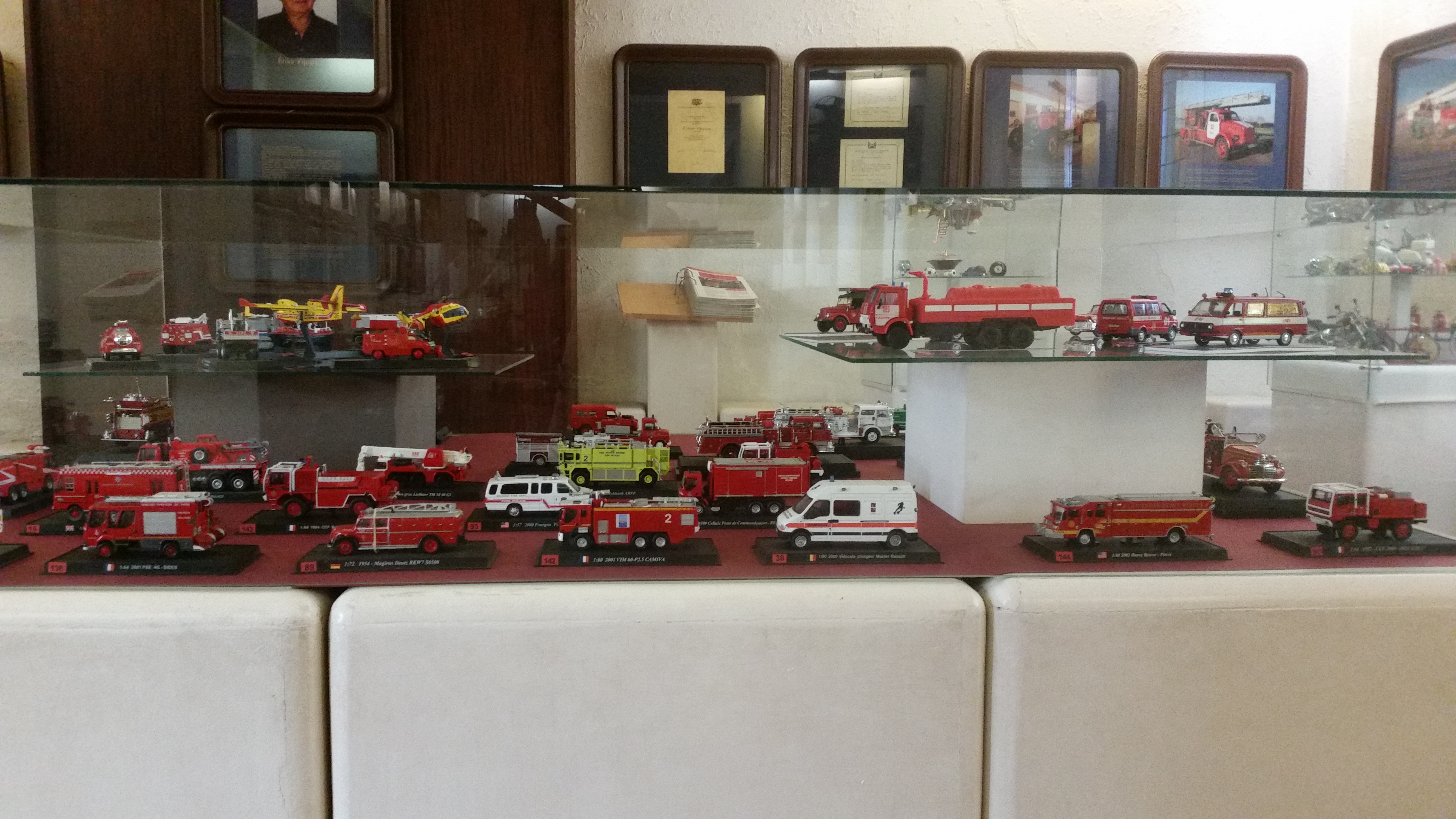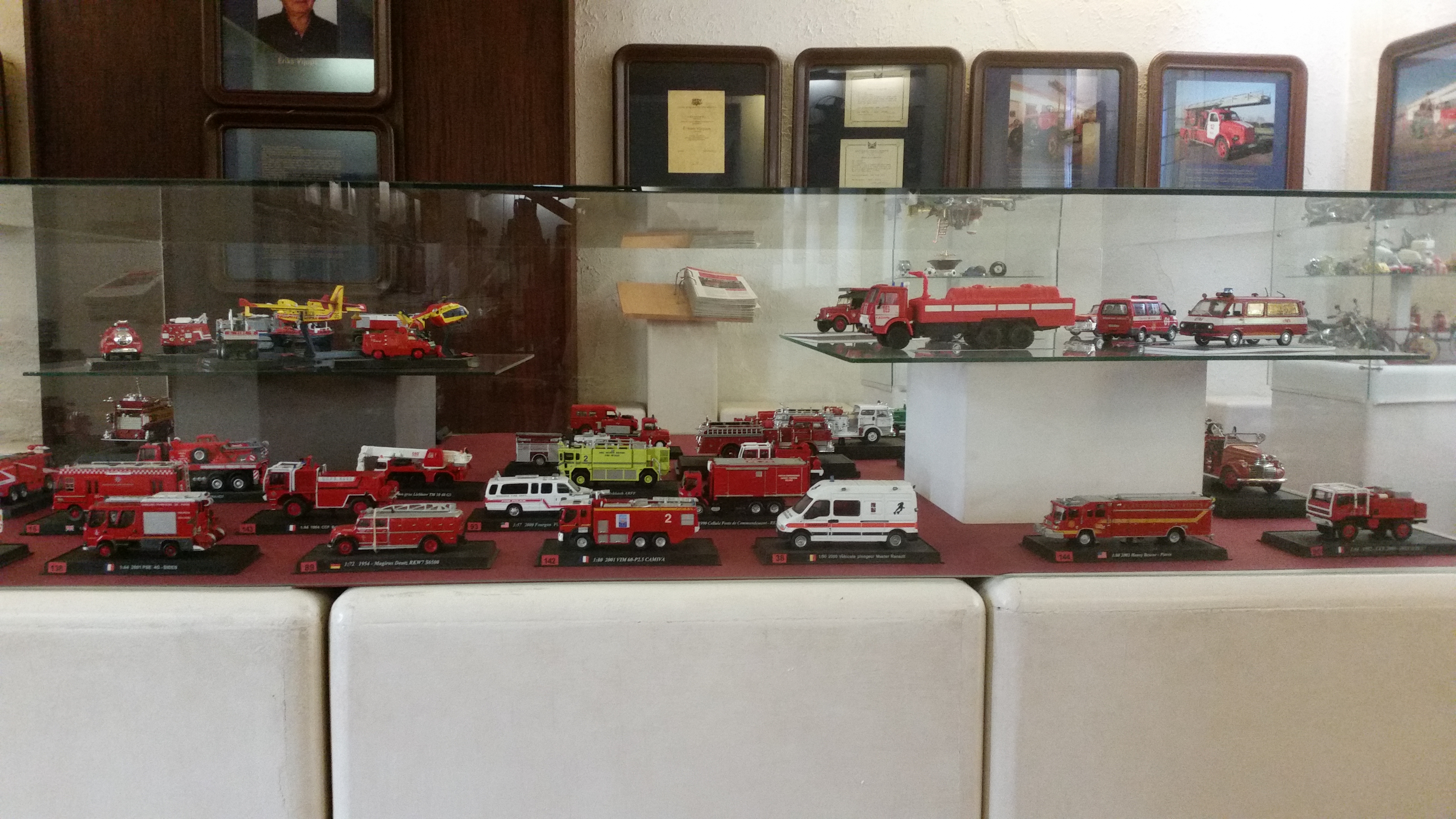 It's quite striking. The toys – forgive me Eriks – must number 150, and notable pieces include a grey robo fire tank from Japan, a beefy Cameroonian number, old timey Euro wagons, bushfire planes, and an especially angry-looking gold-topped brute from the USA. Ooh political.
Filling half a dozen display cases are red and green and yellow and white and black firefighting machines. If your kid's into neenaws, prepare to stay awhile. And best you brush up on your flags too, I faux pas'd Holland/ Luxembourg. Nil pois, daddy, nil pois.
Eriks' collectables are the room's main draw, but a side display also ignites the imagination; if you pardon the pun. Another kindly sir, Sergejs Sugakovs, handed the museum his trove of replica lighters; there must be 100.
OK, this one's a bit odd. It's like fires sometimes start because of lighters and lighters come in all kinds of alluring shapes and sizes, thank you Sergs for your pivotal contribution …
I'm mocking. For the record I love this museum. My little one loves this museum. But display cases of boots and guitars and World Trade Centres (yes, the Twin Towers) in lighter form is a little quirky.
Across the way from Eriks' engines and Sergejs' lighters is a room with half a car and a sort of shower facility; presumably where – for school trips or the like – fire experts offer live demonstrations of on-the-job techniques and procedures. Again, we rocked up in the throes of winter so there was no such fun.
That's the first floor, but the museum is spread over two with upstairs providing a more sensitive look at the ceremony and the honour of it all: what it means to be – and to be a part of – a national fellowship of firefighters. There's conference rooms, medal displays and a quiet space that remembers colleagues who lost their lives serving the communities of Latvia.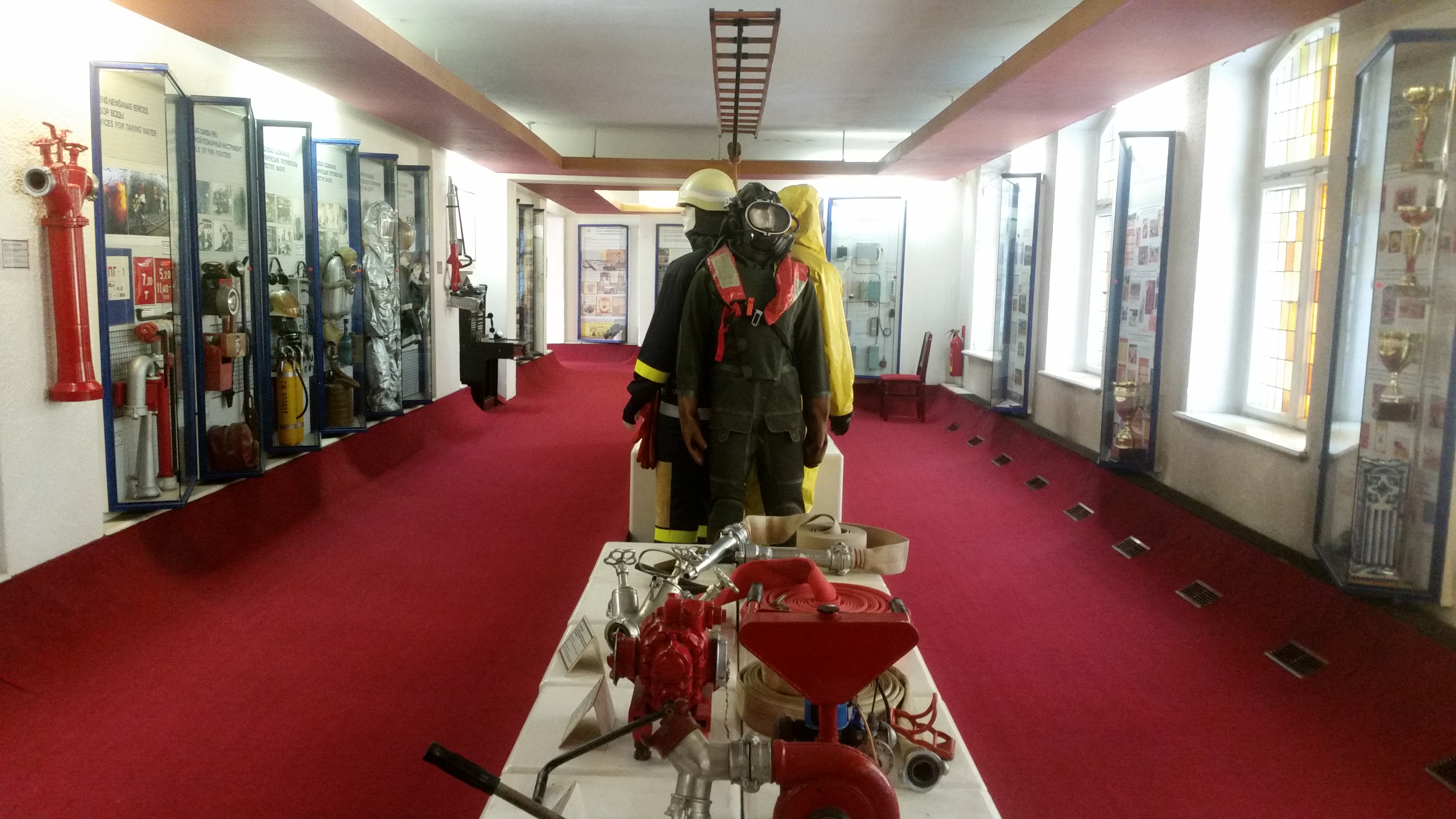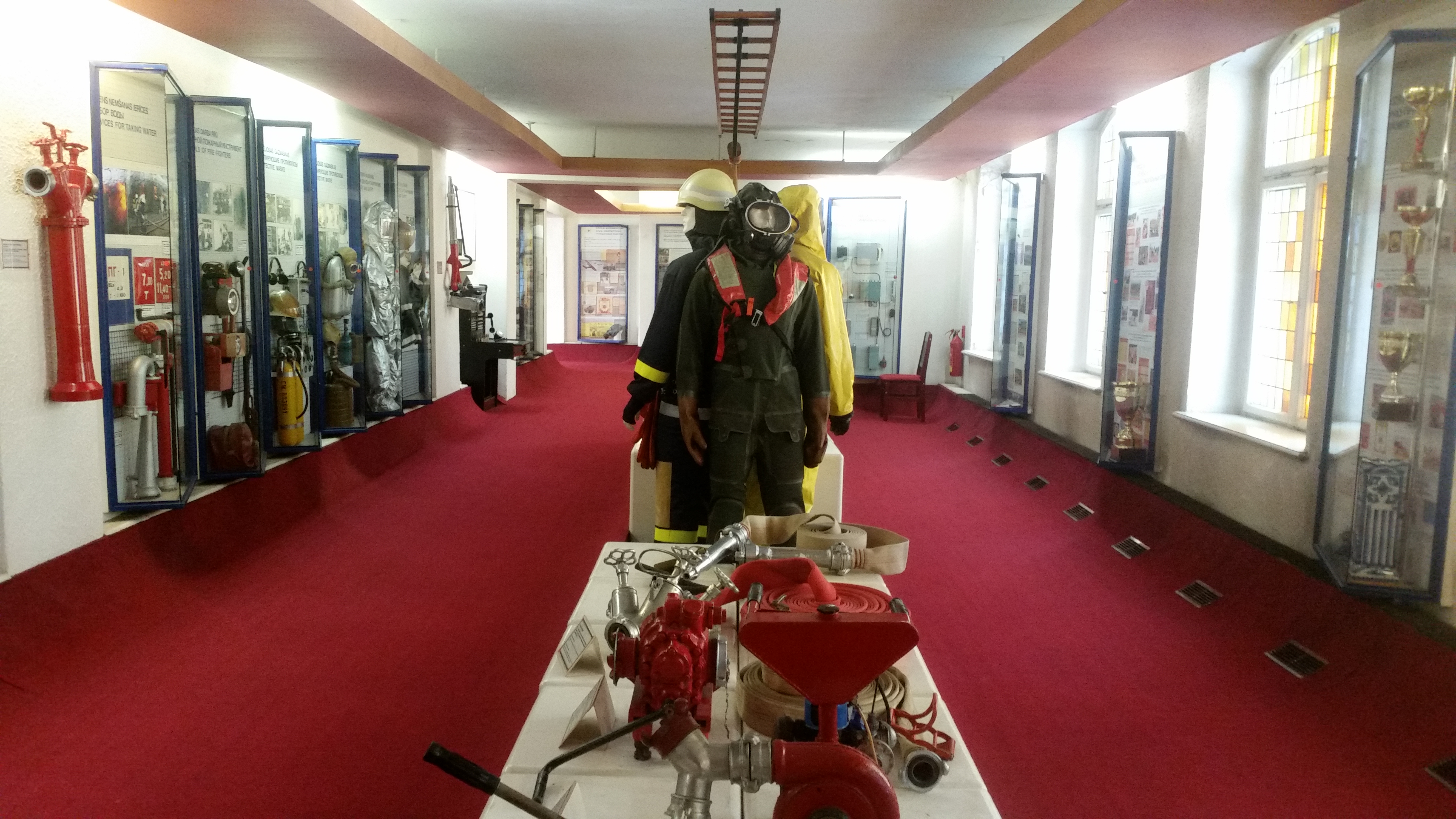 Latvia and beyond, actually. The second floor also retells the story of the 1986 catastrophe at the Chernobyl nuclear plant in Ukraine – and how Latvian firefighters charged the disaster zone. Latvian officers were among the first emergency responders to the site, exposing themselves – as all cleanup teams did – to unthinkable risk as they attempted to stem the fallout.
The second floor's main exhibition presents more equipment, but also a cuttings display of notable fires, crashes and disasters that the fire service has attended over the years. Inevitably, there's stories of desperate families jumping from flaming tower blocks and arresting photos of mangled trains.
Past the grimmer content, an old Soviet-looking communications terminal stands; its black veneer and wiry knobs emanating a real cold war vibe. In many ways the piece is a hipster's wet dream so here's hoping it never lands in some east London pub.
There's more on the second floor, but it's more of the same. More conference space, more pictures, more models, and more retrospectives.
Time to descend. I held my little one's hand on the stairs – daddy didn't want to trip on his fetching yellow slippers. We returned to the first exhibition – past the wagon wheels and cart horses – to the aforementioned photo gallery. The one worthy of pause.
The Latvian Firefighting Museum is, unless they bring out the big guns when the tundra clears, probably an hour's worth of visit. It's an understated space. Humble. My little family moved here from Berlin; before that we were in London – we all know what museums can be in 2018.
This one doesn't offer next-gen interactivity. There's no big budget simulated this or experiential that. There's no audio, no tricks, no frills. I nearly wrote no bells and whistles but, well – yes, obviously a firefighting museum has those.
What it does deliver is a dignified heap of reality. The reality of what it means – what it has always meant – to do a job where the odds of returning home can be slim.
The photo gallery beyond the horses offers a sad tribute to the Maxima supermarket disaster in Riga's Zolitūde in late 2013 when, during evening peak hour, an unsound roof overladen with building materials collapsed on shoppers and staff, killing 54 and injuring as many more.
The central roof caved in first before, 90 minutes later, the whole thing came down. And of course between collapses one and two, the rescue teams had jumped into action. As is always the case, we rely on brave men and women in neenaws to charge in first; to protect, serve and secure.
Thus three of the dead were emergency workers; firefighters in fact. Edgars Reinfelds, Vilnes Steinitis and Sergejs Iziks. Their plaques adorn the wall near a freestanding piece of the roof that collapsed not just a supermarket, but a government, and relations, for a time, between Latvia and longtime ally Lithuania, Maxima's motherland.
Really. This was more than a tragedy, it was Latvia's worst post-independence disaster and it opened a pandora's box on the too-close ties between shortcutting building trade bosses and elected officials.
Photographs showing high-vis men and women mucking into the destruction with tears in their eyes and sweat on their brows? Of course it's powerful.
The reason I love this museum – and I've since been back, not least to pay my tab – is that there probably isn't another platform or space that would detail and thank the firefighters who attended Chernobyl, or who lost their lives at Maxima. The upper deck has a small section dedicated to the union of Latvian chimney sweeps and they're not getting their own museum any time soon.
I'm not sure any of these groups would otherwise be locked into non-digital history without the Latvian Firefighting Museum. Sure it's lo-fi, it's under advanced, it's quirky – but all them wonderful neenaws have heroic stories to tell.
Enjoyed this post? Continue your journey of discovery with Riga Water Supply Museum!
Ally Millar contributed this post. He's a dad, a writer and Chief Storyteller with Fall of Man, a creative agency based in London and now Riga. The marketing and PR agency specialises in helping businesses young and old to find their voice and make an impact in new markets – telling stories, producing unique creative and grabbing attention in a noisy world.