There are many excellent Latvian doctors, but sadly the low pay and archaic health care system seems to fail them, so our young talent is increasingly being poached by Germany, Norway and other countries that can offer better working conditions.
No doubt affected by this trend, as well as other factors like inadequate pensions, the average age of medical personnel seems higher here than elsewhere. My wonderful dentist is well into her seventies!
Some of the facilities are as much in need of retirement as their staff, although it has to be said that more and more units are being refurbished and kitted out with the latest equipment.
Often, this is at least partially funded with charitable donations. Look out for charity boxes in places like Rimi and Swedbank. "Saulainas dienas" is a long-running campaign that has helped raise money for the children's hospital.
If I've not scared you off seeing a doctor in Riga, you'll find the initial step of getting seen by a general practitioner is quite easy.
Please note, this article is based on the personal experiences of me and Alex! We're not medical professionals and cannot stay on top of all the changes to the medical industry, however, this is information, which we ourselves would have found very useful before moving to Latvia.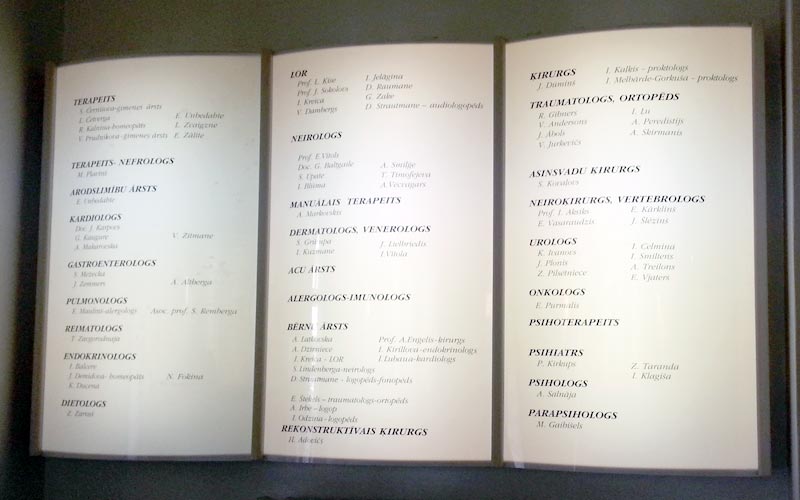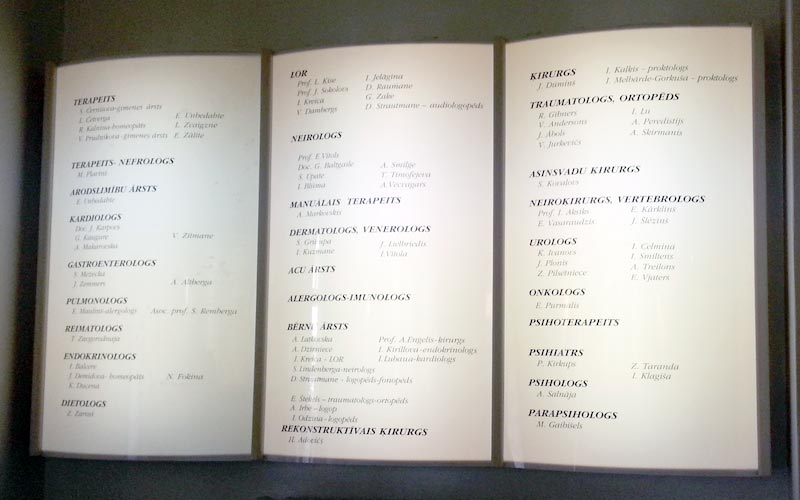 GP
If you're planning on staying in Latvia for a longer period of time, it's definitely worth registering with a GP who'll keep your medical history on file for all future visits. A GP is also your first point of call in case you ever need to provide official sick notes required by schools and employers.
Riga residents are free to choose their own GP so you can look into registering at the surgery closest to home or your place of work, or try to seek out a GP who speaks English or another foreign language. Some GPs specialise in working with young families and children.
To register, see the receptionist at the surgery you've chosen and bring along some form of ID. You can make an appointment to see the doctor on the spot or over the phone. Waiting times depend on the surgery, as does the possibility to see your doctor urgently. Home visits are possible if really required.
Note, visits to a GP are not free. Patients are asked to contribute a valsts nodeva or state fee which comes in at less than 2 euros. Expect a moment of awkwardness when the doctor has to ask you to hand over your cash at the end of the appointment. You should always get a receipt as proof of payment.
Depending on your situation and the doctor's assessment, the GP might refer you for tests or to see a specialist and this is where the system can get a bit trickier to navigate. At this point you'll have to choose between state health care and private health care providers.
State health care
Some services and forms of treatment are fully state funded while others require a patient contribution, it's hard to know in advance of being referred.
Once you've been referred, a good approach is to call around and find out which hospital or clinic has the shortest waiting time. Don't be surprised if it's in a few weeks' or even a few months' time. It's not only Riga locals who have to see specialists, people from across the country might need to come to see a specialist or for treatment they have no access to in their hometown.
On the day of your appointment, arm yourself with reading material because the wait might be longer than expected. Receptionists will be able to tell you where to go but the queueing system outside the doctor's office is unlikely to be very organised. Just find out who's last in line and sit tight until your turn arrives.
Rather than waiting for the doctor to call your name, you'll most likely just have to knock on their door once the time has come for you to be seen.
Recently, I was referred for a gastroscopy, phoned a number of hospitals to book my appointment and found out I would have to wait for over a month. Since my symptoms weren't getting any better, I phoned again to see if there was anything other than going private that I could do to speed things up. Result! If I was willing to pay 14.23 euros (then 10 lats) for a bed in the dienas stacionārs or day hospital, I could be seen within a few days' time.
Unfair though it seems, money is likely to get you seen quicker.
Private health care
In Riga, it's common to opt for private health care when you need to see a specialist. There are both small private clinics with just a handful of specialists on site and large medical centres with numerous branches where you can usually get to see a specialist in a matter of days, although some, like physiotherapists, are so in demand nowadays that you may end up waiting just as long as you would at a state run clinic.
By going private, you can skip the GP visit if you know what specialist you need to see. The specialist will refer you for the appropriate tests and treatment.
In terms of costs, an appointment with a specialist could set you back 25-50 euros. If this sounds horrifying, consider getting health insurance…
Health insurance
Employers may provide health insurance to staff and their families. If you're lucky, the employer will cover the full cost, but others contribute a certain amount to the insurance plan if you're willing to pay for the rest. This can usually be paid as a lump sum once a year or in monthly instalments.
Insurance plans vary – some will include dentistry, others will set a limit on specific types of treatment like medical massage. You'd be best off speaking to a range of insurance companies to find the best plan to suit your needs and budget.
—
Found this post on seeing a doctor in Riga insightful? Continue with Schools In Riga!