Never one to dream of a traditional wedding, I found myself crying happy tears in the middle of an improvised dance floor during the spontaneous first dance my husband and I didn't even think we wanted. Our wedding day was all about going with the flow and that's among the best decisions I ever made. It's a magical ritual and, while fuelled by tradition, far from predictable.
Sure, plenty of planning went into the day but a big part of it was putting our trust in other people's hands. So, how to know where to turn, who to trust and when to let go of the reins? This post will not guide you through every step of getting married in Latvia and nor will it introduce every wedding custom. It's intended to reassure and inspire through the lens of personal experience.
For a better impression of what to expect from planning and holding an international wedding in Latvia, I caught up with two couples who tied the knot in recent years. Before we move on to their stories, here are some practical insights from our experiences.
Tips for planning a wedding in Latvia
Ask around about venues, photographers, musicians, caterers, make up artists, etc.! One of the perks of a small country is that everyone knows someone who knows someone.
Plan plenty of time for paperwork since you might be coordinating with authorities from two countries.
What was true last year may not be true this year. By all means ask friends about their experiences but always get the latest info from official sources like the Dzimtsarakstu nodaļa (registry office) and Pilsonības un migrācijas lietu pārvalde or PMLP (Office of Citizenship and Migration Affairs) in Latvia.
Summer is not the only time to get married in Latvia. You may find it's cheaper to organise a wedding at other times of the year, easier to book a venue and even more pleasant weather-wise.
To read up on Latvian wedding traditions, browse venues and suppliers, online resources Precos.lv and Vedejiem.lv are a blessing.
To keep in mind when getting married in Latvia
Currently, in 2022 you have a one to six month window for getting married in Latvia after submitting your application to the Dzimtsarakstu nodaļa (registry office). Non-Latvians must submit proof of not being married in their country of origin. How to get that proof varies from country to country and it may help to involve a lawyer.
If one half of the couple will be adopting the other's foreign surname, it will be "Latvianised" and may end up being very different to the original.
The word "wedding" seems to have a price tag of its own. Think, does your dress need to be from a bridal shop? Do you need a wedding bouquet or will a bunch of seasonal blooms do? This could be a way to save precious resources.
Tomo and Gunita's story of getting married in Latvia
Tomo is a New Zealander and Gunita is from Latvia's Latgale region. The couple met in Italy while working on boats and now live in Latvia with their children. Here is their story of having two wedding days: one to get the paperwork done and one to celebrate with loved ones.
Sorting out the formalities
Tomo: We got married at the Dzimtsarakstu nodaļa (registry office) just because of all the paperwork. Our first time there was so funny. Gunita was like, can you imagine people actually get married here at the office? And then guess where we were three months later. Then we had the big day at Springšļu dzirnavas. We didn't tell people we were already married, because the real day for us was the one when we had our all friends and relatives around when we said "jā" (I do).
The paperwork wasn't too bad. I got the proof that I'm not married in New Zealand with the apostille, which I could do online. However, it was going to be more than six months old on the wedding day, which it can't be. If we wanted the original date, we'd have to come back with a new one. We'd literally just flown into Latvia to sort this out. I ended up having to ask the captain of the ship I was working on for another weekend off to get married.
We have friends who faced the same scenario – generally, a foreign man and a Latvian lady. The issue has been getting the proof of not being married within the given timeframe. A Brazilian and a Portuguese guy we know had a nightmare. That was the only hiccup we had.
Be aware of your name being adapted into Latvian
Tomo: I'm really lucky – my middle name is Kelvin, so they put an 's' on the end. That was the only thing that changed and it took a couple of weeks to get that sorted. Our Brazilian friends had abominations with the translations. The name they translated for me is only on my marriage certificate. None of my other Latvian official things have that name. My ID card has my real name as per my New Zealand passport. The wedding certificate has both versions of my name on it.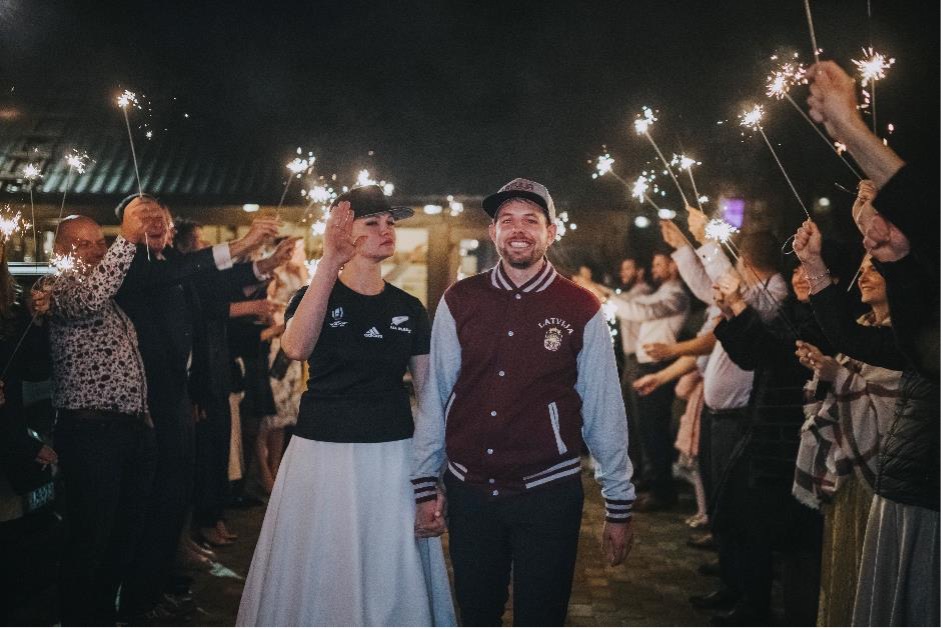 Latvian wedding traditions are something else
Tomo: People think that I'm a drinker and I'll be funny or something, so I've been to quite a few weddings, mostly in New Zealand. They're dry as weetbix without milk sometimes. The Latvian weddings I've been to are so much fun. So many traditions!
We had an MC for the evening and we didn't know what was going on. He got everyone in fancy dress doing skits. He spoke Latvian and English. A friend of Gunita's sister translated for my dad, so that he could speak to Gunita's parents. The MC translated the actual ceremony.
A lot of the traditions got a modern take on them. Because we did everything at one venue we didn't have people stopping us on the road [a custom that sees the couple having to overcome obstacles arranged by guests and acquaintances]. One of the more poignant ones was after I'd gone and rescued Gunita from being kidnapped. We came back in and her parents met us with the salt and the bread and then we smashed the plate. We partied until 5:30, 6 am and everyone was staying. We had people designated with all the different roles, so some came around banging pots to wake everyone up. And we all went for this group workout before having soļanka. That was the funniest thing! It was the best party I've ever had in my life. We also had an abundance of šmakovka [regional moonshine from Latgale]! That definitely made everyone start singing in Latvian.
Gunita: Our mičošana [a ritual that guides the bride into her new role as a wife and the groom into his role as a husband] was a stylised version of the tradition. We exchanged rugby and hockey shirts. Then, I threw my bouquet and Tomo took off my garter. Everyone was singing. It was the middle of October, so the air was crisp and it was nice to go outside.
Benefits of inviting friends and relatives from abroad
Tomo: Some of the people who came had never really travelled to Europe, so everyone was making the most of it. We hired a bus for three days and spent two days with everyone. We went out to Latgale and then the boys went off for the stag party. The day before the wedding we sent everyone off to Rundāle, so we had time to sort things out. Now, when I talk to my friends who are spread all over, I can talk to them about where we are and it makes sense to them. You say you're going out to the farm and they know. That's been an awesome side effect. We took the time to introduce people to our lives and can now speak to them about things. Because they've seen more than the wedding venue.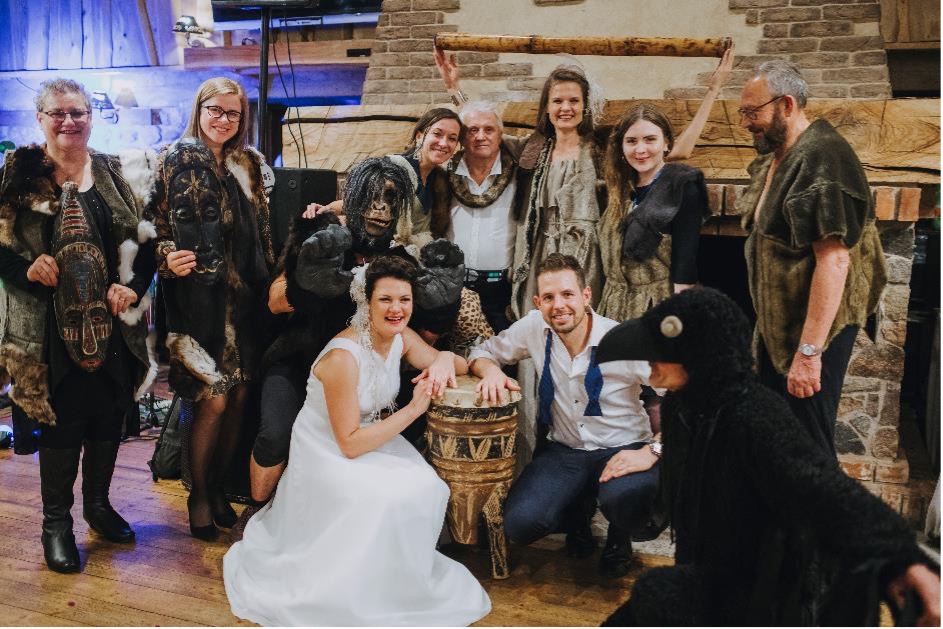 On finding and trusting your suppliers
Gunita: We organised everything from afar, so I took everything lightly. Since I come from Latgale, it was important for the wedding to last two days. Back in the day it would have been a week long! Our venue needed to be able to host 100 people, which narrowed things down. I saw a friend's photos of Springšļu dzirnavas, we visited and that was that. The owner is really forthcoming and the place doesn't need much decoration.
She recommended caterers and we organised the menu by email without any tastings. There was so much food, people ended up taking leftovers home. We discussed whether to serve international foods, but decided on Latvian because no one came here to eat Caesar salad and steak. They came to try the kotletes and rasols! I was more concerned about the Latgalians and whether there'd be enough food by their standards, since the caterer wasn't from Latgale.
The decorator is someone I know. My sister suggested some photographers. My makeup and hair artist was also recommended. A band I know from Latgale took care of the music and sang in both Latvian and English. They had everyone singing along in the end. Lidmašīnas!
We hired an MC with 19 years of experience. I'd never laughed as much! If you hire the right person, people don't even get drunk, there is so much to do. 6 am arrived so fast!
I didn't stress at all. We came to Latvia a week before the wedding to introduce our families and friends, so there was no time to worry. My thinking was, if I'm paying a professional to do their job, I trust them. So, we really enjoyed our wedding and wouldn't change a thing.
Summer is not the only time to get married in Latvia
Gunita: It was pouring in the morning but we didn't worry. If you get married in autumn, that's something you have to expect. But when it came to the ceremony and photos, the sun came out. The next day, people were swimming after the sauna. September and October might even be nicer than summer since you're not all sweaty.
Zane and Christopher Allenfort's wedding story
Zane was living in Amsterdam, Christopher in Germany when they met in Northern Lapland while on a student exchange. The couple now lives in Riga. They celebrated their wedding in summer 2021 and here's how it went.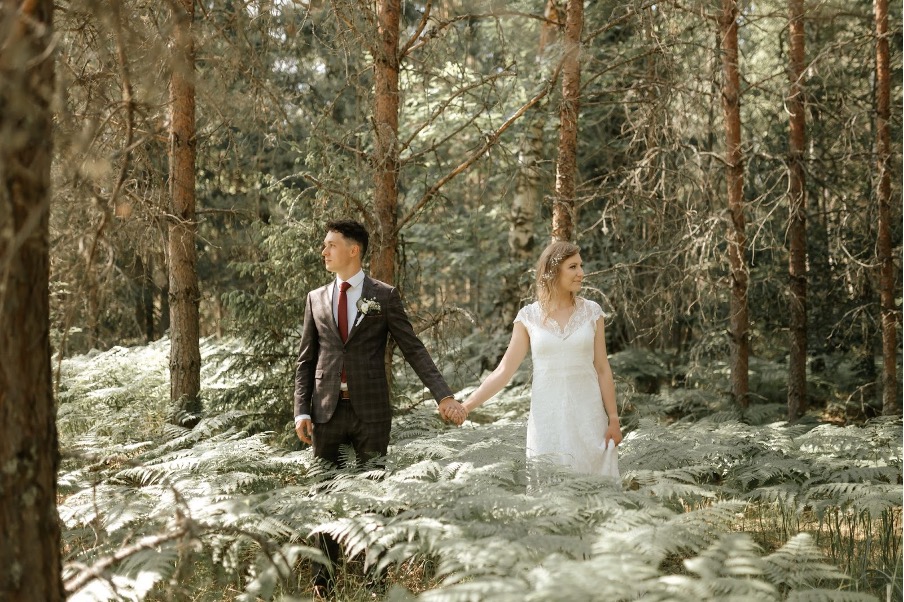 It's not just Latvian paperwork that takes patience
Zane: I started to gather insights from people I know who had married foreigners and concluded that things tend to change. People who got married more than five years ago were saying different things to those who got married more recently. And none of them had married a German. So then the Expats in Latvia group on Facebook helped us to understand what we actually needed. The rest was just making calls in both Latvia and Germany.

The fact that Chris is from Bavaria made it more complicated. As my German is pretty bad, after all the processes we went through in Bavaria, I asked Chris: "Are you sure we're not already married?" It felt way too serious! What we needed to get was a marriage certificate (Ehefähigkeitszeugnis) in order for me to prove that Chris can marry me (Bavarian law), which required a statutory declaration (Eidesstattliche Erklärung) that I had never been married before and wasn't married to anyone else. We also needed copies of our passports and birth certificates. Chris's papers had to be no older than six months. For the German authorities, all the Latvian documents had to be translated and approved by a notary. For the Latvian office the German documents had to be translated into Latvian. If we'd known that before, everything would have been a little quicker. Beware, translations aren't cheap.
The ceremony and preparing for it
Zane: We were married by a priest from the Baptist church. The ceremony could happen wherever we wanted and he organised all the paperwork for us. Before the wedding we had a few online sessions during which we discussed the meaning of marriage, relationships and other valuable things. By the time we actually had the ceremony, we felt like we knew the priest personally and the atmosphere was very relaxed.
We had a Zoom wedding. A lot of people couldn't come due to Covid but we wanted to get married on our set date, so everyone joined the ceremony online except for our witnesses and my parents. The ceremony was in English and we kept it that way to make the moment more special for us. If the ceremony had happened with everyone present, our plan was to have it in Latvian and translated directly into German by an interpreter.
We got married at a guest house close to Ape where my family has a country house, so the area is familiar and we know people. Since I don't like overpaying for unnecessary things, we made the altar ourselves together with my family and it turned out beautiful.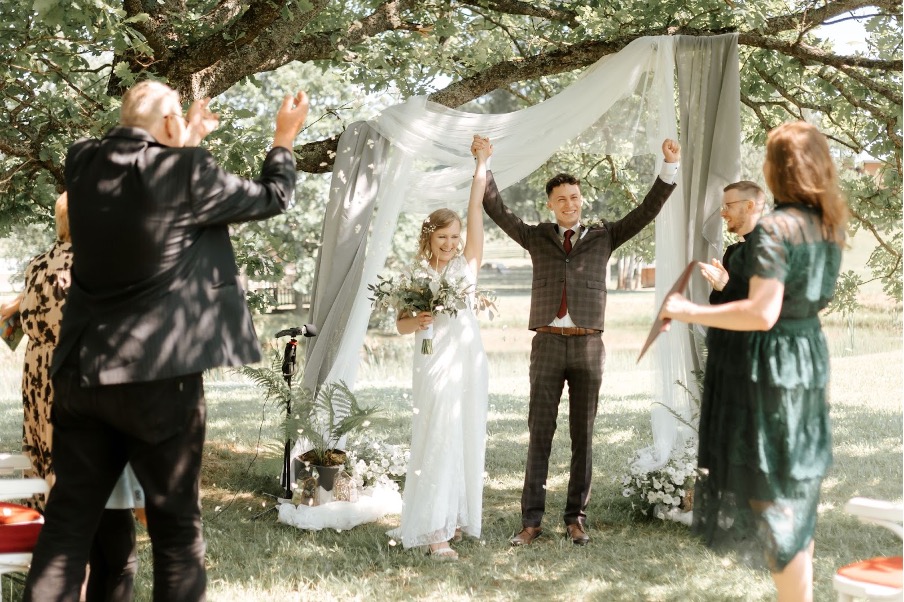 Dealing with traditions when two cultures meet
Zane: As we're not ones for silly wedding traditions (all the bridge crossings, bride stealing etc.), we had a mix of both. Thanks to our amazing witnesses we only did the things we approved of – the Latvian tradition of breaking a plate with kids' names and then the German tradition of sawing a log with a double sided saw. Some traditions even overlapped, for example, the sitting on chairs back to back being asked silly questions by the family and then holding up your shoe to answer.
I guess our wedding is a great example of simplicity – focusing more on the fact that we wanted to be married, be happy and not impress others.
All the best for your wedding in Latvia
If you're in the midst of wedding planning, first of all: congratulations! May our stories inspire you to trust your gut and celebrate your day your way.
Header image by Ginta Zīverte.