The Danes and Norwegians are known for hygge, but somehow Latvians too pull through the tough times, overcome the winter blues and find joy. So, what's our secret and does it differ from what the Nordic nations do to achieve a cosy state of contentedness?
I set about establishing whether there is a common understanding of the idea of hygge in today's Latvia and whether we practice something similar, but haven't given it a name. To start with I spoke with a Latvian friend, Gunita Hjortenberg, who moved to Copenhagen years ago and is raising a family there with her Danish husband. Gunita introduced hygge as cosiness and the proactive process of creating moments of wellbeing, most often involving togetherness with dear people. It is both a noun and a verb.
Elīza Jaka echoes this. She is a Riga-based marketing manager who spent six years studying and working in Denmark. Elīza adds that hygge is not just something people practice at home, but also bodegas (Danish pubs) and restaurants. It is a feeling and an atmosphere. Warm and welcoming even when the weather outside is miserable. Candles and lighting play a big part, but it's mostly about being around people and sharing activities like board games.
Having lived in both Latvia and Denmark, Elīza notes some differences. She feels that Danes are more outgoing and spend more time outside the home, gathering at bodegas or cafes. One big difference is that when Danes are at home, they don't typically close the curtains, so the sense of hygge spills into the street from people's homes where you see families and friends hanging out together. In Latvia Elīze feels the most hygge at her parents' home when preparing for special occasions, and anywhere with a live fire. It can be in summer too, around the Midsummer bonfire.
So, it takes action, awareness and attitude. Do people in Latvia practice something with a similar idea in mind, to reach a state of serenity and satisfaction? Is it equally engrained in our daily lives? I asked around…
Kristīne Paula, musician and music educator
"We celebrate the Latvian gadskārtu svētki (equinoxes, solstices and inbetween). November, the dreariest time of the year sees the Independence Day of Latvia, which is more of a solemn day of remembrance. However, around November 10 we mark Mārtiņi or a celebration to welcome winter. We prepare masks, get dressed up and go around visiting our neighbours to join in song, dance and merriment. Everyone takes part, including children. The littlest ones gaze at us from their prams, wide-eyed. Everyone brings a treat and we share pīrāgi (pies), maizītes (open sandwiches) and beer out in the yard.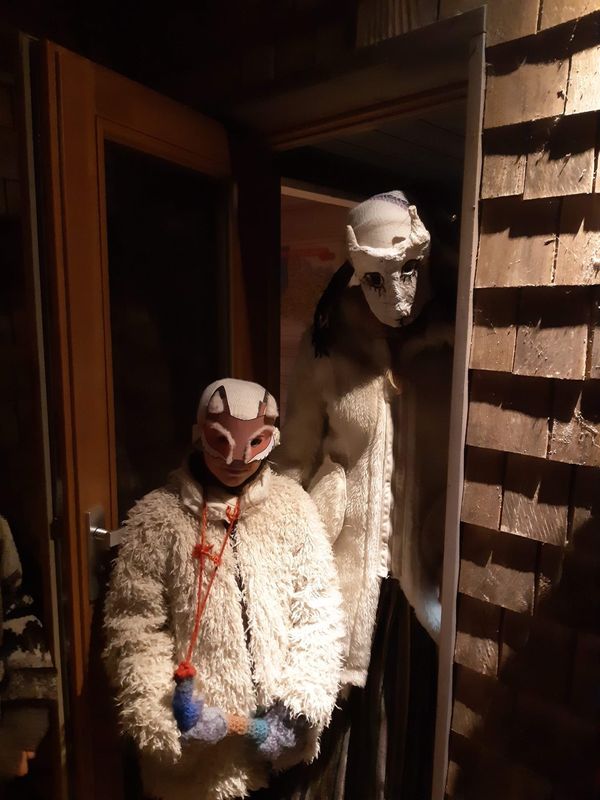 Last year I experienced my first ever sunrise on the occasion of Lielā diena (the arrival of spring) on March 20. You stand on a hill to welcome the sun because, finally, the day has become longer than the night, and the morning comes earlier, bringing light. Spring is here!
There are several other celebrations, like the summer solstice, which we spend in the countryside. We perform special rituals, dance around ancient oaks, honour the masters of the house, sing by the fire and more. Many games and activities exist in honour of the longest day of the year and the Sun.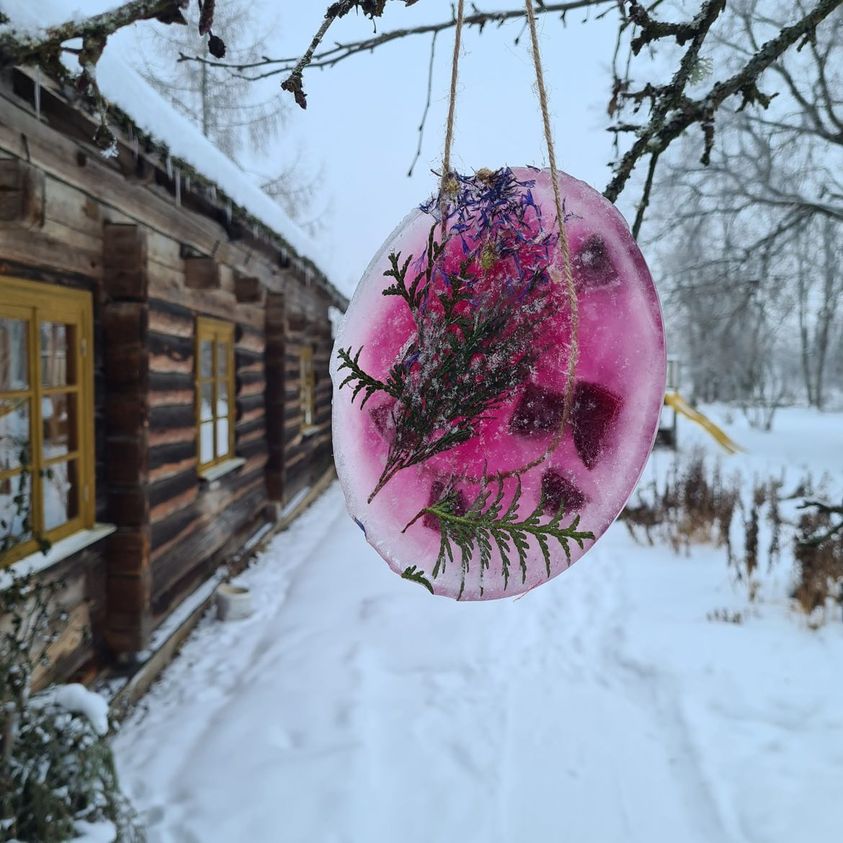 We inherited an ancient log house in the country from my grandmother's family. Even in winter, all of us – three generations – spend weekends there. That involves getting firewood, stoking the fire to keep the house warm, preparing food on the authentic stove, and ice skating on the pond, as well as heading to our own forest nearby. As you make your way through the snow or last season's fields, you really feel the presence of nature. In the forest we'll light a fire and fry chunks of speķis (cured pork fat) to eat with rye bread. There's always someone keeping the pirts (sauna) going back home. Now, that's a real spa!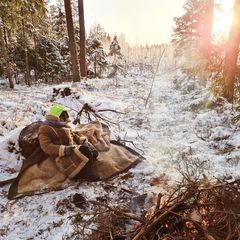 We make our own salt scrubs with dried peppermint leaves, and pirts slotas (sauna whisks). The children join in. A baby's first sauna experience – pirtīžas – at just one month old is a particularly special occasion. We decorate the space with candles, sip herbal tea and snack on frozen summer berries. Mum is right there with her milk, and the closest family members join in. As part of the pirts experience, we'll run from the hot sauna room down to the river or roll around in the snow to cool down. The intense contrasts fill you with energy and happiness hormones. After a good night's rest we return to Riga ready for the week ahead."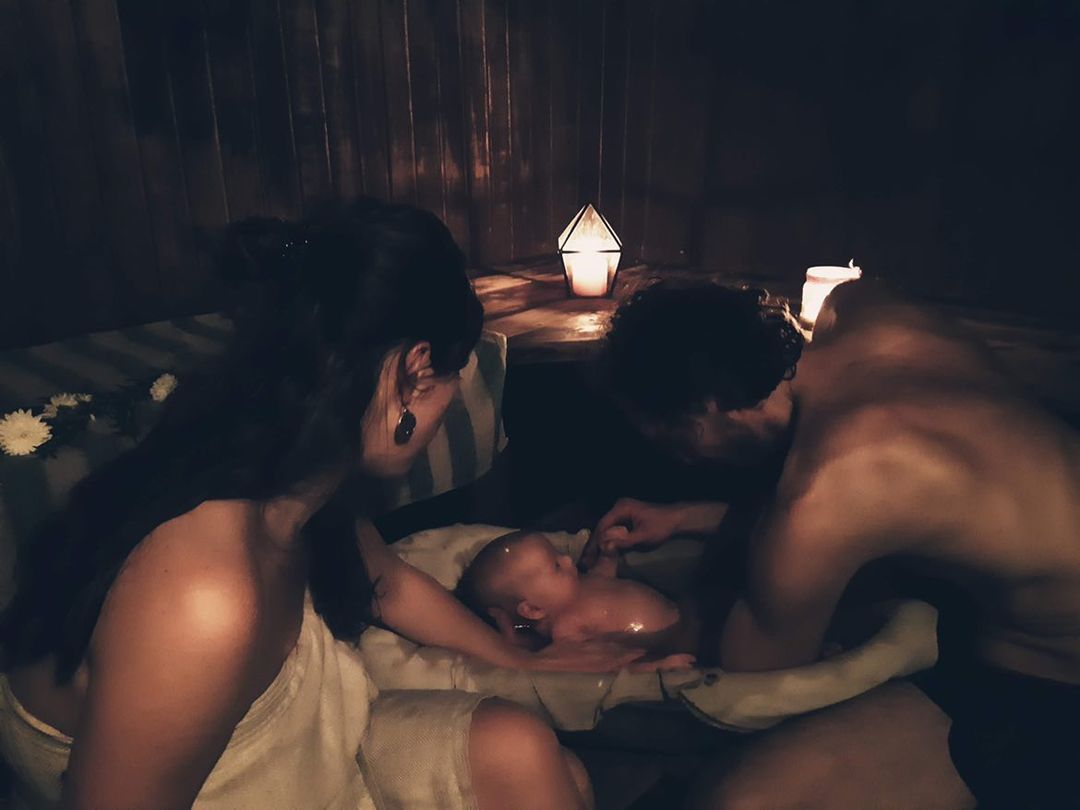 Gary lives on a rural Latvian homestead with his Latvian partner and family. I turned to him because, when thinking about this article, I remembered his video Malka (Firewood). To me, that's it. He caught THAT feeling on camera. In his own words: "We, the British, don't really have this concept of hygge. So, for me to take something that's Danish and then try to culturally translate it to Latvian is hard. However, I think I feel closer to the state of hygge here than ever before.
After some thought I feel the plīts (stove) can, at least for those of us that live in the countryside, be metaphoric of "Latvian hygge". No matter how cold or wet it is outside, the plīts is the first thing that greets us when we come through the kitchen door. Its presence is welcoming. It provides a cosy warmth, even hours after any fire has gone out. It's where we cook great food to nourish us, and make hot tea. It provides comfort and security for all that are present in the kitchen.
I think there's also something to be said for the Latvian love of being/living alone or introvertedness too, the viensētnieka mentalitāte."
Justīne Lūce, artist and art educator
"We have a studio in our home where we host classes, but also spend time with friends and family. I've decorated it with lights and bunting, so that it's always a feel-good place and safe space. We'll often have music on in the background. The idea comes from a movie about the Cold War! It's about creating your own happy place, no matter the external circumstances."
Dārta Ansone, adventure therapy practitioner
Dārta has introduced numerous travellers to the power of the Latvian outdoors, local mythology and ethnography through her tour company The Latvian Element. She's now part of the growing adventure therapy movement in Latvia. "Adventure is a very simple tool, which embodies the idea of a shift in consciousness. Adrenaline-fueled or calm and peaceful, adventures come in different shapes and sizes. As an adult I practice several kinds, but as a child I was most drawn to those with an element of fear. The idea of overcoming it and winning… that's a magical moment.
Change can happen on a walk in the woods or during a conversation with the people around you. The shift in consciousness is an important aspect in adventure therapy, but even more significant is the sense of safety and security it provides.
Adventure therapy differs from a hike with friends in its philosophy. It involves actively exploring the unknown, and associates adventure with challenges and opportunities. Participating in a group is considered fundamental to personal growth and establishing a sense of community.
Every landscape and element of nature influences our brains. Steep cliffs, a choppy sea, fast-flowing river, or waterfall – each conjures different associations, and every emotion calls for a different approach. I'll draw parallels with herbal tea and how each plant has a different effect on our minds and bodies.
Before trying adventure therapy on your own, it's important to understand the value of experiencing silence, nature and being alone. Start with a walk. Hikes connect us to nature by giving us the opportunity to get to know ourselves. Walking at your own pace helps you re-connect with your inner rhythm and mental state, which isn't as easy to tap into at the gym, in the car or on a bike. As we walk, our gait naturally impacts our mood and the flow of our inner thoughts. At the same time, through mindfulness we can shift the speed of our thoughts. The idea of "walking off your anxiety" is important, as it creates new connections in your brain."
Dārta's tips for self-guided hikes
For calming the mind
A route around the Garezers lakes in Lilaste. Distances: ~2.5 km, ~6.5 km, ~9 km. Note, if travelling by car, it's best to park it by the station!
For finding that willpower
The Amata River trail in Gauja National Park, which runs between Melturi station and the Veclauči bridge. Make sure to wear weather-appropriate clothing and footwear!
For calming your breathing
The Cirgaļi inland dunes. Unique to Latvia, the inland dunes are an impressive landscape covered in pines and Icelandic moss. The dunes are part of the Mežtaka long-distance hiking route.
For reenergising yourself
A hike near the ancient oaks in Vidriži. The long route is three kilometres long, of which two lead through meadows and fields and one crosses a typical mixed forest with clearings.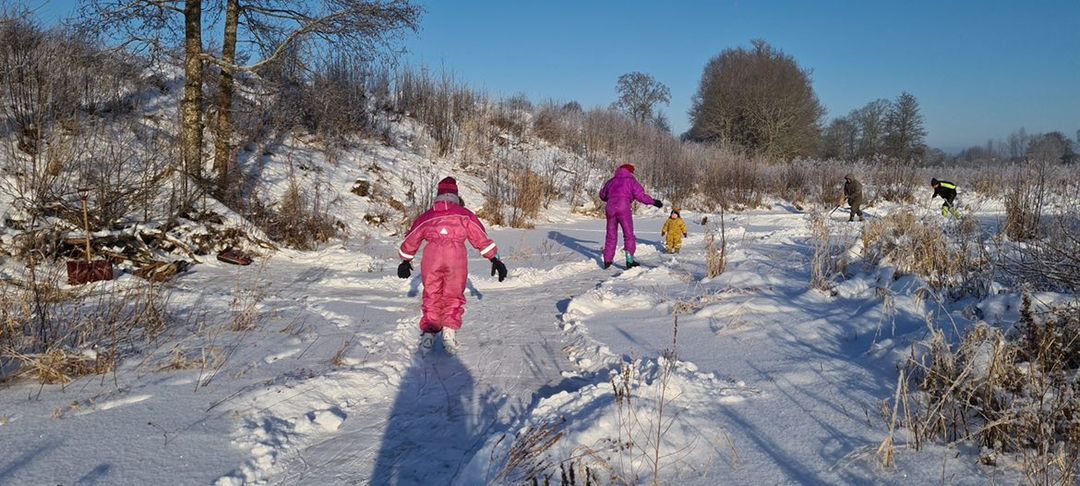 So…
To me, the common thread in all these stories is personal effort. Taking the time to organise, make or do something, whether alone or together with loved ones. We may not have a name for it in Latvia, but the idea of hygge seems familiar. If I had to choose one word from the Latvian vocabulary, I'd say omulīgums (cosiness) is a close relative, though not a verb. Also vakarēšana, which saw our ancestors gather in the home or rija (threshing barn) on autumn and winter evenings to indulge in handicrafts, storytelling, fixing things and alike. In addition to Gary's suggestion of the plīts and Kristīne's mention of the pirts, I'd choose a freshly baked loaf of rye bread, bulciņas (pastries), wool mittens, basketloads of wild mushrooms, the viensēta (Latvian farmstead) and herbal tea as symbols.
Do you have any other suggestions? Share them in the comments section below together with how you and your loved ones go about finding a sense of omulīgums in your daily lives!
—
Cover image by my friend, photographer Kristīne Madjare, taken in a shared moment of omulīgums when attempting to find the tastiest kanēļmaizīte (cinnamon bun) in Latvia.
—
Enjoyed this post? You may also like Tried and Tested Things to Do in Riga to Find Calm and How to Survive Winter in Latvia.