I met with Fabrizio Righetti – Italian chef extraordinaire, seasoned expat and new Riga resident- to talk about his decision to move to Latvia. Over a steaming bowl of cacio i pepe at his dear Bocca Buona restaurant, he revealed his confusion about Latvia's culinary identity and shared what it's been like to adapt to life in Riga.
Fabrizio has lived in Riga with his Ukrainian wife and baby daughter since January 2019. Prior to that he spent six years in Ukraine and has previously lived in the Netherlands, the United Kingdom and Libya. Originally, Fabrizio comes from Rome but has been travelling since he was 22.
What sparked your decision to move to Latvia?
Everything came together. My daughter was born in November and we moved in January. I'd been looking for some change in my life as I was starting to feel like I worked in a post office. My staff were well trained, I knew them perfectly. I'd write a manual and the guys would implement it. If I went on holiday, my sous chef would handle everything. It was time to push myself further.
Fortunately, my company asked me to move from the Radisson in Kiev to the Park Inn in Riga. It's no coincidence that I run an Italian restaurant! I'd already been here as a guest chef for a promo event last year.
Was moving to Latvia an easy choice then?
We decided to come here because it's also not far from Kiev. It's my wife's first experience of living abroad. She's actually back in Ukraine to see her dentist right now. The flight only takes 1 1/2 hours and there are so many flights per day.
To get to Italy isn't so easy with no daily flights to Rome. I hope the frequency will increase in summer.
Since you're such a seasoned expat, do you use a relocation company when you move?
This time, I used a company. Six years is the longest time I've spent in one place. I also now come with a package as I met my wife in Ukraine. I'd like to say all the things are hers (laughs) but, of course, we started to acquire things like photos and souvenirs, a TV and furniture. Before, when it was just me, I never got too settled in one place.
We sent a lot of things but we've also had to pick up bits and pieces at IKEA and Jysk here in Riga.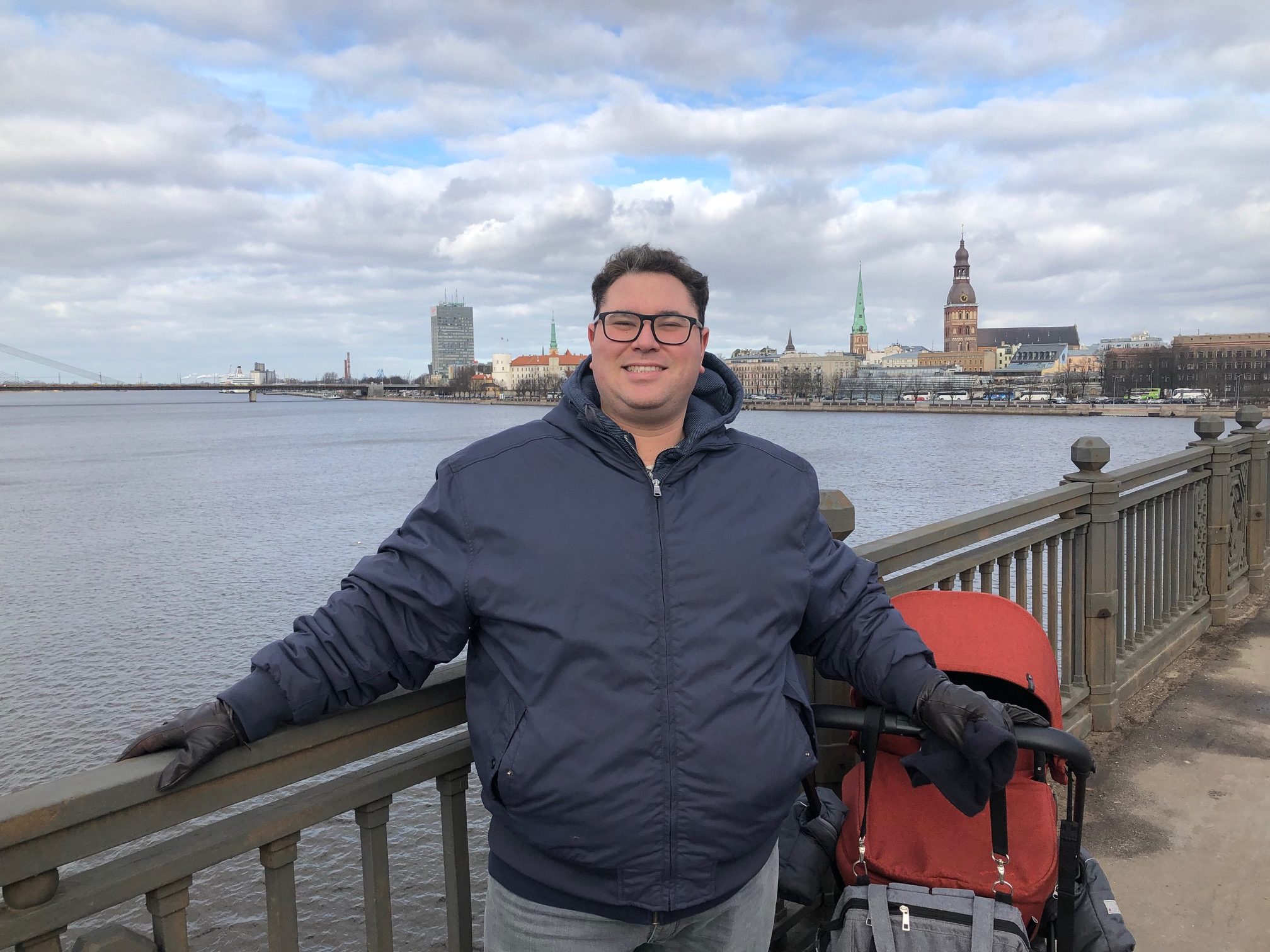 How did you find a place to live in Riga?
I spent the first months living at the Park Inn by Radisson Riga Valdemara and started to look for an apartment from here. We needed to understand where the hotel is located, proximity to supermarkets etc. You need to learn a bit about the city before you can find a place.
Eventually, I found an apartment near the Radisson Daugava through SS.lv although we started by asking people like my Latvian colleagues in Ukraine and an Italian friend I have here. Everyone suggested SS.lv. The ad was in Russian, but I speak a bit of it and my wife speaks it fluently, which made things easier. We did try our luck with a local realtor but they just sent us links on SS.lv, so we figured we'd do it ourselves.
Was it easy to secure the rental?
Easier than it was in Ukraine. Here you have contracts and payments are regular. There, it's all cash only although younger people will sign an agreement.
You mentioned an Italian friend. Did you deliberately look for the Italian community in Riga or attend expat meetups?
When I was here last year for the promo event, he came for the kids' pizza masterclass. We connected on Facebook, so I contacted him when I knew we were moving to Latvia and asked what life is like in Riga.
We haven't been to any expat meetups, our priority was finding an apartment. With a small child at home, we're busy in the evenings. I feel like the events are more geared towards single people.
Have you tried Latvian food?
Honestly, no. It's hard to understand what Latvian food is! Everyone I ask, including my staff, says I should go to Lido. I went and it's just common Eastern European food that you can find in Ukraine and Russia. And when you talk about contemporary Latvian cuisine, it's not really Latvian anymore, there's a contamination.
My staff should know better than everyone else but they also struggle to explain what's Latvian. Maybe the Soviet period affected things. It's difficult to understand what's yours, what's mine.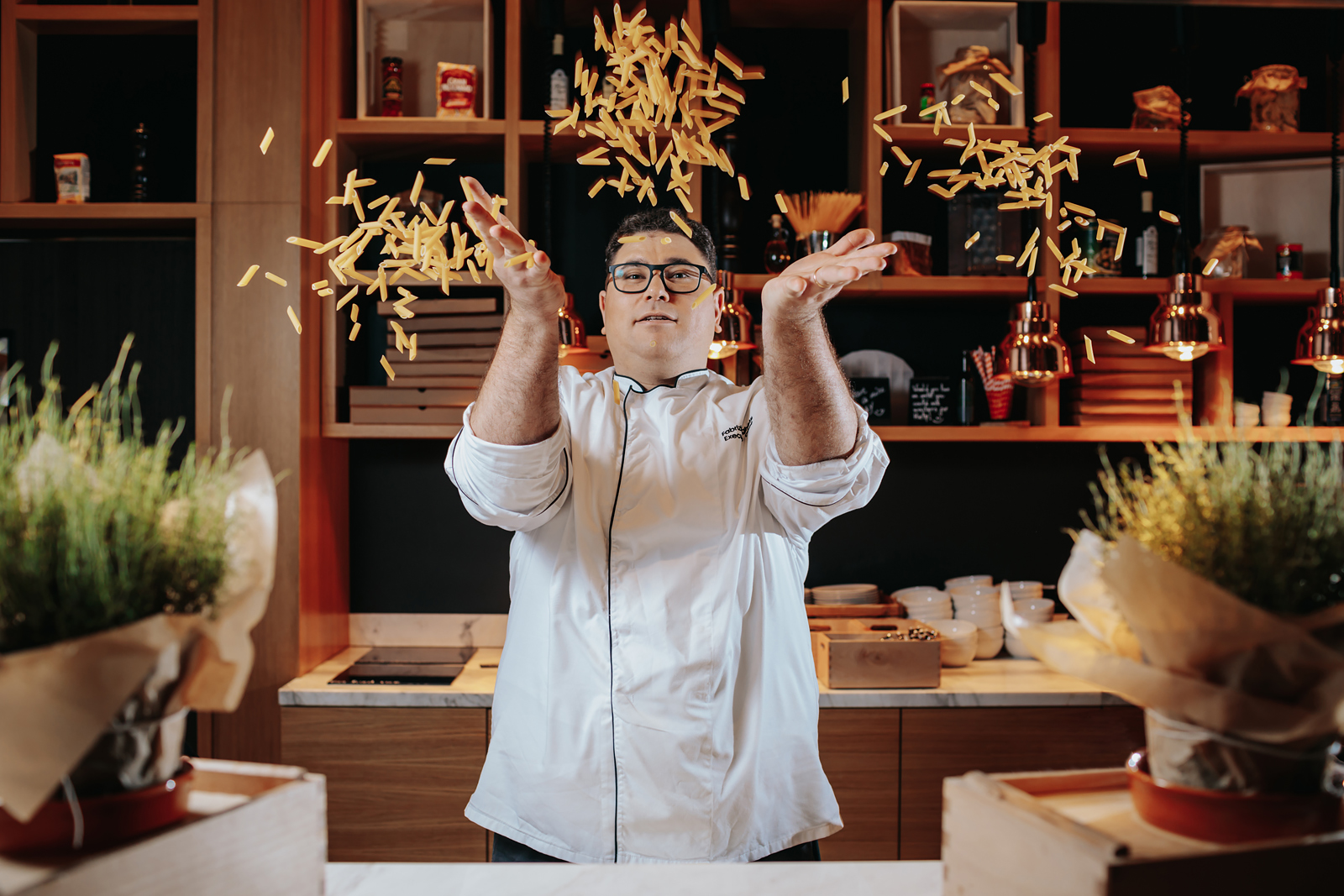 What are your impressions of Latvian people so far?
I really like the people here, they seem open and understanding. I haven't experienced any trouble, no one's aggressive. People have been very welcoming. I see they love their country. In Italy, everyone complains about everything except food, food is holy.
The quality of workers, including cooks, is very good. I always compare with my past experiences. What surprised me is the level of English. More or less everyone speaks English or Russian. It's a bit confusing because you never know how to start a conversation if you don't speak Latvian.
Do you plan to learn Latvian?
Yes, some basics. At least something I can use in the kitchen. But all my staff speak Russian or English, so it makes me a bit lazy. Whether to start learning another language is always a big question, it's so time consuming.
Talking of time, do you have time to cook at home? What do you think of the local supermarkets and produce?
I don't cook too much at home but my wife has to survive! The idea of cooking at home after work stresses me out, but I love to cook for special occasions. If I'm alone, I have an omelette or sandwich or pasta if I'm not too lazy to boil water.
I really like the selection here, you can find more or less everything, also from Italy. The quality is really good.
When I knew I was moving, I started to look at the cost of living and found a website which said that life in Latvia is 71% more expensive than Kiev. But then I started to think about the level of living. I'm an expat. In Kiev, I used imported products. The quality here is better. Fruit and veg seem to be great.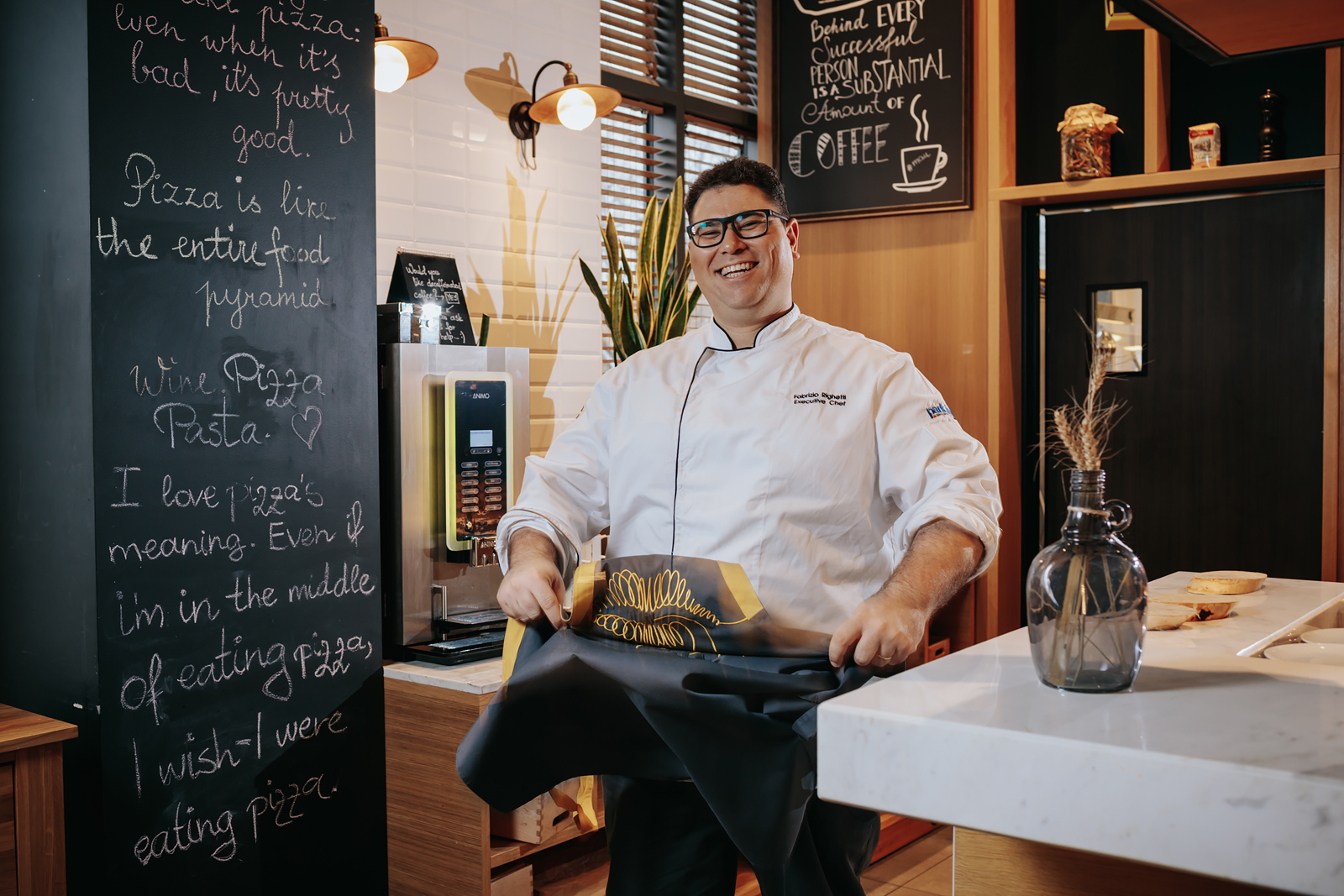 Tell our readers what they can expect at Bocca Buona!
We serve brunch every Sunday and it's always fully booked, so make sure you book a table by Wednesday or Thursday. We also run pizza masterclasses. In April, I've planned a menu change. If you feel like you can't read the menu, that's part of the fun! A proper Italian restaurant experience.
Have you been to any other restaurants in Riga? Can you recommend any?
I recently ate at Armenia restaurant, which wasn't bad. The khachaphuri was better in Kiev. I like Georgian cuisine so I want to try Locale for that. It's half-Italian, half-Georgian. The pizza was very good. Garage was very nice, it's more of a wine bar than a restaurant. I like the concept.
I avoid Italian restaurants because they tend to be boring. They mainly cook home-style food and it's overpriced. I cook better than them, and my mum cooks better than them. In Italy, we grow up with our grandmothers, so we build our experience in the family. If you don't have that background, you can never create an Italian recipe, you can just follow an existing one. We have strict rules like no capuccino after 11am but in Kiev it was a free-for-all, which was hard for me to get used to.
Because of Master Chef, Hell's Kitchen and shows like that everyone's into food and cooking these days. On the one hand, it's good for the development of food culture, people start to try new things at home. On the other hand, they start questioning the price of what they're served. The toughest guests are farmers or market staff. They don't have the business knowledge and understanding of how much effort goes into creating a dish, they just look at the raw material. They don't realise that to get fresh bread in the morning, the bakery has to be open all night. You also trash a lot of products in testing.
What do you miss about Italy?
The sun. But I can't say too much yet. I hope it'll be easier to travel in Latvia. In Ukraine, to go to another city, it's like 600 km. There's nothing between the cities. I'm really happy about the diversity here – Jurmala, a lot of things to do at the weekend – without having to take three – four days off.
—
If you enjoyed this interview, continue with Andreea's story of moving to Latvia!
This interview was done in partnership with Park Inn by Radisson.