There's much more to Riga than cheap chain pizzerias! Here are our favourites, which serve what we think is some of the best pizza in Riga.
Casa Nostra
Elizabetes iela 10b


The pizzaiolo is Italian! What more is there to say. Well actually – lots. Casa Nostra feels like a much-loved family home, so much effort has been invested in getting the feel and food just right. No wonder it's been picked up on by Latvia's food bloggers. Be sure to book a table to avoid disappointment.
Street Pizza
Meža iela 4a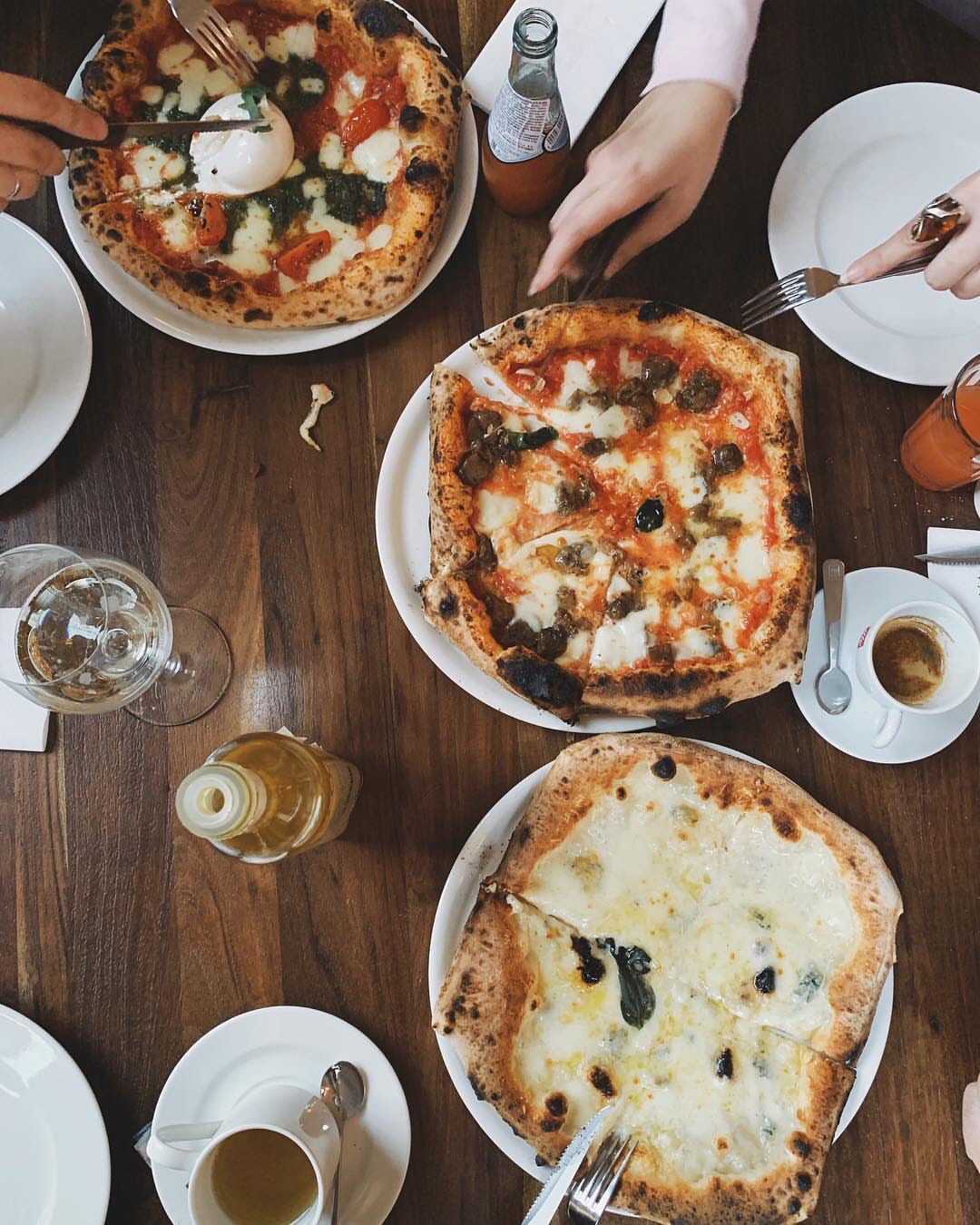 Head on over to one of the prettiest streets in Riga's suburb of Āgenskalns on the left bank of the river Daugava. No crazy or unconventional toppings here, just quality sourdough with classics including chunky forest mushrooms and burratta. Get a table with a view of the famous pink Orthodox church. (Thanks to Street Pizza for the pic!)
L'Acquerello
Baznīcas iela 8


L'Acquerello scored itself a place in Lelde's top 3 pizzerias in Riga list even though the vegetarian pizza had cucumber on it! Strange touch, but it worked. This is a really pocket-friendly option but don't expect a cosy evening out, the restaurant occupies an odd sort-of-basement area, and it's really quite sterile and office-like. Vegan option available.
Picas meistars
Kuģu iela 11 and Baznīcas iela 24


Now serving both sides of the river (and Ogre)! So happy the owners decided to expand to the centre of town after the obvious success of their Pārdaugava branch just opposite the National Library. Fantastic fresh pizzas with creative toppings for carnivores and vegetarians. Expect Latvian toppings like dill and gherkins on some of them!
I am distraught at their decision to take the vegetarian pizza with chutney off the menu.
Da Sergio
Tērbatas iela 65 (entrance on Matīsa iela)


Pizza from a proper wood-fired oven and house wine served in a carafe – Da Sergio's certainly got a very Italian feel to it. In summer, you can enjoy your meal on the outdoor patio.
Piranija
Strēlnieku iela 11


Piranija has, quite possibly, the longest pizza menu in Riga, and some toppings are more authentic than others. The owner spent time living in Italy, brought the pizza dough recipe back with him and opened shop in 2006. Apparently, he's also into extreme sports hence the wakeboards and kiteboards stuck up on the walls. Best overlook the strange décor!
Bulka
Liepājas iela 76


Bulka is among my top three favourite cafes in Riga, scoring top points for food, service, décor and atmosphere. You would never expect to find a place like this in a glorified suburban shed, but there it is, right next to a Maxima supermarket.
Here, pizza is made on a sourdough base and is served from Wednesday to Saturday, in the evenings. I advise being very hungry so that you have space for dessert. Bulka make some of the most amazing cakes and pastries in Riga. And you have to buy a loaf of bread for breakfast the day after. I'd be a much more regular visitor if I had a car, and I'd probably be a lot bigger, too.
And some newer places we keep forgetting to take photos of and review: Zefīrs, AOK City.
Liked our suggestions? To stay up-to-date on new finds and openings in Riga, follow us on Facebook or Instagram!