Having now benefited from the literal quietness of Riga's Klusais Centrs (Quiet Centre) or Art Nouveau area for over five years, I've developed a deep liking for more than the quality of sleep in this part of town. Light traffic, a high density of office spaces and no lack of greenery keep it calm. I have parks at either end of my street and trees outside my windows on both sides of the building. In summer, most foot traffic comes from tourists coming to gaze at the intricacy of Riga's early 20th century Art Nouveau collection. In winter, very few souls pass by on foot.
I live in a 1930s property without the luxury of an Art Nouveau facade or interior yet still enjoy its high ceilings and few remaining original features, such as the wooden floors and door frames. My favourite means of transport is my bike and I switch to walking in the icier months of the year. There's no reason for me to own a car as the area has everything to cater to my daily needs. For further distances, I rely on trams 5, 7 and 11, and trolleybuses 1 and 19.
To anyone considering Latvia as a place to live, to short term locals or those thinking of moving to a new neighbourhood, I can certainly recommend Riga's Art Nouveau area and have put together a list of useful addresses to help navigate and fall for the area. Go it alone or pair up with a local for a private tour!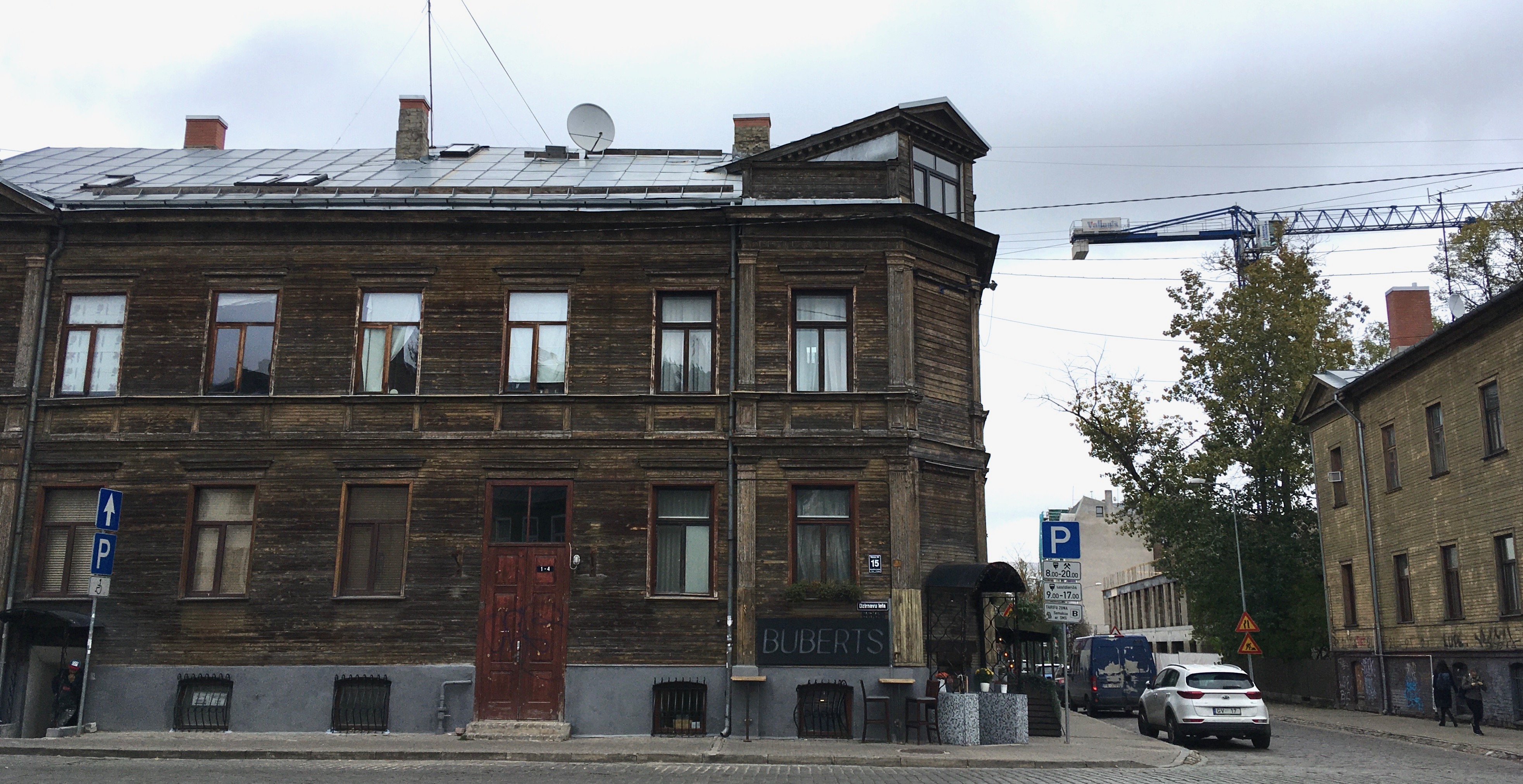 Where to eat in Riga's Art Nouveau area
Bhajan Cafe serves vegan versions of international classics including Caesar salad, spaghetti carbonara and burrito bowls. It's also perfect for afternoon tea with a changing selection of vegan cakes and hot drinks on a plant milk base.
Antonijas iela 10
Casa Nostra delivers on its name by making you feel right at home, which is a rare sensation at Riga restaurants. Italian comfort food at its finest. Casa Nostra is also one of my recommended pizzerias in Riga.
Elizabetes iela 10b
Buberts serves cakes and coffee and casual cuisine. Look out for their English language comedy events!
Dzirnavu iela 15

Food Box serves some of the best kebabs and falafel wraps in town. Lunchtime queues are a given. Enjoy the hot Turkish tea while you wait for your grub.
Andreja Pumpura iela 3
Mr.Fox is a healthfood joint, which wouldn't look out of place in Moscow, Melbourne or Seoul. Expect buddha bowls, avocado toast and the like in a drop dead gorgeous design space.
Dzirnavu iela 34a
Rocket Bean Coffee House is the second outpost of the city's first real artisan roastery. Great spot for breakfast and lunch from local farm goods. Too nice for just grab-and-go style coffees.
Dzirnavu iela 39
Piranija is a chilled out pizza joint. Perfect for when you're too lazy to cook.
Strēlnieku iela 11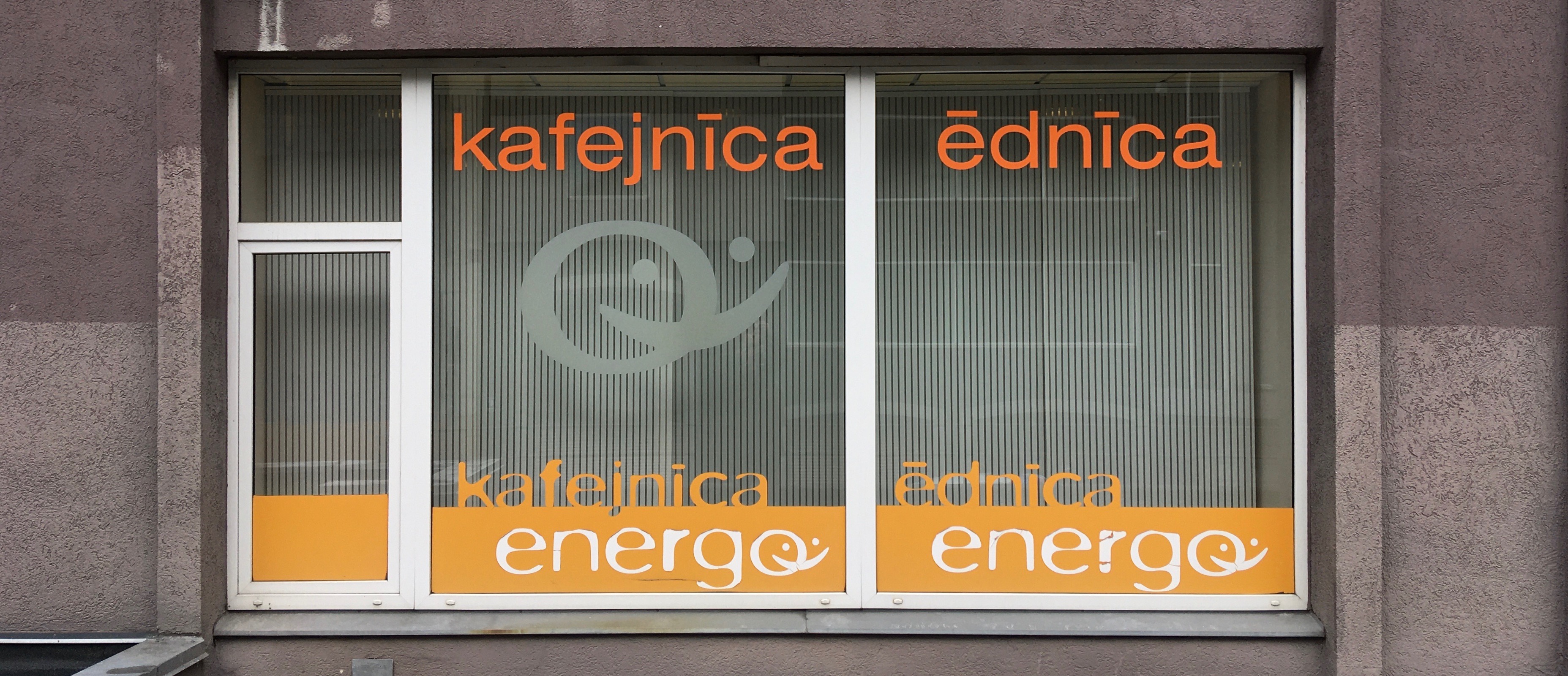 Cheap eats in Riga's Art Nouveau area
Beyond the obvious eateries are a number of lunch canteens frequented by the local workforce. Here, a basic feed can set you back as little as 3,50 EUR for the meal of the day (referred to in Latvian as kompleksās pusdienas) usually consisting of soup, a meaty main dish and dessert or a drink. Expect dishes like aukstā zupa (chilled beet soup) in summer, kotletes ar kartupeļiem (meatballs and potatoes) and stroganoff throughout the year.
Energo caters mainly to the staff of Latvia's energy giant Latvenergo right next door, but welcomes others seeking simple weekday sustenance.
Pulkveža Brieža iela 12 (enter from Mednieku iela)
Draugu darbnīca sees hordes of office workers descend into its basement space daily. It's well known for its baked goods.
Elizabetes iela 31
Mr.Bobs dishes out hearty portions of whatever's in the counter that day. No frills.
Rūpniecības iela 54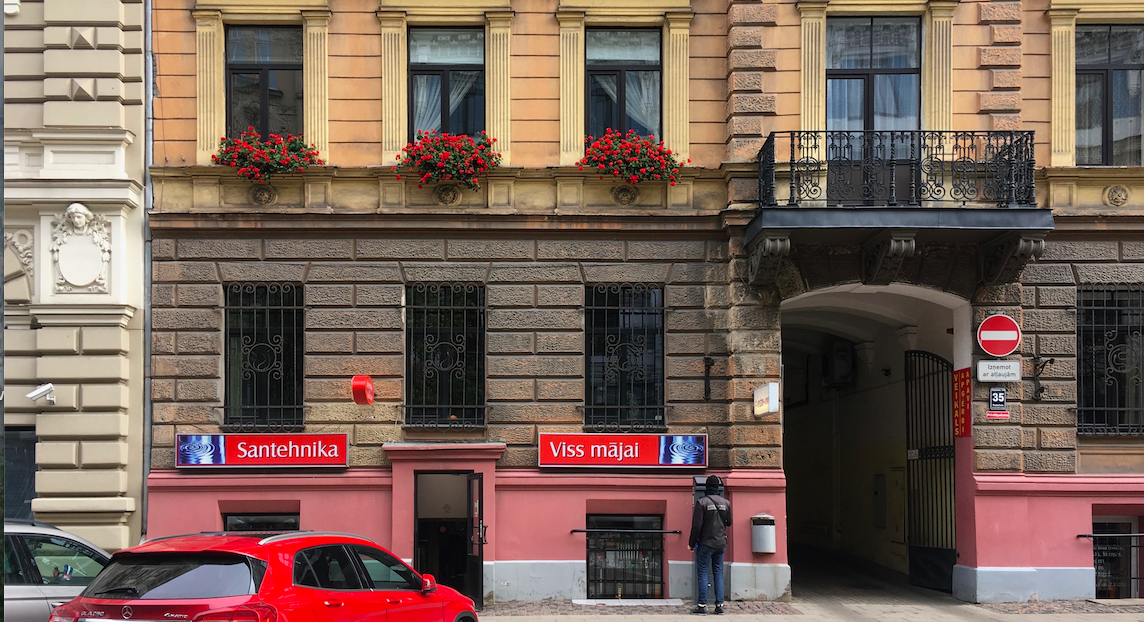 Shops and services in Riga's Art Nouveau area
Tīrīšanas darbnīca is probably Riga's fanciest dry cleaner. You almost want to be seen dropping off your sullied dinner suits and ballgowns at this vintage-themed launderette.
Strēlnieku iela 3
Santehnika un viss mājai is like the Aladdin's cave of home supplies from bug spray to bathroom taps. I'm a loyal customer.
Elizabetes iela 35
Krūza stocks DIY supplies, paint, screws and plenty more for fixing up your home or making minor improvements. Very convenient to have a shop like this in a central location!
Elizabetes iela 37
Boozie is a purveyor of booze from beer to sambuca.
Dzirnavu iela 62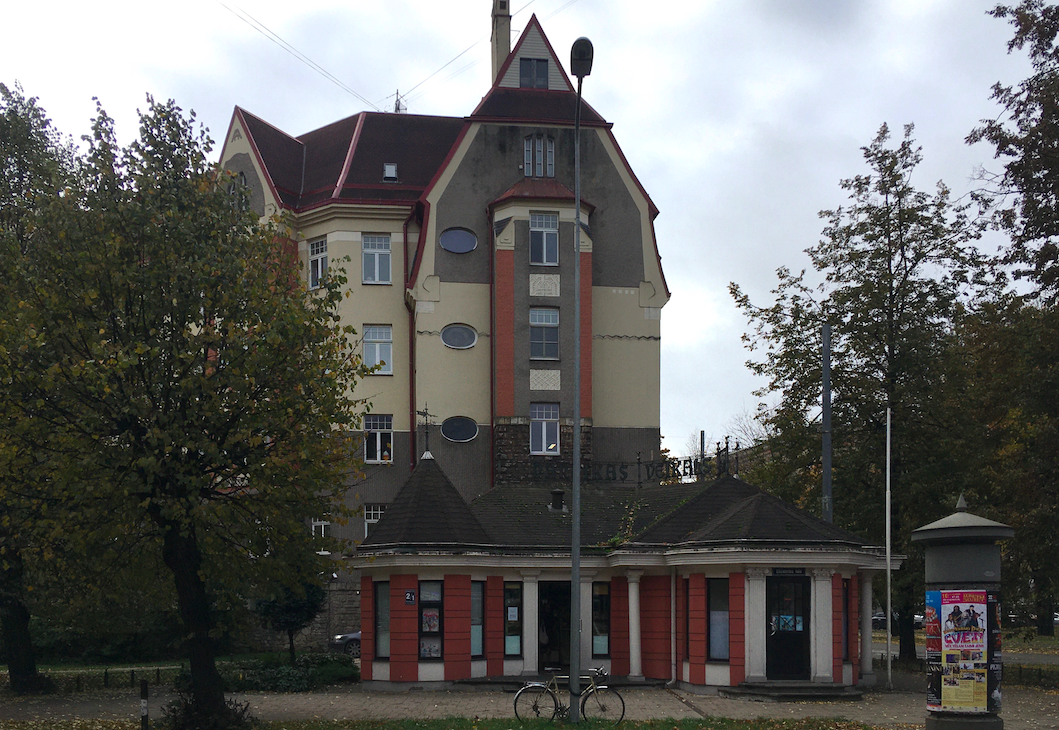 Būņas is a deli-style shop selling hand-picked Latvian and international goods. A saviour at times when the last thing you want to do is stand in line at the supermarket. Absolute gem of a shop.
Dzirnavu iela 34a
Recycling facilities outside the Rimi hypermarket. Drop off your glass, cans, plastic (PET, HDPE and LDPE types as far as I know), paper and cardboard if the bins aren't already overflowing, which is a common issue. I've written more about recycling in Riga here.
Pulkveža Brieža iela 33a
Zoo Centrs is a pet supply shop beside the Rimi hypermarket. As a cat owner, I picked up their loyalty card, which gives me 10% off every purchase.
Pulkveža Brieža iela 33a
Livin is a tiny organic shop stocking cosmetics, cleaning supplies and food staples. No fresh fruit, milk or meat though, just dry goods like quinoa, corn pasta etc.
Pulkveža Brieža iela 33
Omniva and DPD parcel delivery boxes. Send and receive goods via the self service kiosks.
Pulkveža Brieža iela 33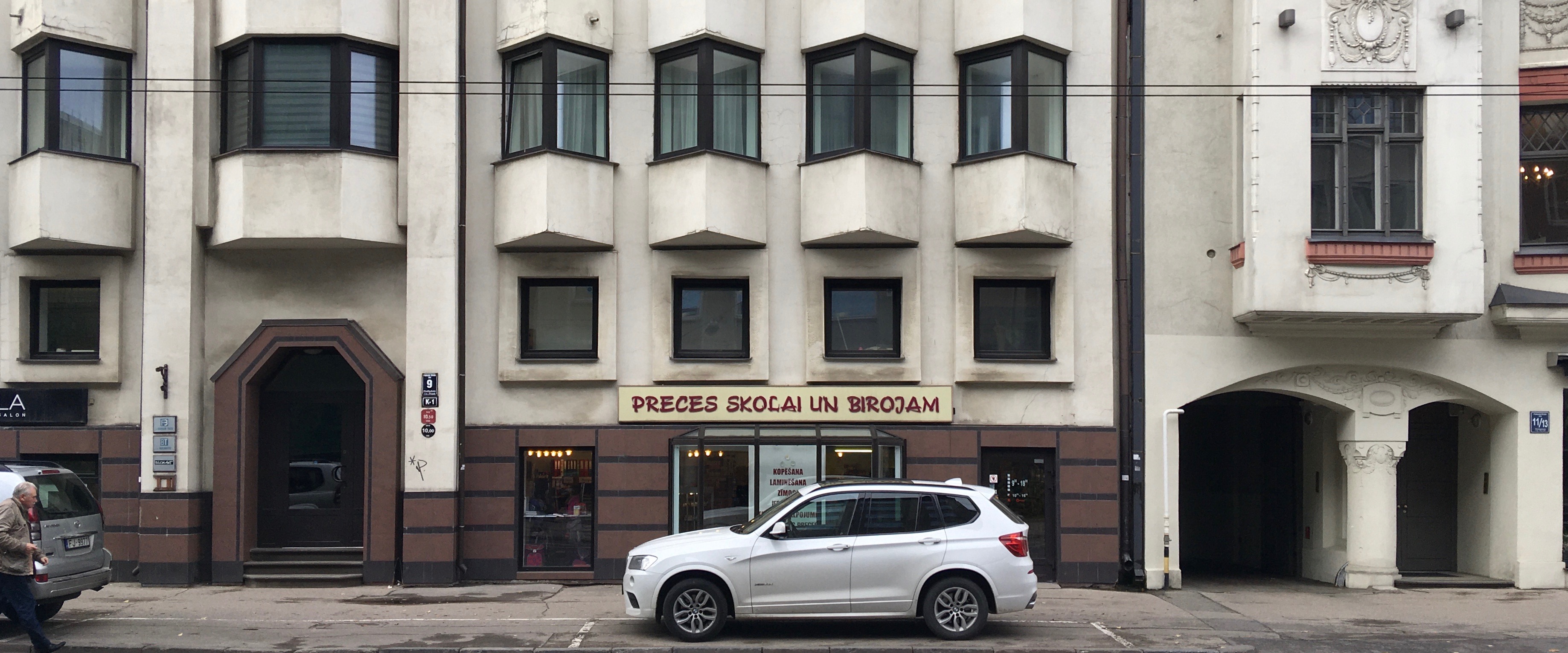 Preces skolai un birojam has got you sorted for pens, paper and other office or school needs. Also provides copying and laminating services.
Pulkveža Brieža iela 9
DarbaVieta co-working space. Desks and offices for rent. Share a space and ideas with Riga's creative minds.
Rūpniecības iela 30
Elizete flower shop and cafe has resident cats! Come for a bunch of flowers, stay for a cup of tea and a kitty cuddle.
Elizabetes iela 25
Datamarket phone and laptop repair shop. Open every day of the week! Has saved me on a Sunday.
Elizabetes iela 7 (enter from Ausekļa iela)
Shoe repair shop for fixing those soles and deep cleaning the salt and grit out of your winter boots.
Rūpniecības iela 17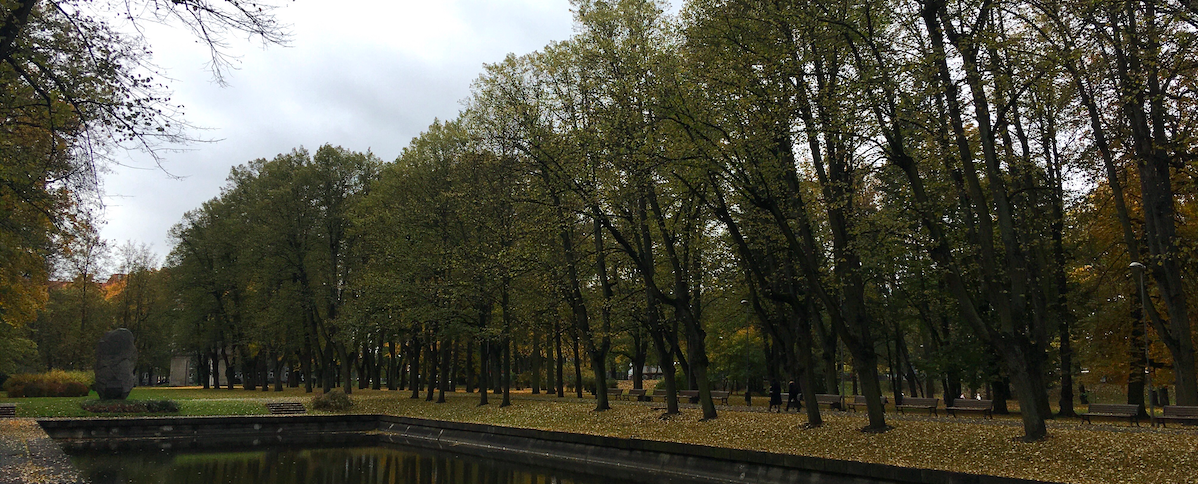 Unwind in Riga's Art Nouveau area
Kino Bize is one of Riga's cosiest cinemas with an exquisite selection of movies shown on its single screen. Think more independent productions than major blockbusters. Enter through a courtyard.
Elizabetes iela 37
Burga's always busy. Many people go for the food but I prefer it for drinks. Laid back and affordable pub.
Dzirnavu iela 36
Viesturdārzs is Riga's oldest park and the site of the 1st Latvian Singing Festival with a fascinating Soviet-era memorial dedicated to the festival's centenary. Young families gather at the playground and feed ducks in the pond. You can often see people picnicking or exercising in the shade of the towering trees. The tennis courts are popular in summer.
Eksporta iela 6 (can be accessed from Hanzas iela and Rūpniecības iela as well)
Kronvalda parks surrounds the city canal on whose shores people perch to sunbathe, watch beavers (for real!) or feed ducks. It's a lively spot with two playgrounds, lots of newly installed swings for the Instagram generation, a couple of picturesque gazebos and ample park benches. It's often the site of major art installations during Riga's cultural happenings, such as White Night.
Kalpaka bulvāris 12 (can be accessed from Elizabetes iela and Kronvalda bulvāris as well)
If you'd prefer to explore the area with someone by your side, set up a personalised tour with a local!
—
If you enjoyed this post, you may also like Neighbourhoods in Riga: Ziepniekkalns, Pļavnieki, Avoti.