As I slowly savoured every piece of my pierogi on a recent trip to Warsaw, I wondered why Poland's "bar mleczny" or milk bar has achieved cult status while its no-less-deserving cousin, the "ēdnīca" leads a much less celebrated life in Latvia. Here, it's either a place we just don't talk about or joke about.
I guess it boils down to history. The Polish canteen's been around since the late 19th century while we commonly associate its Latvian counterpart with the contested Soviet times. But both institutions serve the people, providing hearty meals at low prices in convenient locations – either office buildings, factories, schools or nearby.
The ēdnīca is where we can experience a cross-section of society that we're unlikely to see at the fast food joints and coffee shops fast populating the city centre. It's there that we can eat what locals eat. That's why, in times of increasing global homogeneity, I see the ēdnīca as a bit of a hero – an institution protecting the real "flavours" of Latvia.
Let's be honest. In Riga, we're much more likely to queue for five minutes for a slab of meat and potatoes than join a year-long waiting list in anticipation of the new menu at restaurant such and such.
People with the odd horror story and lesser hygiene-abiding ēdnīcas give the concept a bad rep. I've been known to have a fragile stomach but I'll happily subject it to adventures every once in a while. Honestly, I don't think an ēdnīca meal has ever been to blame for any serious stomach upset. If anything, quinoa does me more harm than good!
Besides, the contemporary ēdnīca, which may be branded as a "pusdienotava" (lunchery), "pusdienbārs" (lunch bar) or "pusdienu restorāns" (lunch restaurant) to compete for younger diners, is very likely to serve quinoa alongside the more classic buckwheat.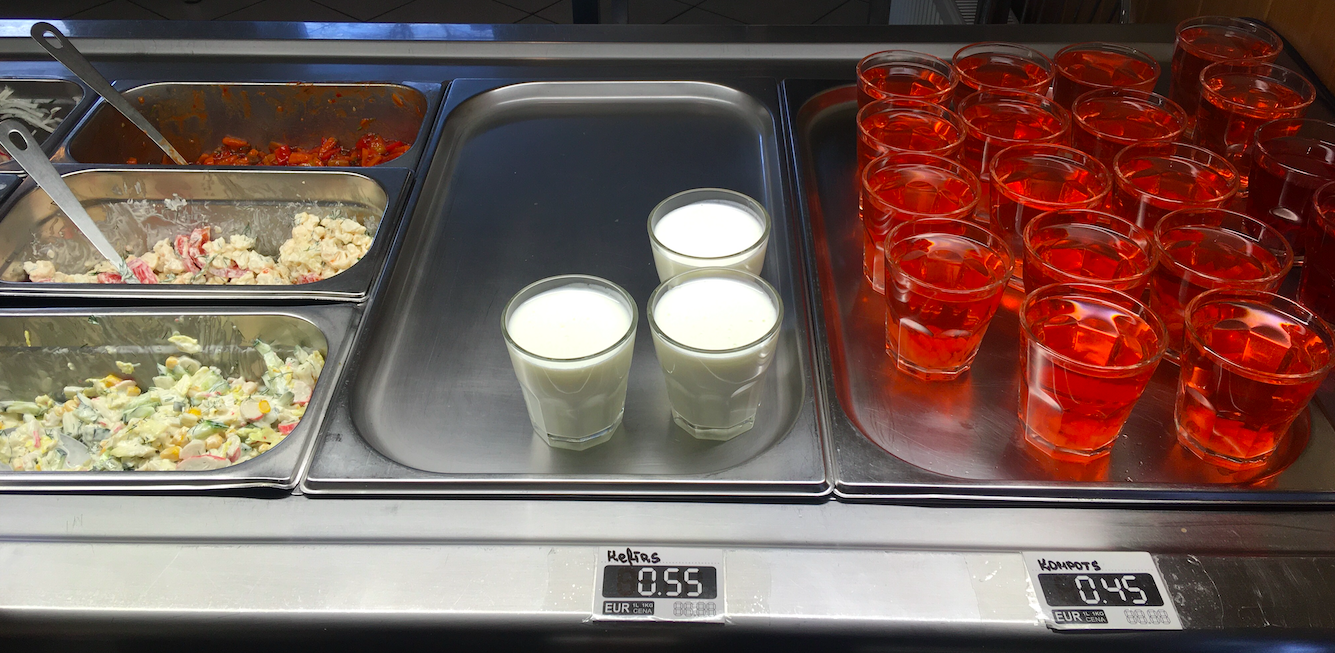 Common features of the ēdnīca
You queue, you choose, you pay before briskly shoveling forkfuls down your throat. It's a quick and uncomplicated affair. A typical ēdnīca will feature most of the following elements.
Trays
Often wet and warm when picked up, trays seem to get their fair share of washing. Pick one up at the end of the line and use it to secure your spot and nudge the person in front of you.
One shouldn't keep one's plate on the tray while eating. This could bring bad luck! Put it aside and retrieve later to deliver your dirty dishes to the drop off point – usually a hole in the wall to the kitchen or a metal rack on wheels.
Food counters
There'll be one for desserts – wobbly, pastel-coloured puddings, thick rye bread trifle and the occasional fruit salad. Another might house miniature portions of "salad" or Latvians' excuse for eating vast amounts of mayonnaise.
Hot foods await for the server to dish them out. Container after container of stewed meats and carbs. The snazzier ēdnīcas might have some form of barrier safeguarding the steaming vats from the hungry, sneezing and curious hordes. Soup is sometimes a self service deal.
See my previous tips on what to eat in Riga!
Mismatched cutlery
Bent aluminium spoons thrust together with assorted blunt knives and forks in plastic pots somewhere near the till. They get the job done!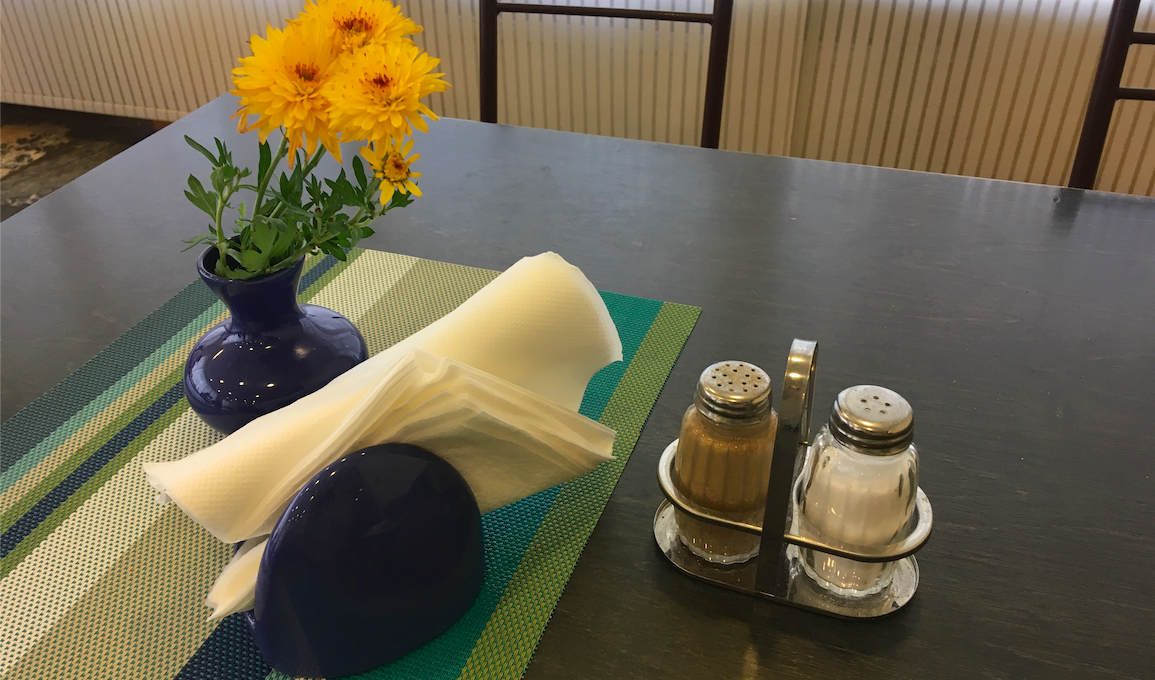 Grimy salt and pepper shakers
Probably one of the most "loved" items in the ēdnīca. Has been fondled for years, often to the point of being sticky with layers of human sweat, oil and mayonnaise. May occasionally require unscrewing the top to get to its caked contents.
A bread basket
There'll be a basket of classic rye and white bread, which may or may not be covered in napkins or a tea towel. It's usually next to the till to encourage you to make a last minute decision in favour of extra carbs.
Plastic or paper tablecloths
Popular since before we started shaming each other for using disposable tableware. "Easy to wipe or replace" is a pretty strong argument, so you can't really blame them. But just as many ēdnīcas keep the tables bare.
House plants
Latvians loved house plants before Pinterest made it ok to fight for monsteras on freecycling forums. Therefore every ēdnīca seems to have at least one staff member who's not only a whizz in the kitchen but also green-fingered. The plants serve to spruce up what are often pretty dull and uninspiring basement or end-of-corridor spaces.
Net curtains
I imagine these are heavy with the airborne remnants of cooking oil. There they hang to inject some degree of homeliness into a space designed to be functional.
Ēdnīcas in Riga
Switch your next salad box, takeaway delivery or business lunch for an ēdnīca. Here are some good ones to try. Labu apetīti!
Lauvas nams
Brīvības iela 82
Mazā Parīze
Lāčplēša iela 36
Kafejnīca Marija
Marijas iela 4
Nokroko
Kronvalda bulvāris 1a
Busiņš
Vienības gatve 18 (at the bus depot)
Pusdienu Express
Ganību dambis 28
Mr. Bobs
Rūpniecības iela 56
Cafe 22
Krišjāņa Valdemāra iela 22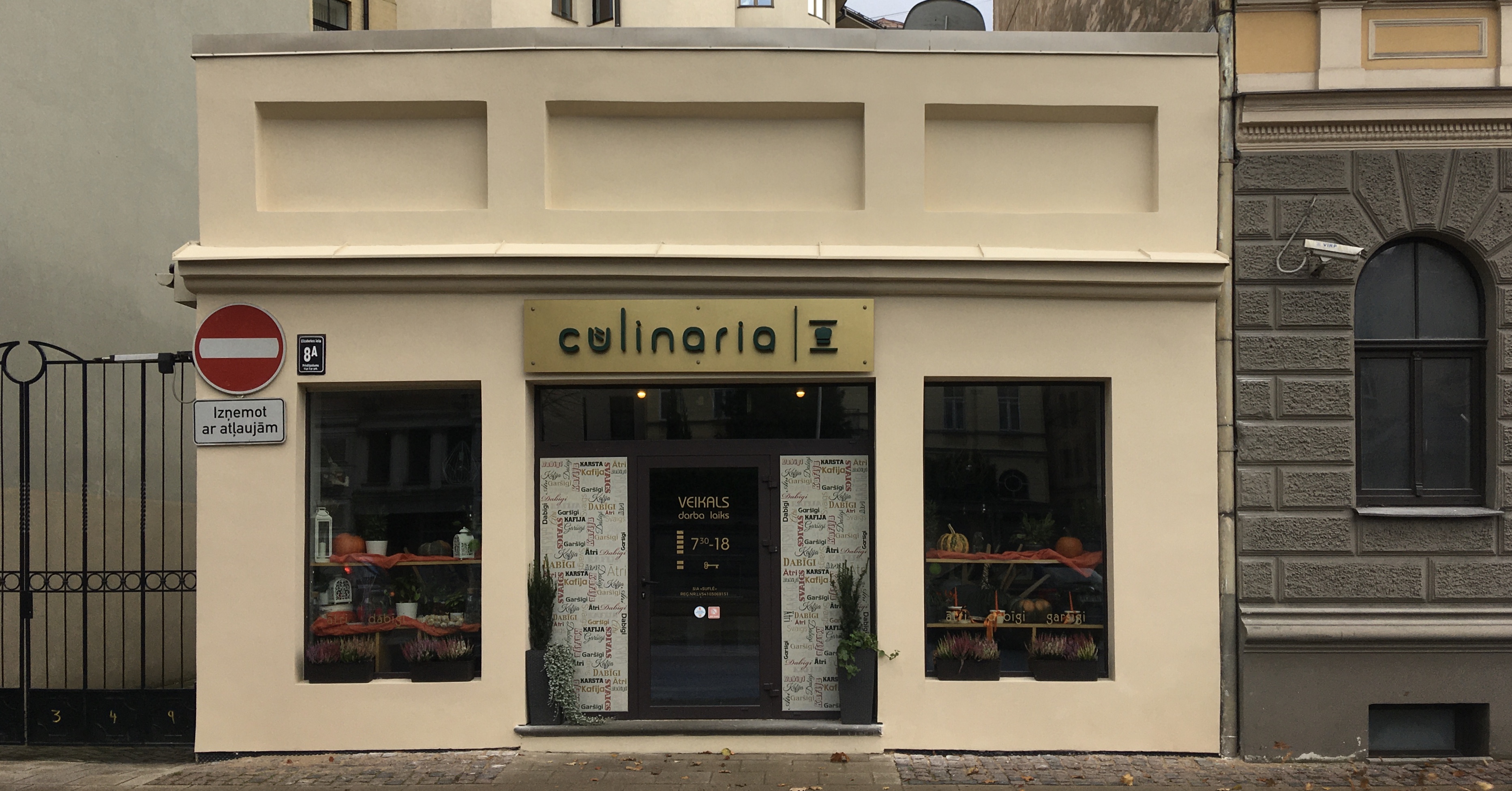 Pusdienotavas, pusdienbāri and other modernised versions of the ēdnīca
Where the cutlery is more likely IKEA than mismatched, the salt and pepper come in paper sachets and there's no sign of greasy net curtains.
½ dienu restorāns
Krišjāņa Valdemāra iela 26
Spināti un sviests
Miesnieku iela 10 (in the old town)
Daily
Numerous locations including Skolas iela 22
Delicio
Numerous locations including Tērbatas iela 33/35
Olafs
Pulkveža Brieža iela 12 (enter from Mednieku iela. Staff canteen for Latvenergo employees, but open to all. Also one of my tips on how to spend time in Riga's Art Nouveau area)
ONZE
Sporta iela 11
Gusto
Kalpaka bulvāris 12 (in the Rīgas brīvosta (Freeport) building overlooking the canal)
Let's make it our mission to keep this institution alive and Riga more diverse in a globalised world. Lunch by lunch. If you'd like to stay up-to-date with new ēdnīca findings, follow us on Instagram or Facebook!